How Is the People's Convoy Getting to D.C.? Route and Timeline
A convoy of American truckers will leave from Adelanto, California, on Wednesday to complete an 11-day journey to the nation's capital, where the group plans to hold a protest demanding that all COVID 19-related mandates are lifted across the country.
The group, dubbed the People's Convoy, is inspired by the protesters of the so-called Freedom Convoy in Canada, who occupied Ottawa for 24 days and blocked various border crossings into the U.S. to protest the country's pandemic restrictions, particularly the federal vaccine mandate for cross-border commercial truck drivers. This past Sunday, Ottawa police cleared out the remaining demonstrators, arresting 191 people and towing 57 vehicles after more than three weeks of protests.
"To our brave and courageous neighbors to the North — our Canadian brothers and sisters who led the charge — we join your call to Freedom with THE PEOPLE'S CONVOY," the Canadian protesters' American counterparts wrote on a website.
Following a Wednesday morning rally at the Adelanto Stadium, the People's Convoy plans to depart from Southern California to Arizona, where it will stay in Kingman overnight. The group then plans to head east on I-40, driving through Arizona, New Mexico and Texas, before reaching Oklahoma on Saturday.
Departing Oklahoma after the weekend, the truckers will next move northeast through Missouri, Indiana and then Ohio.
After spending the night in Cambridge, Ohio on the evening of March 3, the group will stay in Hagerstown, Maryland, for the final night of the transcontinental convoy. The People's Convoy will then leave Maryland for Washington, D.C., and plans to arrive in the beltway area by the evening of March 5.
"The People's Convoy will abide by agreements with local authorities, and terminate in the vicinity of the DC area, but will NOT be going into DC proper," the group said on Sunday.
The route is subject to change.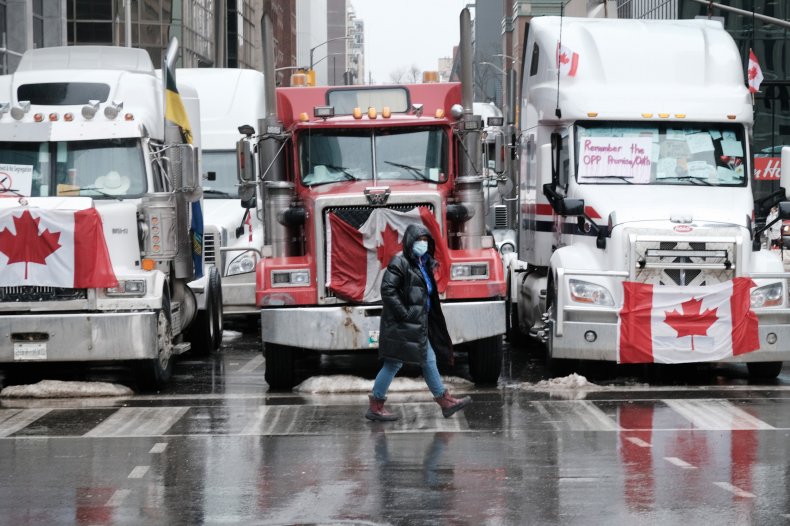 "The message of The People's Convoy is simple," a press release said. "The last 23 months of the COVID-19 pandemic have been a rough road for all Americans to travel: spiritually, emotionally, physically, and — not least — financially."
The release continued, "It's time for elected officials to work with the blue-collar and white-collar workers of America and restore accountability and liberty—by lifting all mandates and ending the state of emergency—as COVID is well-in-hand now, and Americans need to get back to work in a free and unrestricted manner."
Here is a day-to-day breakdown of the People's Convoy route trajectory:
Day 1: Wednesday, February 23
Morning: Depart Adelanto Stadium, California
Evening: Arrive in Kingman, Arizona, for an overnight stay
Day 2: Thursday, February 24
Morning: Depart Kingman, Arizona, and head east on I-40 toward Lupton, Arizona
Evening: Arrive in Lupton for an overnight stay
Day 3: Friday, February 25
Morning: Depart Lupton on I-40 eastbound through New Mexico
Evening: Arrive in Glenrio, Texas, for an overnight stay
Day 4: Saturday, February 26
Morning: Depart Glenrio
Evening: Arrive in Elk City, Oklahoma, area for an overnight stay
Day 5: Sunday, February 27
Morning: Depart Elk City, OK area
Evening: Arrive in Vinita, OK area for overnight stay
Day 6: Monday, February 28
Morning: Depart Vinita, Oklahoma, area
Evening: Arrive in Sullivan, Missouri, area for an overnight stay
Day 7: Tuesday, March 1
Morning: Depart Sullivan area
Evening: Arrive in Indianapolis area for an overnight stay
Day 8: Wednesday, March 2
Morning: Depart Indianapolis area
Evening: Pause for rest in Indianapolis area for an overnight stay
Day 9: Thursday, March 3
Morning: Depart Indianapolis area
Evening: Arrive in Cambridge, Ohio, area for an overnight stay
Day 10: Friday, March 4
Morning: Depart Cambridge area
Evening: Arrive in Hagerstown, Maryland, area for an overnight stay
Day 11: Saturday, March 5
Morning: Depart Hagerstown area
Evening: Arrive in the D.C. Beltway area