How GameStop and Robinhood Brought Liberals and Conservatives Together
Robinhood appears to have accomplished the impossible. The market-trading app popular among small investors has brought liberals and conservatives together over its decision to prevent users from buying stocks that were making gobs of money for them.
"We now need to know more about @RobinhoodApp's decision to block retail investors from purchasing stock while hedge funds are freely able to trade stock as they see fit," Democratic Representative Alexandria Ocasio-Cortez tweeted on Thursday. "As a member of the Financial Services Cmte, I'd support a hearing if necessary."
Republican Senator Ted Cruz responded by tweeting, "Fully agree."
Also, Democratic Representative Rashida Tlaib tweeted, "This is beyond absurd. @FSCDems need to have a hearing on Robinhood's market manipulation. They're blocking the ability to trade to protect Wall Street hedge funds, stealing millions of dollars from their users to protect people who've used the stock market as a casino for decades."
The issue uniting the two parties revolves primarily around GameStop, a chain of brick-and-mortar stores that sells used video games. A $1,000 investment in the stock a few weeks ago could have yielded a $33,000 profit if the shares were sold at their peak Thursday. But after Robinhood disallowed new buyers, the stock was cut by more than one-half.
GameStop was a heavily shorted stock, meaning large investors like hedge funds were betting it would go lower. When it surged, they were losing far more money than they ever could have earned, even if the stock went to zero. "Covering" their short positions meant they needed to buy large numbers of shares at hugely inflated prices. Thus, Robinhood is accused of helping the big guys at the expense of the little guys, even though the company was founded in 2013 to bring equity to trading markets.
Robinhood founders Vladimir Tenev and Baiju Bhatt are both billionaires, since the company was recently valued north of $6 billion, and Bhatt even credited the very progressive Occupy Wall Street movement for encouraging him to create the platform.
Now, the two founders are on the wrong side of the progressives that once championed them. Democrat Representative Ro Khanna, for example, issued a statement saying: "While retail trading in some cases, like on Robinhood, blocked the purchasing of GameStop, hedge funds were still allowed to trade the stock.
"Instead of investing in future technologies to help America win the 21st Century, Wall Street poured billions into shorting this stock to crush this company and put workers out of business," Khanna said.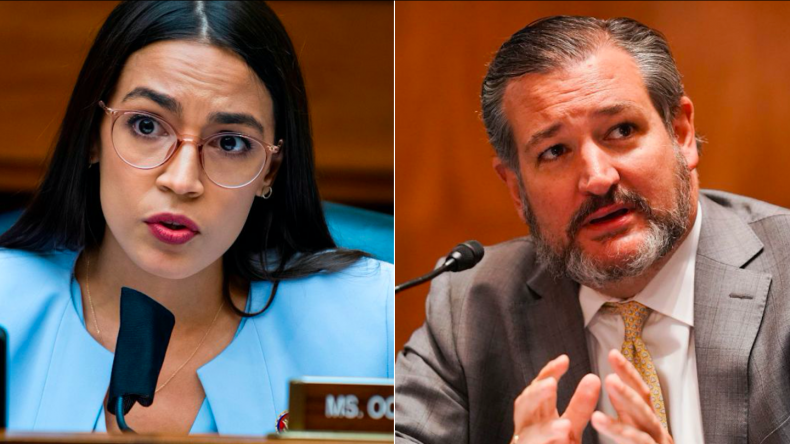 Robinhood also is preventing trading on other heavily shorted stocks, like American Airlines, AMC, BlackBerry, Bed Bath & Beyond, Castor Maritime, Express, Koss, Nokia, Sundial Growers, Tootsie Roll Industries and Trivago.
All were surging as the WallStreetBets Reddit forum and other outlets were encouraging readers to buy those stocks, not only to make money but to "stick it to the man." That "man" being the large firms that would lose billions as they scrambled to cover their short positions.
On Thursday, Rush Limbaugh tied the Robinhood situation to the politics of the so-called cancel culture, where social media giants shut down conversations they don't like, citing "hate speech" or incitements to violence, among other things.
"This GameStop business now makes this something that is understandable beyond the political world, and that is its value. It's not just political anymore. It's not just that you can't think for yourself, on issues, and matters of politics.... Everything is rigged in favor of the elites," Limbaugh said on his radio show. "The elites, the same people that were hell-bent on getting rid of Donald Trump, the same people are now trying to tell you what you can or can't do with your money."
There is, indeed, an element of censorship afoot, as a debate rages on social media as to whether the folks on Reddit and elsewhere who are pumping stocks should be allowed to continue to do so. Also, Apple is being accused of suddenly stopping reviews of the Robinhood app, where its average rating remains at 4.8 out of 5 stars, unusual given that at Google a wave of negative reviews caused the rating there to plunge to 1.2 stars on Thursday. Apple did not respond to Newsweek's request for comment.
Newsweek also asked Robinhood to respond to a series of questions regarding its decision to prevent the trading of certain stocks:
1. Why is Robinhood doing this?
2. Aren't the underlying companies complaining that Robinhood is depressing their stock prices?
3. How does Robinhood respond to accusations it is doing this to protect hedge funds and other large investors who were losing money on their short positions?
4. Lawmakers are calling for investigations into Robinhood over this. What's Robinhood's response?
5. After large investors get out of their money-losing short positions, is that when Robinhood will allow trading to resume?
This story will be updated should Robinhood respond.
Meanwhile, someone allegedly updated Robinhood's Wikipedia entry to read: "On January 28th, 2021, they restricted purchase of certain stocks like: GME, AMC, NOK because they are extremely volatile. Isn't volatility part of being in the stock market? This app is not for our average, hardworking, everyday American. The company's actions on January 18th, 2021, were a tell tale sign that they ARE the men in suits and should NOT be used by your everyday hardworking American."
Twitter users were sharing the alleged update on Thursday and complaining that it was quickly taken down.
A Wikipedia spokesperson told Newsweek: "It looks as though Robinhood's article has been protected by administrators because it seems news of the day has put extra views on the page and several instances of vandalism have occurred, but were quickly reverted either within minutes or seconds."
Also being shared on social media is a 2016 tweet allegedly from Robinhood that reads: "Let the people trade," usually accompanied with commentary about hypocrisy.
Donald Trump Jr. also got into the act Thursday, tweeting: "It took less than a day for big tech, big government and the corporate media to spring into action and begin colluding to protect their hedge fund buddies on Wall Street. This is what a rigged system looks like, folks! #RobinHood #RedditArmy #GME #GMEtothemoon."
Popular conservative radio host and podcaster Ben Shapiro tweeted: "Note: Robinhood absolutely should not be stopping trading of GameStop. Market mechanisms include the reality that some people will attempt to game the market mechanisms — and some will pay the price. Restricting who can buy and sell is using a hammer on free markets."
The infographic below, provided by Statista, illustrates the year-to-date stock performance of GameStop.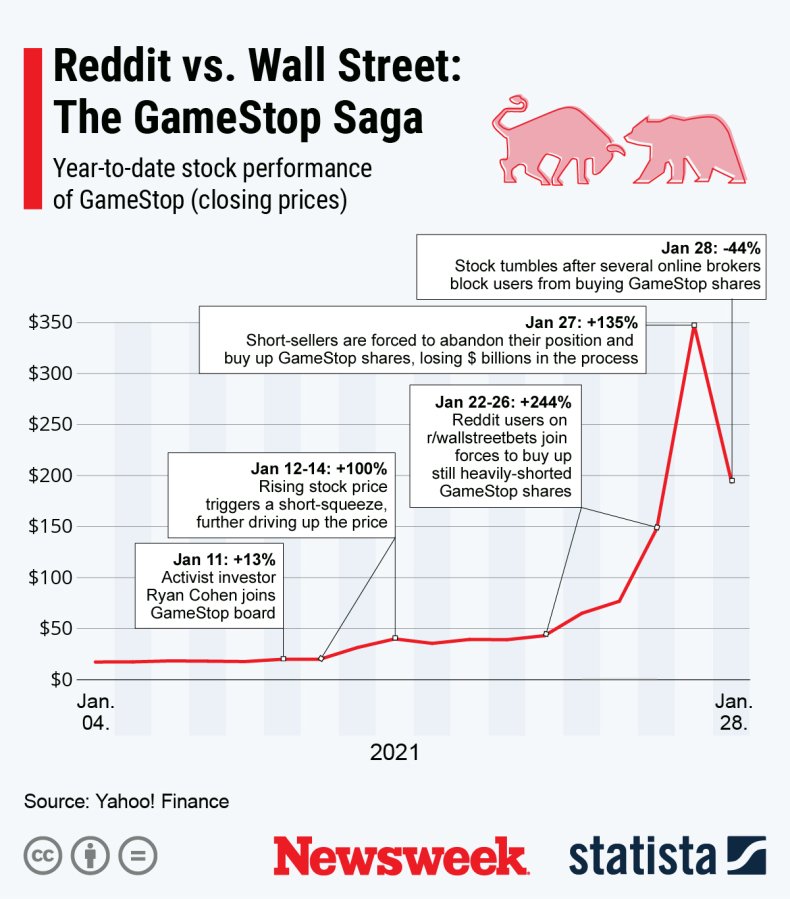 Update 1/29/21: This article was updated to includ an infographic.