How Gentrification Has Changed Brooklyn's Northside Festival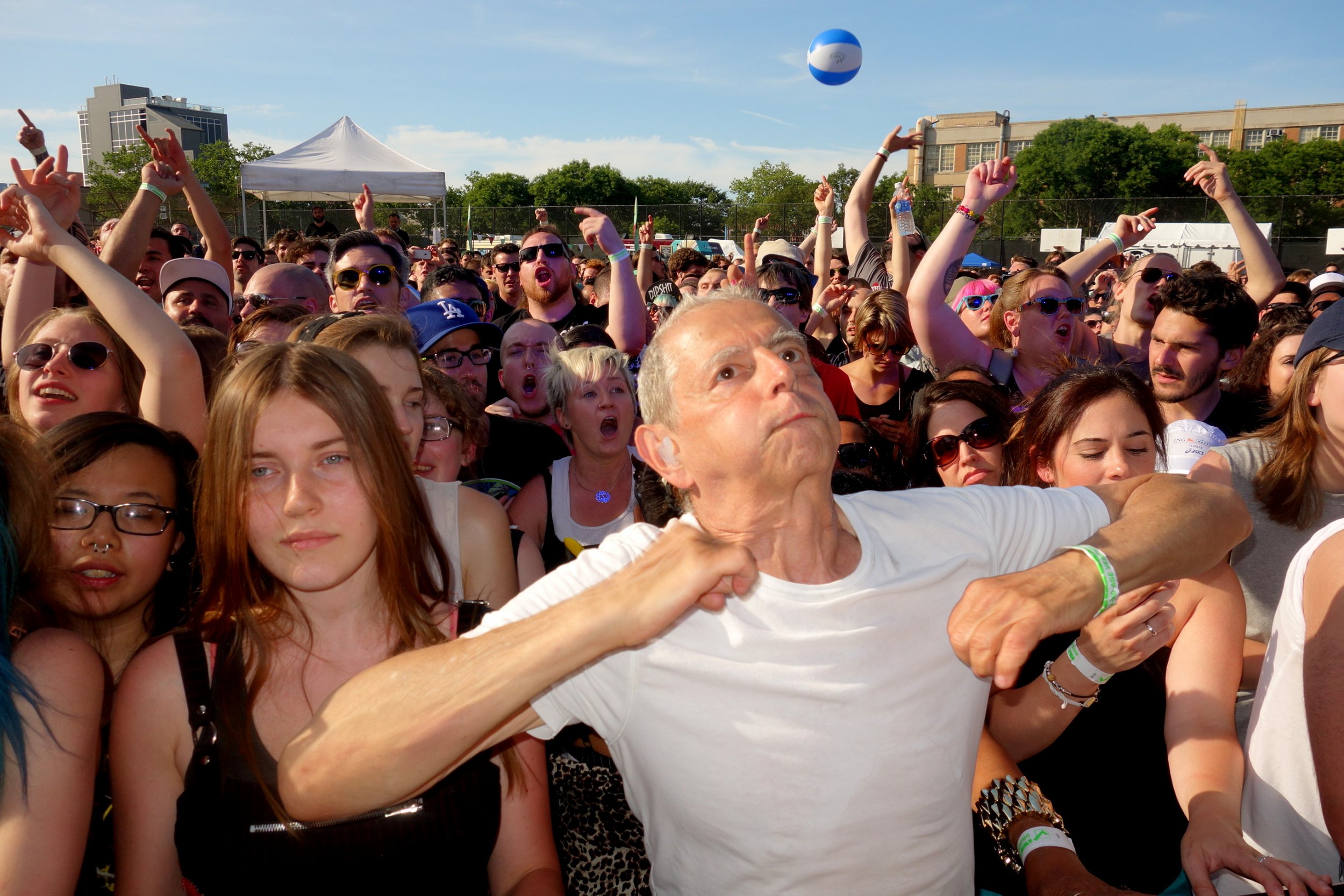 When the Northside Festival first came to Williamsburg, Brooklyn, in 2009, there wasn't a Duane Reade in sight.
That came the following fall, and then another, prompting outrage and small-scale community boycotts. Nor could you spot a Starbucks, Dunkin' Donuts or high-end hotel. About 50 indie acts performed. The then-fledgling music and film festival held its registration in the backroom of an art gallery that lacked air conditioning and was booked 12 hours before the event began.
"It was insanity," says Scott Stedman, who launched Northside that year with his brother Daniel Stedman, both founders of The L Magazine. Worse, the organizers didn't know how to get rid of garbage. "The headquarters started overflowing with garbage, and we just literally didn't know what to do, what number to call. One of our team members literally hopped in this cargo van, and we're manually taking this garbage and dumping it all over the neighborhood, in dumpsters and garbage cans. You could not do that today!"
"Kent Avenue was basically one giant, long garbage strip," his brother adds. "Not the string of luxury condominiums that it is now."
Those were the days. But Williamsburg has changed. First-wave gentrification, which brought artists and 20-somethings into the historically working-class immigrant neighborhood, has given way to a second or third wave of luxury-friendly businesses and developers. And the Northside Festival, which took place in a flurry of music showcases and tech gatherings last weekend, has kept pace with the area's high-profile transformation into a sleek, tourist-friendly wealth wonderland. Besides growing in scope and adding an "Innovation" component, the festival has shifted further into the more affordable Bushwick neighborhood.
"I just think it's grown," says the rapper Heems, who performed at Northside this year but now lives on Long Island. "A lot more bands that are involved. The stage I played was definitely a larger setup." (Heems alludes to his own exit from the neighborhood on his new album, Eat Pray Thug: "I'm so New York, I live with my momma / Had to leave Williamsburg and all the white drama.")
Those original 50 bands have blossomed into 400. The event draws some 100,000 attendees, according to the founders, including those who show up for the free outdoor shows, which were headlined by festival mainstays like Run the Jewels and Best Coast. Corporate sponsors include the likes of MasterCard and Dell. "We're in McCarren Park," Scott Stedman says. "We're in 50 Kent. We shut down Bedford Avenue for a few days. Actually, the community has allowed those things, the growth."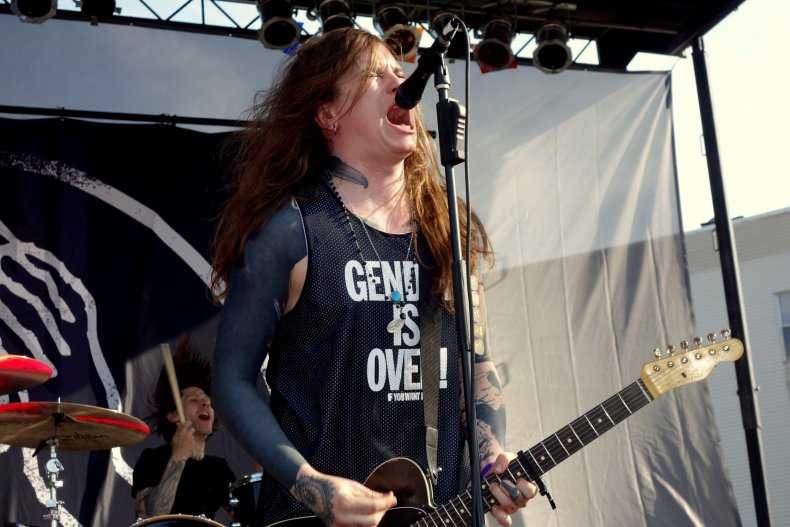 But the community has shifted. Ironically, the festival that was created to celebrate a spirit of creativity in Williamsburg and Greenpoint has had to extend beyond those neighborhoods to find it.
Call it the Kent Avenue effect. Several of Williamsburg's most prominent DIY venues—Glasslands, Death by Audio, 285 Kent—have shuttered over the past year and a half. All played host to Northside events towards the end of their reigns. New, similarly minded spaces have cropped up, like the venues Palisades and Alphaville, and have been absorbed into Northside for the weekend. But those spots are in Bushwick, not Williamsburg.
"There used to be several DIY venues that Northside would have showcases in. Now there are simply less DIY venues around," says former 285 Kent promoter Ric Leichtung, who works with Baby's All Right, Palisades and other venues in the borough. Leichtung organized several parties with Northside this year. A net effect of the closings, he says, has been to push the parameters of the Northside festival east—deeper into the Bushwick neighborhood, which lies further from Manhattan.
"Initially, Northside was very specific to Williamsburg and Greenpoint," Leichtung says. The epicenter remains a five- to 10-block radius surrounding the Bedford Avenue L train, and particularly McCarren Park. "But out of necessity they've branched out to where the music scene is going, which is away from Williamsburg."
Palisades, for instance, sits on a stretch of Broadway marked by cheap nail salons and fried chicken joints, closer to the J Train than the L, the former being the line most associated with Williamsburg. The location would have been inconceivable for a popular venue six years ago. But "more artists live in the Bushwick and Ridgewood [Queens] area," promoter Rami Haykal notes. (Plus, Haykal adds, there are fewer noise restrictions the further you get from residential condos and hotels.)
This year Palisades played host to several Northside highlights. On Thursday night, the Boston outfit Guerilla Toss, whose avant-punk melodies are gleefully mangled beyond recognition, entertained a packed house. On Saturday, the well-known experimental project Xiu Xiu headlined despite sweltering heat.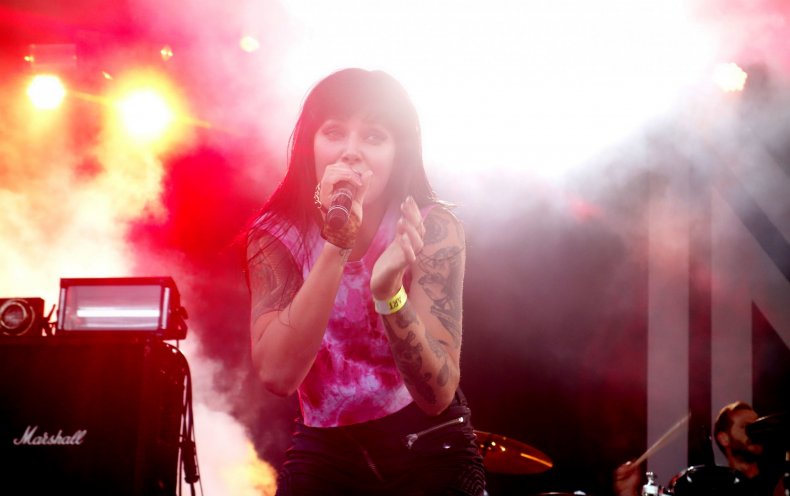 Meanwhile, back in the northern tip of Williamsburg, a parade of "innovators" played buzzword bingo at tech panels with names like "Innovate, Create, and Sustain: Entrepreneurs for a Healthy Economy" and "Media Disruption, Consumption & Survival: What's Next?" This wasn't always part of the festival. The Stedman brothers first conceived of Northside's technology component four years ago, in response to Williamsburg's shifting professional allegiances.
"When we started this, the creative community was indie rock bands and DIY artists," Scott Stedman says. "Now the community is also a patch of entrepreneurs and technologists…. It's very Brooklyn."
"The biggest change to the festival has been the development of Northside Innovation," his brother adds. "Seven years ago, if you said to somebody, 'I work in tech,' I don't think they would even completely know what you meant. They might think you work down in South Street Seaport or something. But they certainly wouldn't think it was cool. Whereas now, when you say 'I work in tech,' people are like, 'Oh, me too!' or 'I want to work in tech.'"
The first Northside Innovation took place in a 40,000-square-foot warehouse building occupying a whole city block. The organizers spray-painted a mural, with "NORTHSIDE" appearing in big block letters across the building. The mural remained for more than a year. But the building was sold and turned into luxury condos.
Northside isn't done expanding. The festival just announced a partnership with the Dutch to launch Northside Amsterdam next year. Nor is Williamsburg's corporatization process complete. "We're getting a Whole Foods," points out longtime bartender Megan Giometti. "They're putting in a BMW dealership on Kent and North 15th."
Giometti owns the Gibson, a saloon-style bar on Bedford Avenue. This year she noticed more foreign tourists in town for Northside, thanks to two new hotels built in the past year. But she's afraid she won't be around much longer to see what happens.
"When I moved here 16 years ago, I lived in the West Village—there was nothing here," Giometti says. "Now all the small businesses are getting put out of business because rents have risen so much. It's scary now, because you could lose your business when your lease runs out because nobody can afford their rent. My lease is up in four years, and I'm very scared."
Asked whether they still live in Williamsburg, Daniel and Scott Stedman both paused momentarily. Scott admitted he's moved to the Boston area to raise three young kids; he calls it a change in priorities. Daniel now lives in Prospect Heights.
"I would say that I've always found Williamsburg to be more or less a neighborhood to hang out—never really my favorite place to live," Daniel Stedman says. "It just became too much of a zoo too quickly to have a family and walk the dog and take deep breaths."