How To Get a 1 Cent Burger King Whopper: By Stalking McDonald's, Ordering from App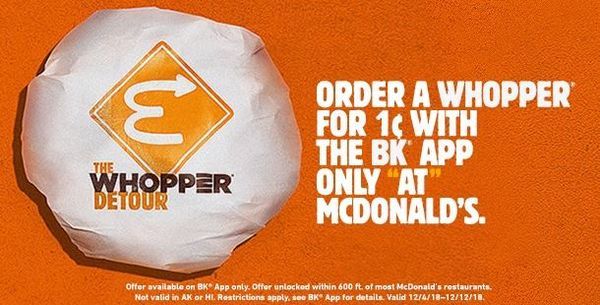 If this Burger King deal sounds too good to be true, that's probably because some effort is required. Yes, Burger King is offering a 1-cent Whopper hamburger through Wednesday. But it's not as easy as showing up at your nearest Burger King and placing an order. To get this deal, called the Whopper Detour, you will need to download an app and order from it within stalking distance of a McDonald's.
Here's how it works:
Customers desiring the 1-cent Whopper should first download the BK app. You can get that here.
Then, they must drive to a McDonald's location and when within 600 feet of a McDonald's use the Burger King app to order a Whopper.
Then, they drive to Burger King to pick up a Whopper for 1 cent. The BK app will provide directions to the nearest Burger King.
The concept for this unique Burger King promotion is about "geofencing" McDonald's locations around the country, Burger King said in a press release. "If a guest is inside one of these geofenced areas and has the new BK App on their device, the app will unlock the Whopper sandwich for a penny promotion. Once the 1-cent Whopper sandwich order is placed, the user will be 'detoured' away from McDonald's, as the app navigates them to the nearest Burger King restaurant for pick up."
The promotion hasn't been without a hitch, however. One customer who tried to get a 1 cent Whopper found out the hard way that Burger King's app charged him $1,093.91, causing a large overdraft on his bank account. So much for that penny promotion.
Boyce Harvey, from California, is the customer who selected the Whopper Detour deal on the app. When he got to Burger King the manager reportedly told him they could not find the order, so he said he selected another deal, finding he was wrongly charged more than $1,000, making his checking account overdrawn, according to a report from KTRK.
Burger King is working with Harvey to "straighten out" this mistake, KTRK reported.