How to Get Free Pancakes for National Pancake Day 2020
Happy National Pancake Day! To celebrate the last day before Lent (February 25, 2020), some of the biggest names in the pancake business are offering Americans free pancakes.
Brands like IHOP and Nutella are offering incentives for free pancakes this week, meaning that free pancakes are not just for one day. In some instances, an American could have free pancakes for life.
On February 25, IHOP will be offering customers a chance to win one of 250,000 prizes while enjoying a free short stack of buttermilk pancakes. Between 7:00 a.m. and 7:00 p.m. local time, participating restaurants nationwide will let guests try their luck at winning one of the prizes—the grand prize is pancakes for life.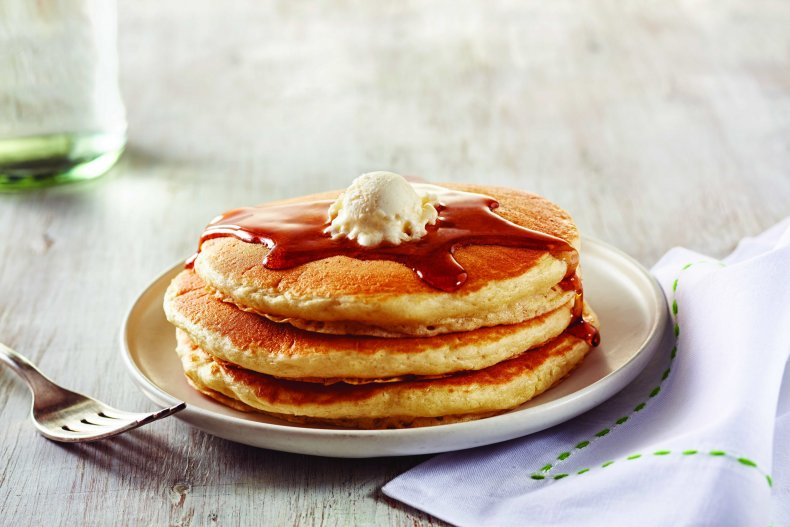 To enter, customers need to scan a QR code located on the signage at their table to find out if they're an instant prize winner. By completing the required information, all participants will also be entered into the grand prize draw. The free buttermilk stack of pancakes can only be claimed by dining in, so this extra incentive will make the stay even more worthwhile.
Instant win prizes include limited-edition pancake themed merchandise such as bicycles, scooters, customizable jackets, handmade berets and more. In addition to the "Pancakes for Life" grand prize, 10 lucky winners will also secure $500 in IHOP gift cards.
"IHOP launched its National Pancake Day event 15 years ago as a way to celebrate the best food ever—pancakes—and put a purpose behind the day by partnering with Children's Miracle Network Hospitals and other charities to help kids in our communities," said Stephanie Peterson, executive director of
communications, IHOP. "This year, we really amped up our annual celebration by creating the ultimate IHOP fan sweepstakes where one lucky pancake-er will walk away with Pancakes for Life."
Since 2006, IHOP has raised more than $30 million for its charity partners, helping make miracles happen for kids facing critical illnesses and disabilities. Guests can donate on-check, with cash at donation boxes or by purchasing a wall tag at the restaurant.
The IHOP National Pancake Day "Pancakes for Life" sweepstakes is open to guests age 13 or older. Some restrictions might apply so guests are recommended to see the official contest rules.
Over in New York City, on February 29 Nutella is opening the Nutella Syrup Swap Shop Pop-Up. The shop will be situated at Grand Central's Vanderbilt Hall, and will be open from 9:00 a.m. until 4:00 p.m. ET or while supplies last.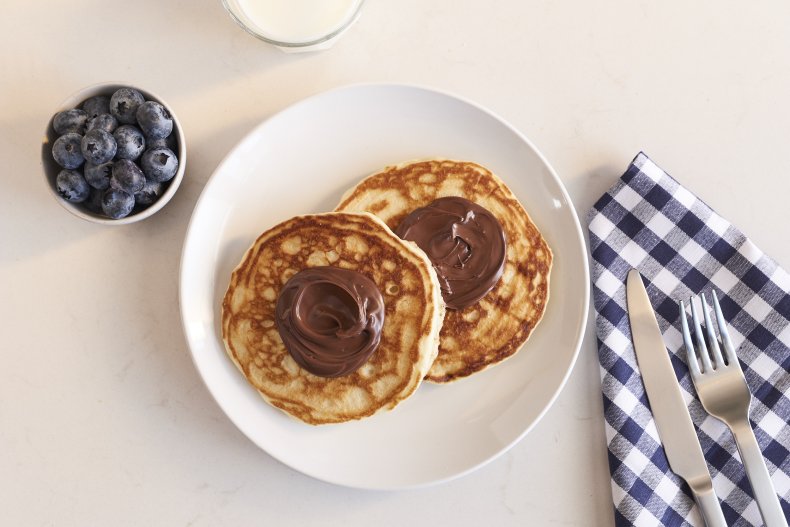 The pop-up will only sell one product—Nutella—and will only accept one form of payment—syrup. Families and fans who bring in a bottle of syrup (opened or unopened) will receive pancakes topped with the hazelnut spread as well as a 13-ounce jar of Nutella.
Fans interested in attending the Nutella Syrup Swap Shop can find details here.