The Tony Awards in Less Than 20 Minutes: Highlights From the Evening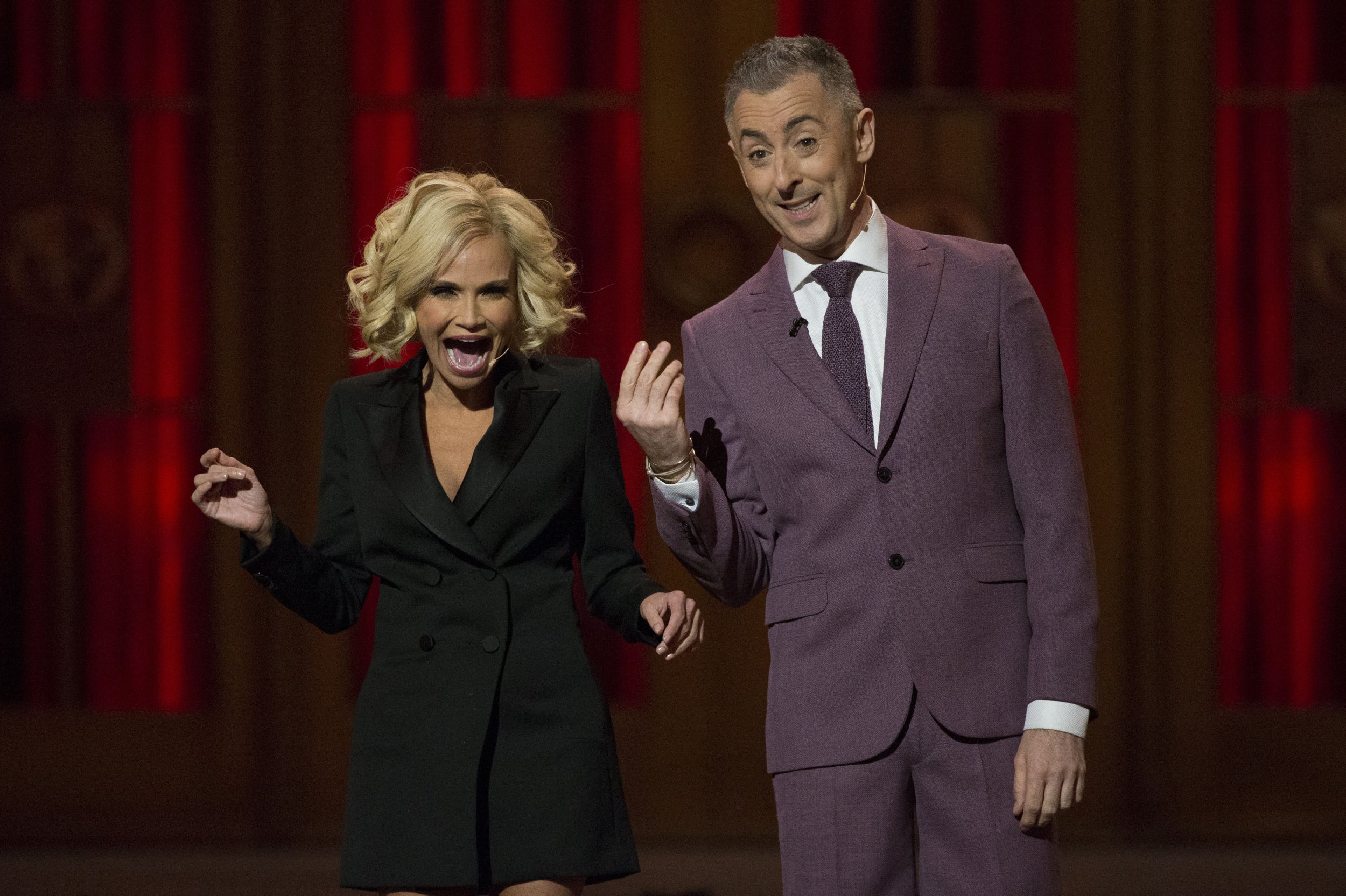 Not everyone has a TV connection and three hours to spare for the Tony Awards, presented Sunday night at New York's Radio City Music Hall by co-hosts Alan Cumming and Kristin Chenoweth. For those who missed it, or want to recount some of the highlights, here are 13 of the night's most memorable moments.
Meta-Musical Number From Something Rotten!
The first performance of the evening, by the cast of Something Rotten!, poked fun at musicals with a quintessential musical number, which, of course, had to have spontaneous singing and dance breaks, they explained.
How to Curtail Long Acceptance Speeches
"Don't say you haven't been warned, people," Chenoweth said, as she and Cumming described what they'd do to people who give long acceptance speeches. If the co-hosts had it their way, offenders would be intercepted by a string of tap-dancing men—who bore more than a passing resemblance to the porters in On the 20th Century—and taken offstage.
"Please Recycle!"
Ruthie Ann Miles whipped out her phone to read her acceptance for the featured actress in a musical award for her performance in The King and I. "Please recycle!" she quipped before her long speech, which was not in fact cut short by tap dancers.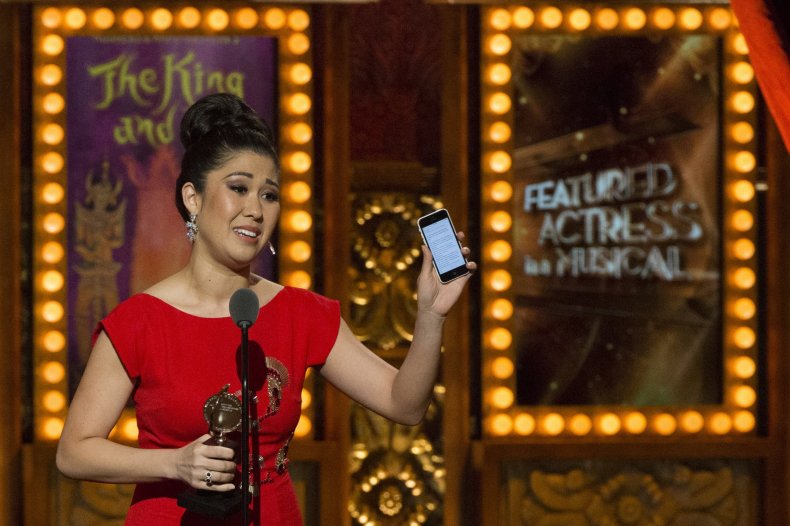 11-Year-Old Tony Nominee Takes the Stage
Actress Jennifer Grey and her father, Joel Grey, introduced one of the youngest performers at the Tonys. Sydney Lucas sang "Ring of Keys" from Fun Home, a song about sexual discovery in a show based on Alison Bechdel's graphic memoir about her closeted gay father and struggling with being gay herself." Joel Grey came out this year at age 82.
Chita Rivera Still Killin' It at 82
More than half a century after she performed the role of Anita in West Side Story's Broadway premiere, Rivera still commands the stage. Here she is performing a number from The Visit:
First Female Writing Team Wins Tony Award for Musical Score
Jeanine Tesori and Lisa Kron made Tony history.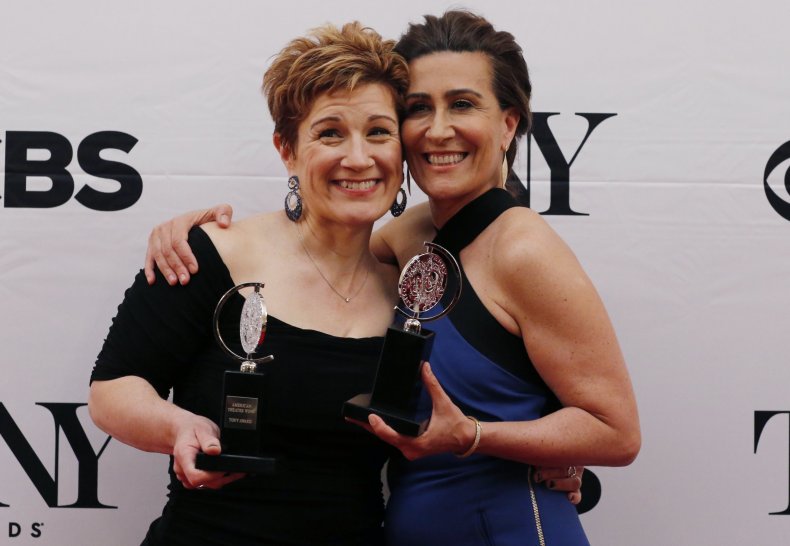 All the Dancing!
This year's Tony nominees included dance-heavy productions like An American in Paris and On The Town. Siblings Robert and Megan Fairchild, both principal dancers with New York City Ballet, recently made their respective Broadway debuts in these shows. Christopher Wheeldon took home the Tony for best choreography for An American in Paris, which also stars the Royal Ballet's Leanne Cope. Groundbreaking American Ballet Theatre soloist Misty Copeland also made an appearance, to introduce the musical number from On the Town.
Meanwhile, Annaleigh Ashford took the award for best featured actress in play for her performance as the ballet dancing-obsessed Essie in You Can't Take It With You. "I can't believe I'm standing on a stage at Radio City Music Hall for the worst dancing that ever happened on Broadway!" she joked.
Alan Cumming's and Kristin Chenoweth's Wardrobes
The co-hosts made their way through what seemed like an endless cycle of outfits. Cumming started off the night in shorts, and things just got weirder from there.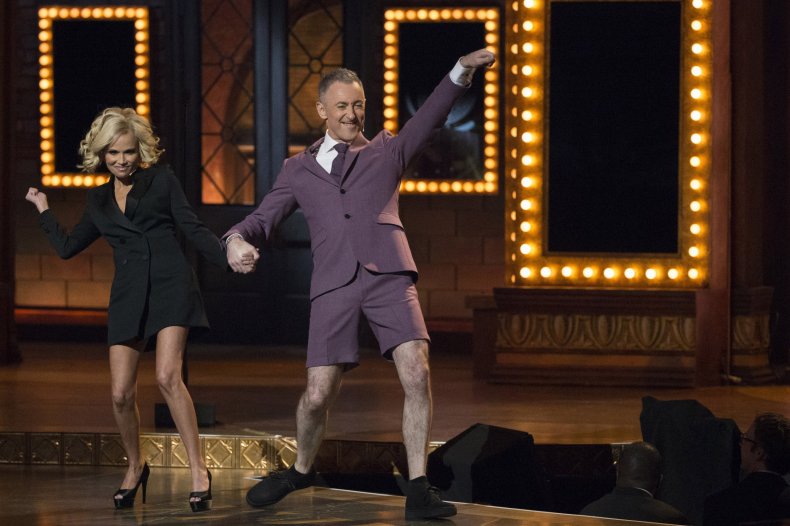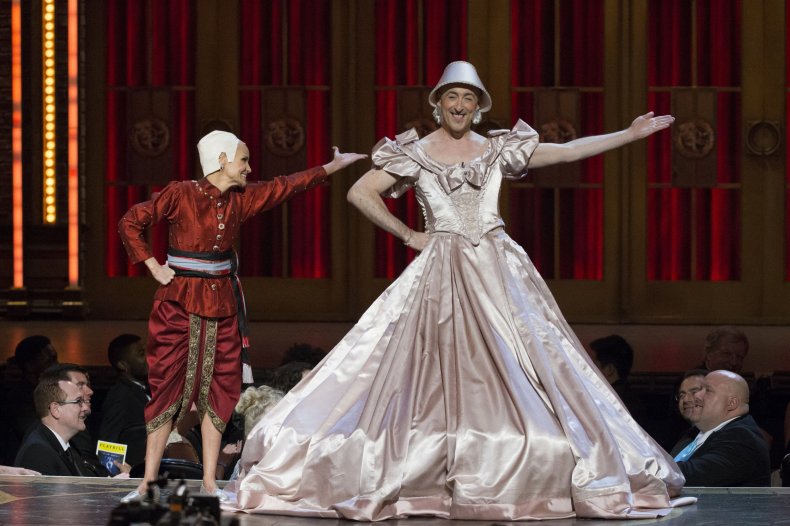 The Performer Alan Cumming Was Most Excited for: Josh Groban
Josh Groban sang "You'll Never Walk Alone" for the In Memoriam segment with a chorus that filled the theater with more than a hundred voices.
Jason Alexander and Larry David Talk About the Latter Being a Loser
Before presenting the award for best musical to Fun Home, the duo discussed the snub of David's Fish in the Dark. "The true measure of a man is not to be nominated and still show up to read a list of names of those who are nominated. That's a big man. That's a big, big man," David said, before Alexander called him a loser instead. Alexander will be "replacing," or "stepping into," David's role starting Tuesday. The proper words became a topic of debate between them on Sunday.
Kelli O'Hara Wanted to Do the Worm, and Tap Danced in Stilettos
O'Hara performed "Getting to Know You" and "Shall We Dance" from The King and I with Ken Watanabe. Later in the evening, she won the award for leading actress in a musical. Her emotional speech ended with a declaration that she wanted to do the worm. She then tap danced off into the wings.
Tommy Tune Has Lived Out "Every Texas Father's Dream for Their Firstborn Son"
"Right now I'm thinking about Texas in the '50s," Tune began, as he accepted the special Tony Award for lifetime achievement in the theatre. "You see my father's great dream for me was the same as every Texas father's dream for their firstborn son. They wanted us all to leave Texas, go to New York and dance in the chorus of a Broadway show."
Alex Sharp's Acceptance Speech
Around this time last year, 26-year-old Sharp was accepting his diploma from Juilliard. Now he's a Tony winner, snagging the award for best leading actor in a play for his performance in The Curious Incident of the Dog in the Night-Time. Answering the question left open at the end of that show, he said: "'Does that mean I can do anything?' Yes it does!"