How 'Good Girls Revolt' Got Shot Down By Amazon—Again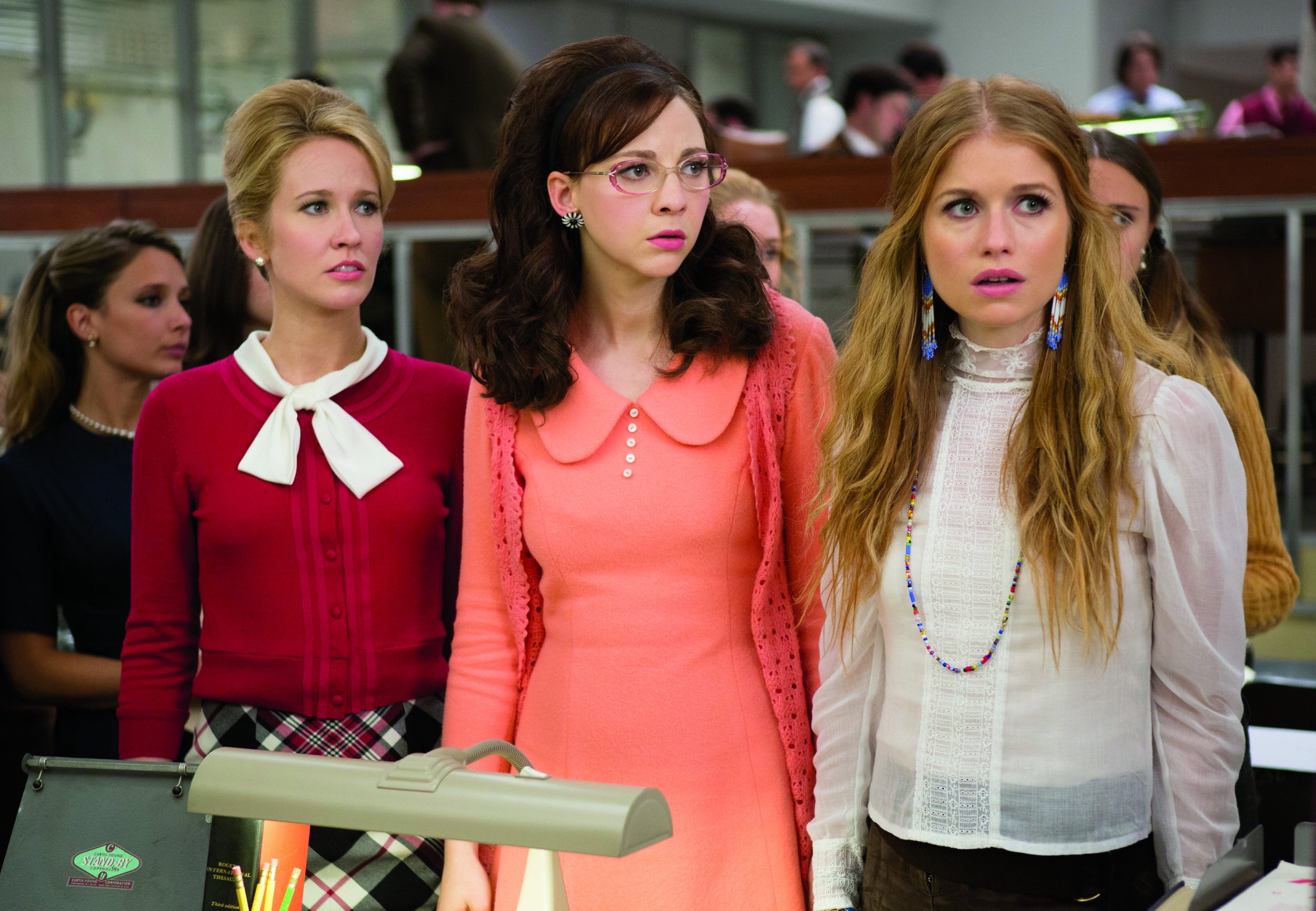 The last glimmer of hope for a triumphant return of Good Girls Revolt has been extinguished. There will not be a second season.
"It's official, it's over," Dana Calvo, the series creator and an executive producer on the show, said in a video announcement posted to Instagram on Friday. "I just wanted to thank you for all of it, especially your stone-cold solidarity this past fall. It meant the world to us," she added. "You all took what started out as a writing assignment and turned it into one of the most remarkable journeys of my life. So thank you again."
Good Girls Revolt premiered during Amazon's pilot season in November 2015 and was picked up for a full season, which began streaming in late October 2016 to favorable reviews. Five weeks later, Amazon passed on a second season. Now, the streaming giant has blown a second chance to revive the show that inspired the hashtag #SaveGoodGirlsRevolt.
The series was inspired by Lynn Povich's 2012 book, The Good Girls Revolt: How the Women of Newsweek Sued their Bosses and Changed the Workplace, which told the true story of 46 female staffers, including Povich, who became the first in media to sue for gender discrimination nearly half a century ago. At the time, women at Newsweek worked as mail girls, researchers and reporters. The men were the stars. "Women don't write at Newsweek," they were told.
On March 16, 1970, dozens of Newsweek women held a press conference to announce a complaint they were filing with the Equal Employment Opportunity Commission. The timing was intentional. That day, the magazine's bright yellow cover screamed "Women in Revolt." Editors had assigned the story about the women's liberation movement in America to a female freelancer, Helen Dudar, rather than having one of their own women write it.
Related: 'Good Girls Revolt': The Feminist Legacy of a Newsweek Lawsuit
The first season of the fictionalized series (with Newsweek's name changed to New of the Week) ends with the women going public with their gender discrimination complaint. "Now we get to see fallout of that action," Calvo told Newsweek in October 2016, before the full season was released. "I'm excited to write the messy lives these women have created for themselves."
When Amazon canceled the show, it was to the bafflement of its creators, cast and fans.
"What we hadn't factored in is that [Amazon Studios head] Roy Price just doesn't care for the show," Calvo told The Hollywood Reporter on December 7, 2016. Price virtually ignored the show, in fact; he didn't give notes on the episodes or go to the premiere, THR reported. "All I know is that in the [season two] pitch, he asked us to refer to the characters by the actors' names because he didn't know the characters' names," Calvo told THR. "He's representative of the Amazon culture in that he's just impenetrable."
Joe Lewis, Amazon's former head of drama and comedy, told THR at the time that "we had high hopes for Good Girls Revolt, and have tremendous respect for the creators, cast and Sony." But "the show wasn't performing at the levels we had hoped for—either in total viewership or completion rates," he said. Completion rates measure what portion of viewers who start watching a show continue through to the end, and data from Symphony Advanced Media contradicted Lewis's remarks: It found that Good Girls Revolt had an 80 percent completion rate and a strong following in the female 18-to-49 demographic.
Sony Pictures Television, the studio that produced the show, reportedly planned to shop it elsewhere in the immediate aftermath of Amazon's December 2016 decision, but nothing seemed to come of it.
Nearly a year later, real-life events provided a strange coda to this pre-#MeToo series about female empowerment. Price was suspended from Amazon on October 12 and subsequently resigned in the wake of charges of sexual harassment. Isa Hackett, an executive producer on Amazon's Man in the High Castle and Philip K. Dick's Electric Dreams (launching on Friday) came forward in the days after the first Weinstein allegations were published in The New York Times and The New Yorker. Hackett said Price aggressively propositioned her, telling her, "You will love my dick."
The irony of a man being accused of sexual harassment having played a role in canceling a series about sexual harassment and gender discrimination in the workplace was not lost on observers. Fans and cast members took to social media to demand, yet again, that the show be saved. Cast and creator gave interviews about why it should come back. Several outlets soon reported that it might indeed have a second chance.
Good Girls Revolt did get one more shot at a second season. There was another round of pitches in mid-December, a source familiar with the project told Newsweek, including two at basic cable networks and one at Amazon. Sony championed this push, the source said. The company created a reel of fans asking to bring the show back and a thick packet of social media mentions, and offered ample evidence of the show's popularity.
To date, the show has a 96 percent audience score on Rotten Tomatoes (with a more modest 69 percent critics' score), an 8.2 out of 10 rating on IMDB with more than 3,500 reviews and a 4.8 out of 5 star rating on Amazon itself, with nearly 30,000 reviews. In comparison, the first season of Amazon's Transparent has a 4.4 star rating with roughly 35,000 reviews. Amazon renewed Transparent for a fifth season in August, even before Season 4 was released in September (though it may look different after sexual harassment allegations against its star Jeffrey Tambor).
In the end, both basic cable networks passed: The reasoning, the source said, included the cost of the show, the difficulty of fitting it into their lineups and the sense that so many changes would be necessary to ensure it was "on brand" for them that it wouldn't be the same series. As for the Amazon pitch, the company still wasn't interested. The rejection came just before the holidays.
"I feel that this hasty cancellation by this guy, by Roy Price, really damaged the show," a disappointed Povich told Newsweek on Saturday. She was not involved in the latest round of pitching, but she feels Amazon hasn't considered the fact that the first season suffered from bad timing. Good Girls Revolt premiered less than two weeks before an "incredibly contentious and upsetting political election for president," when people were "glued to news channels."
Now, of course, the show is more timely than ever. "The themes that we're all now talking about are right in the show," said Povich. "I'm infuriated by this decision."
Sony confirmed to Newsweek that the show was not picked up for a second season, but declined to comment further. Amazon did not immediately respond to Newsweek's request for comment.
Fans reacted to the end of the show on Twitter, as did Genevieve Angelson and Anna Camp—who played two of the show's leads, Patti Robinson and Jane Hollander, respectively.
"Being a part of a show that was not only popular but actually MEANT something to women, and men, in a year with so much misogyny and exposed hate for women, was a gift I never took for granted," Angelson told Newsweek in a message.
"I don't know if I'll ever get the chance to have my politics and my art intersect in a way that feels so useful," she said. "And that's heartbreaking. But to be a part of the awakening and empowerment of so many viewers was an experience I can't put words to. I can only say there's a welling up in my eyes and throat and heart. And a roar in my belly."
Though Povich doesn't know the plotlines Calvo and her team had planned for a second season of her fictionalized story, she wants to remind fans of the show that, in real life, that first bold move in 1970 didn't fix everything. She eventually went on to write cover stories and become the magazine's first female senior editor, but only after she and her colleagues filed charges a second time in 1972, because, according to her book, "sex discrimination at the magazine remains essentially unchanged."