School of Rock: Rating the Music Gods of 'Vinyl'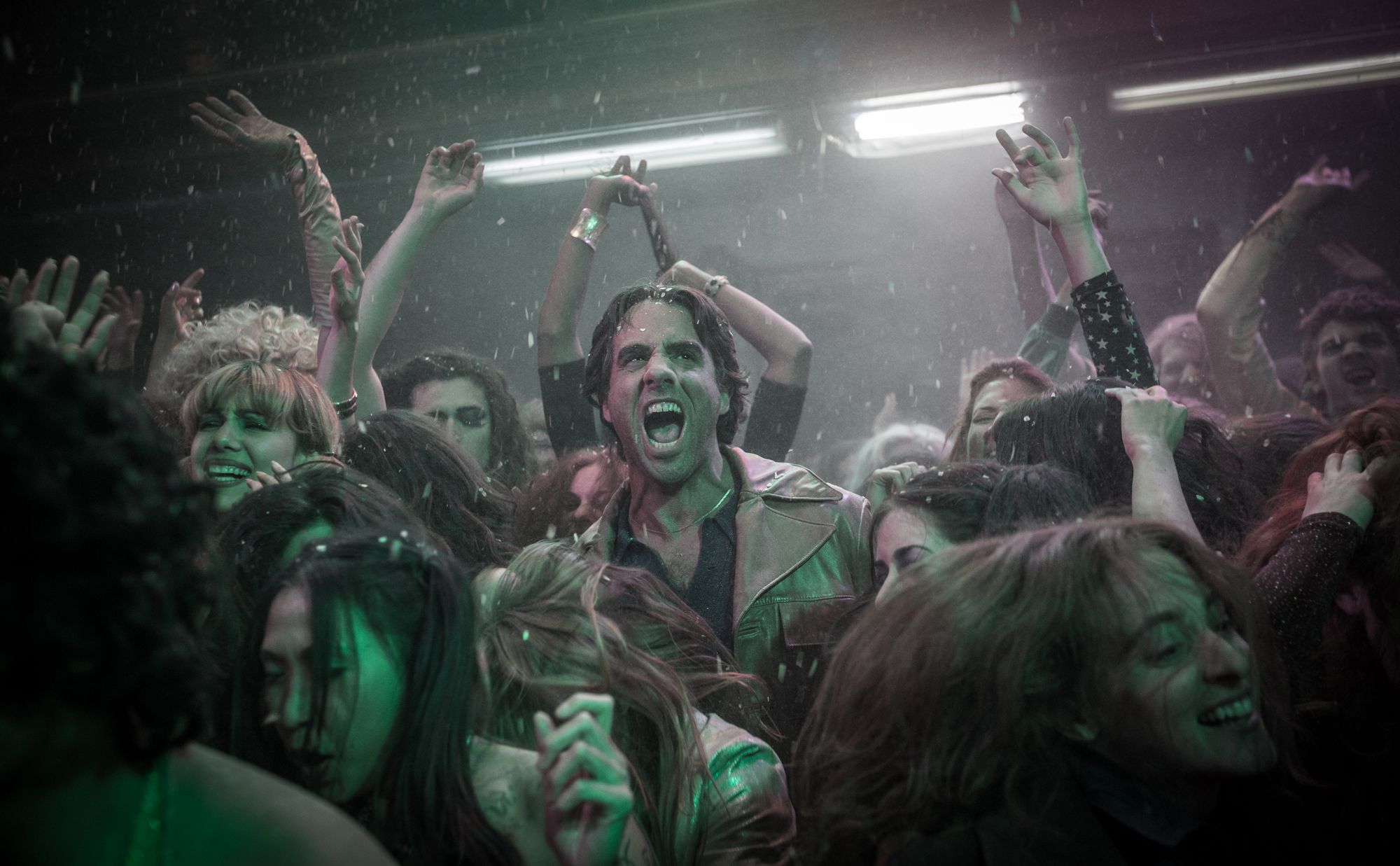 Is HBO's Vinyl, whose rookie season finale airs at 9 p.m. Sunday, a drama or a school of rock history? The series, which is set in the early 1970s and revolves around a fictitious New York City-based record label, American Century Records, is meticulous when it comes to sweating the musical details.
Midway through the Valentine's Day series premiere, for example, "Cum On Feel The Noize" played in the background. Most American viewers recognized that heavy-metal anthem as a Quiet Riot hit from 1983, which would appear to be a sloppy anachronism for a show based on the music industry and set 10 years earlier. However, the song was a No. 1 hit in the United Kingdom in 1973 for Slade, an early hair-metal band that had been mentioned in the previous scene. "We've provoked a lot of trainspotting, musically, among our viewers," says Randall Poster, Vinyl's music supervisor. "We're keen to that, and we take pride in being authentic to the era."
Like an audacious and occasionally self-indulgent guitar solo, Vinyl boldly sprinkles each episode with of-the-era performances and actors portraying legendary rock gods. There's John Lennon and May Pang, his personal assistant, seated in a booth at Max's Kansas City as Bob Marley and the Wailers perform onstage. Here's Mama Cass, Stephen Stills and Graham Parsons grooving at a beach house in Malibu. There's Led Zeppelin's ogre of a manager, Peter Grant, taking the piss out of a vendor backstage at Madison Square Garden for selling unauthorized merchandise as lead singer Robert Plant looks on (imagine how furious Grant will be when he discovers the band's take from its three New York City shows, $203,000, has been stolen from a safe-deposit box back at their hotel).
While television critics have dropped lukewarm praise on Vinyl's plot line —Peak TV can be a bitch—the show's determination to accurately portray the early 1970s music scene is admirable, if not obsessive. It also deserves to be evaluated on its own merits. Below, a look at some of season one's more memorable cuts, with some liner notes from Poster, who has worked as a music supervisor or consultant on nearly 100 films, from Kids to The Hangover to The Wolf of Wall Street.
"Personality Crisis"
This performance by glam-rockers the New York Dolls bookends the pilot episode. That's Christian Peslak in the role of lead vocalist David Johansen, but Johansen re-recorded his vocals for the show. "We filmed that in a church in Brooklyn and what I remember is that it was super-hot inside," says Poster.
Grade: B. The scene drags on a little long and while Peslak apes Johansen's debauched cabaret clown well, it all feels a little contrived and too clean. Besides, the Dolls only figuratively, not literally, brought the house down.
Led Zeppelin (backstage at Madison Square Garden)
Asking any actor to summon the mystical aura of early 1970s Robert Plant is a fool's errand, and here Zebedee Row only looks the part (perhaps he should have gazed at this photo for hours before shooting the scene). Ian Hart is far better as the band's imposing manager, Grant. Kudos to the prop department for the banner in the background congratulating the New York Knicks' on their recently won NBA championship (who knew at the time that it might be their last?). That's a silent and surly Vince Nudo as John Bonham.
Grade: B-minus. This is a band that used to hurl television sets out their hotel room windows. They just don't appear terrifying enough here.
Velvet Underground (Connor Hanwick as Lou Reed)
In the flashback scene in which the show's protagonist, Richie Finestra (Bobby Cannavale), meets his future wife, Devon (Olivia Wilde), they are other people's dates at a Velvet Underground show. "They're pure and real," Finestra tells Devon's date. "Not the least bit concerned with developing a mainstream following."
"Well, from the sounds of things," Devon's date replies, "they're well on their way."
Also in this scene, we get our first glimpse of Andy Warhol, a recurring character played by John Cameron Mitchell. He created and starred in Hedwig and the Angry Inch, a highly-acclaimed one-man show in which the titular character is a pop music chameleon. Mitchell may be the most gifted musical artist in Vinyl, yet he plays a pop-culture icon whose artistry was solely visual. "John just captures the Warhol spirit," says Poster.
Grade: B. This may be the first scene in which the show does not take the music, or itself, too seriously.
Alice Cooper (Dustin Ingram)
The Godfather of Shock Rock is the focus of a subplot in the third episode as Clark, a callow A&R man at American Century, attempts to lure him away from his current record label. Ingram nails Cooper's look and his subtly playful nature. Thankfully, we are not subjected to any of Cooper's music.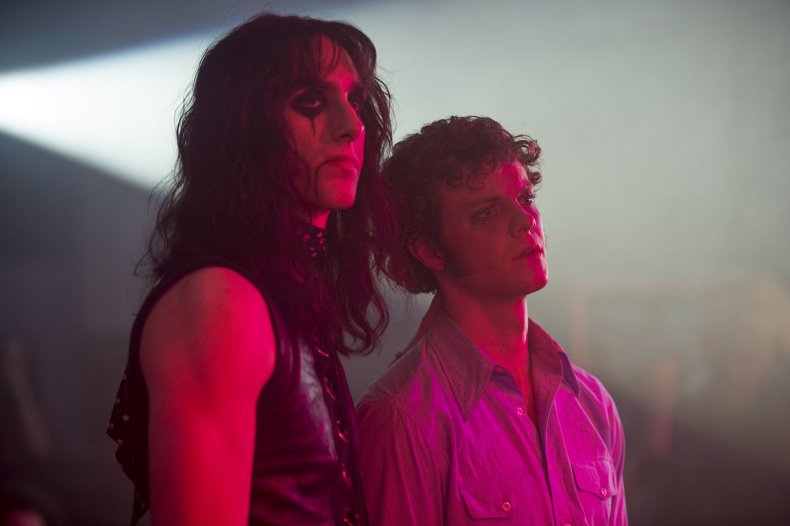 Grade: A. Ingram inhabits Cooper's spirit and there's a fantastic scene involving a boa constrictor and a round of golf. Vinyl even throws a shout-out to Cooper's legendary manager, Shep Gordon, the subject of the critically acclaimed 2013 documentary Supermensch.
"Suffragette City"
David Bowie's music appears twice in one episode of Vinyl. First, Noah Bean portrays a transitional Bowie (leaving the Ziggy Stardust period, just before his Thin White Duke era) as he does a soundcheck. Later, a teenage bat mitzvah performer played by Douglas Smith does a piercing rendition of "Life On Mars (the vocalist for the recording is Trey Songz)."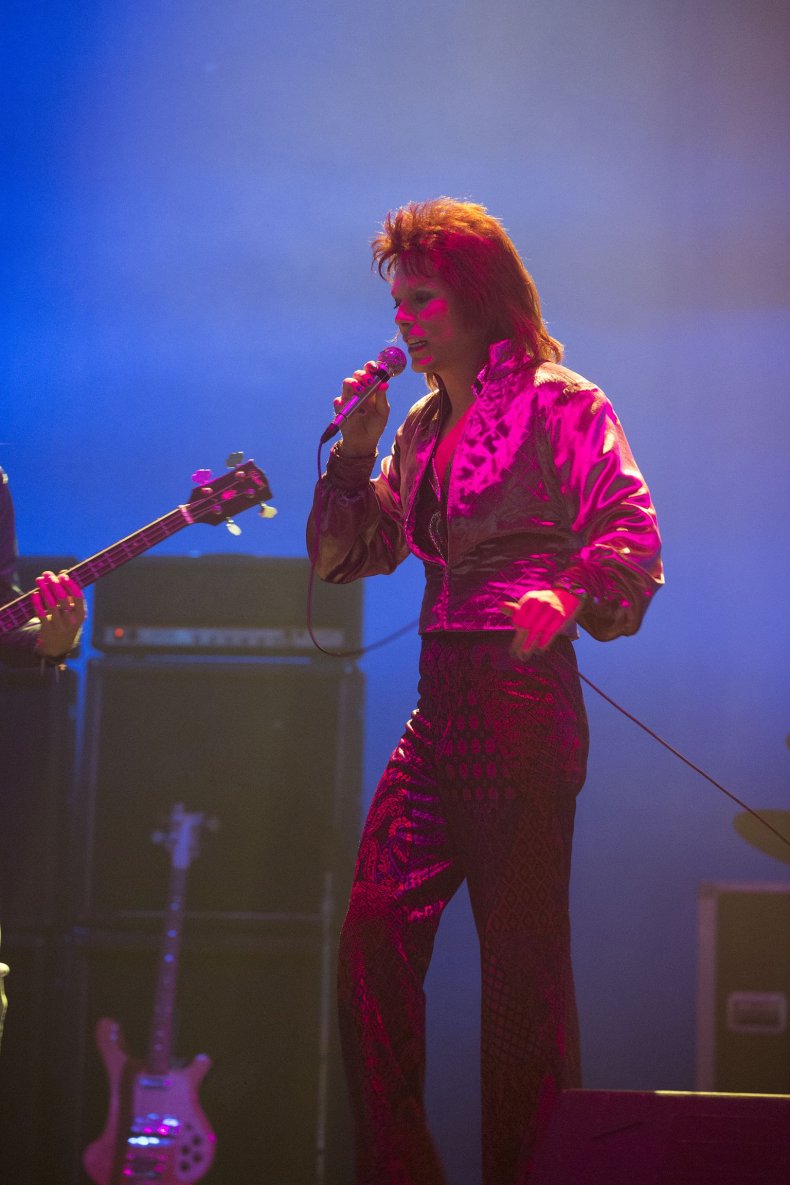 "We shot that episode before Bowie passed away and had no idea of his condition," says Poster, alluding to Bowie's passing in January at the age of 69. "I'd worked with Bowie's team before and they went into the vaults and found stems of that song for us to use. I told you about our trainspotters. Someone complained that we 'had butchered Bowie's song.' I wanted to reply, 'That's Bowie's voice!'"
Grade: A. Bean captures Bowie's easy charm and charisma, while the "Life On Mars" montage is the series' first truly ethereal moment.
Malibu Beach House Party
Give Vinyl seven minutes and it'll give you the early Seventies southern California soft rock scene. Richie and his right-hand man, Zac (Ray Romano), attend an afternoon bash at a Malibu beach house ("This whole city's a fuckin' mortuary with an ocean view," Richie gripes, sounding not unlike Alvy Singer from Annie Hall). As songs by Joni Mitchell and America play in the background, we come across actors portraying Mama Cass, Stephen Stills ("Captain Manyhands!" Richie proclaims, then slaps him five), Graham Parsons, David Crosby, Neil Young and Mickey Dolenz. Is that Jackson Browne strumming the guitar? Probably.
Grade: A-minus. This is Vinyl's Forrest Gump scene. It's wholly unapologetic about fame-dropping here, but it's also fun. Zac even unleashes a subtle joke about the buffet line without actually mentioning Mama Cass. As they depart, as if to exorcise themselves from the mellow vibe, Richie has their driver turn up the James Gang's "Funk 49."
"Wild Safari"
How did Poster unearth a song that seemingly no one had heard, and develop it into a hypnotic and sublime curtain closer for one episode? "Research," he says. "I was looking for a song that showed the underground movement going on at the time that will eventually become disco."
This obscure 1971 tune, by the Spanish Latin-fusion band Barabbas, is spicy and sexy and otherworldly. "What I love about it is how few people knew it, and yet it sounds contemporary," says Poster. "It's a signal that the show is taking you someplace you have never been."
Grade: A. Vinyl finally lets the music speak for itself.
"Kinky Reggae"
This may be the music-nerdiest moment of the series thus far, which is saying something. Bob Marley and the Wailers did play four nights in a row in July of 1973 at Max's Kansas City, opening up for an up-and-coming rocker from Asbury Park, N.J. Seated nearby in a booth is John Lennon (Stephen Sullivan). Also on hand is Jules (Max Casella), American Century's chief A&R man.
Though Bruce Springsteen is never seen or heard, in the following episode Jules tells Richie that he caught the Boss's show "the other night at Max's."
Grade: A-minus. Leslie Cujo does a credible Marley. That all of this happened and that Vinyl played it down by not including a Springsteen cameo is the incredible part.
"EAB"
The show's most genuine moment involves veteran blues guitarist Lester Grimes (Ato Essandoh) giving a simple lesson in chord progression to the Nasty Bits, a raw punk band he has taken under his wing. That's James Jagger, Mick's son, as the band's lead singer, Kip Stevens. "I went to Nathan Larson, a musician whom I've worked with many times before, to write the song that would become 'Hey, Girl,'" says Poster. "Then we worked backwards by dissecting the chord progression in that song and showing how it is a skeleton for other songs."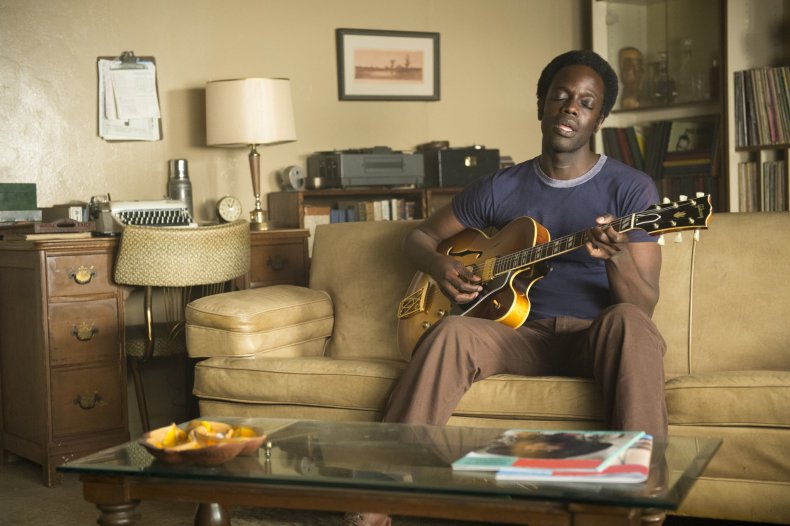 Grade: A. No cast regular is doing better work on Vinyl than Essandoh. Here, his Lester Grimes is able to demonstrate that his utter contempt for the music business has not vanquished his ardor for the electric guitar. If Vinyl can summon more moments like this in Season 2 and curb its enthusiasm for selfies with rock gods, it may just go platinum.