How Google's Viral Selfie App Matches You to a Famous Painting—and Why It's Raising Privacy Concerns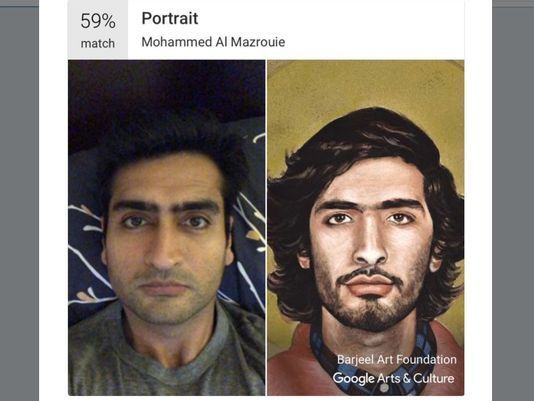 If you've had access to the internet over the last couple of days, you've likely seen the viral phenomenon set off by a Google Arts & Culture app that matches your selfie to a Doppelganger painting in one of 1,200 museums across the world.
Google actually introduced the app in 2016, but only recently did it explode in popularity, becoming the No. 1 free app downloaded over this past weekend, according to NPR. You're supposed to meet your match by taking a selfie through the app in real-time, though CNET reported that you can still use an older, perhaps more flattering selfie by flipping the camera around to take a photo of your photo; it'll still work.
Facial recognition software like what's being used in the Google app relies machine-learning. This refers to the use of artificial intelligence to allow computers to learn new information on their own, without needing humans to program it in, according to Forbes. The machine-learning algorithms isolates distinctive facial features, using them to create what's known as a "faceprint"—a long string of numbers unique to each person's face, according to the Economist.
A 2015 report by the Washington Post stated that Google's FaceNet algorithm was more than 99.6 percent accurate in its facial identification (on its heels was Facebook's version, DeepFace, at more than 97.2 percent; both smoked the FBI, which was found to be accurate around 85 percent of the time).
However, users have been finding that the app has something of a race problem. It would (unfortunately) make sense if the app is pulling from disproportionately Eurocentric art—museums themselves often feature disproportionately white artists, according to outlets like The New York Times. Meanwhile, the issue of whether to teach facial recognition software to distinguish faces by race is a fraught one; as Wired has reported; it could make the algorithms more accurate, but it could also make them racist.
"We live in a world that uses race for everything," Alondra Nelson, a sociologist at Columbia University who studies the ethics of new technologies, told Wired. "I don't understand the argument that we're not supposed to here."
Facial recognition software has its pitfalls—serious ones like racial representation as well as other hilarious ones—but it's becoming an ever-larger part of the social media landscape. Facebook recently raised similar concerns when it helpfully offered to locate photos of users that they hadn't been tagged in, according to Slate.
Instructions on the Google app include an assurance that it "will only store your photo for the time it takes to search for matches." Still, the app's light-hearted nature notwithstanding, it's begun to raise concerns about how exactly this sudden wealth of biometric facial recognition data might end up being repurposed.
"Google is not using these selfies for anything other than art matches," Google spokesperson Patrick Lenihan told the Washington Post. For now at least, the app would seem to be safe.
You can download the app through iTunes or Google Play, though it's currently only available in parts of the United States.