How the GOP Can Help Rand Paul Recover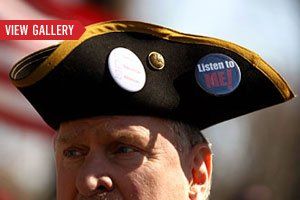 The notion that Rand Paul is a libertarian babe in Kentucky's political woods is false. He long ago got help from Republican professionals—and is getting more as he tries to recover from his disastrous national debut.
Jesse Benton, a former presidential-campaign aide to Paul's father, Rep. Ron Paul, has been involved from the start. Rand Paul's Internet fundraising presence, drawing on his dad's experience, is first rate. And Paul's ad consultant is a well-regarded video expert from Ohio named Rex Elsass. Ironically—and instructively—before this campaign Elsass had served as media adviser to the man Paul just whipped in the GOP primary, Trey Grayson.
"I just felt that Rand was the breath of fresh air we needed," Elsass told me. A conservative Republican, Elsass is handling the GOP Senate candidates in Arkansas and Ohio, among many other campaigns around the country.
In a further irony—given the controversy stirred by Rand Paul's civil-rights remarks—the adman Grayson did use for his campaign this time was none other than Larry McCarthy, the creator of the infamous Willie Horton ad of 1988.
Elsass said that Paul got a going-over from Grayson & Co. in the primary—a process he insisted would help Paul the rest of the way. "Trey Grayson did Rand a favor by raising all kinds of scary, bogus issues that Rand learned how to deal with."
Clearly, civil rights wasn't one of them. Paul's comments to the editorial board of The Courier-Journal in Louisville in April were one reason the paper didn't endorse him, but his attack on the Civil Rights Act of 1964 got no attention from his GOP rival—itself a comment, perhaps, on local Republicans.
Sen. Mitch McConnell, the Kentucky Republican kingpin and Senate GOP leader, backed Grayson and desperately opposed Paul in the primary. Now he has a delicate hand to play.
If McConnell is to have an outside chance of becoming majority leader (the GOP would have to pick up 10 Senate seats), he has to make peace with Paul and do everything he can to help him defeat Democrat Jack Conway. But if Paul doesn't tone down his more extreme views, Democrats will use the Kentucky campaign to frighten independent voters, in Kentucky and (more important) across the country, about the risks of a GOP takeover in Congress. Then again, if GOP handlers stifle Paul—unlikely as that is—that too will become a story, and stoke the anger of his Tea Party followers.
Elsass said that relations with McConnell and his circle will be fine—and that Paul wants, needs, and is getting his help. "After one of these tough primaries, everybody talks about rifts, but they heal pretty quickly. No one has a greater interest in keeping the seat Republican than McConnell."
Paul's views are stark, and some are problematic. His purist laissez-faire economics are inspiring to some, but can sound shocking. The West Virginia mine disaster was lamentable, he said, but sometimes "accidents happen." He sounded like a shill for BP when he complained that the administration's harshly worded rebuke of the oil company was "un-American."
Paul also opposes farm subsidies; wants to abolish the Fed, the original act that founded it, and the currency-reserve system; wants to abolish the departments of education, energy, and commerce; opposes U.S. involvement in the United Nations; opposes the Patriot Act; wants to vastly reduce Pentagon spending; is strictly anti-abortion; and favors legalizing marijuana for medicinal purposes. If properly framed, some of those positions could be sold to Kentucky voters at least; others need to be "reframed" into oblivion.
In a stumbling series of interviews with NPR, MSNBC, and CNN, Paul at first defended and then mostly—but not entirely—recanted his longstanding criticism of the public-accommodations sections of the landmark 1964 Civil Rights Act.
A senior Republican in Washington, who spoke to me only if I promised not to use his name, said that Paul could not afford to make more mistakes like the one he made on civil rights—even though Kentucky has a tiny African-American population and voted overwhelmingly in 2008 for Sen. John McCain. "Look, it's still early, this is Kentucky, and this is 2010," the senior Republican said. "Rand Paul hasn't blown himself up—yet. But he can't afford to keep making mistakes."
At least on his public schedule, Paul's next rendezvous with the media is a local one: Memorial Day on WHAS radio in Louisville. But that doesn't mean it isn't important. The station has the most powerful signal in the state, and a lot of people (including Conway and Democratic strategists) will be listening carefully to see if Paul has learned anything since his disastrous debut the day and night after his primary victory. In theory the venue will be a hospitable one, since WHAS is owned by Clear Channel, known as the home of Rush Limbaugh and other conservative talkers.
"Rand has to learn to talk to reporters who aren't interested in learning about his life story and his views but in trying to trap him into things," said media adviser Elsass. "The best prep he has had so far was watching all those negative ads in the primary, but there is more he can learn."
I know I'll be listening!
Howard Fineman is also the author of The Thirteen American Arguments: Enduring Debates That Define and Inspire Our Country.