How Han Solo's $1.3M 'Star Wars Empire Strikes' Back Jacket Was Salvaged From Obscurity for Public Prop Auction
In a few weeks, Star Wars superfans worldwide will be battling for the galaxy's ultimate bounty—Han Solo's original jacket from The Empire Strikes Back.
The iconic piece of memorabilia—worn by Harrison Ford in George Lucas's Star Wars: Episode IV—is set to be sold off to the highest bidder on September 20 at the Prop Store's annual Entertainment Memorabilia Live Auction.
Made in the 1970s by Caledonian Costumes, a small tailoring company that is now defunct, the jacket is predicted to sell for between $650,000 to $1.3 million. It's a hefty but expected figure, justified by a successful screen match that proved its authenticity as the very jacket worn by Han Solo as he arrived on Bespin.
The nearly 40-year-old jacket is the first piece of Han Solo clothing to be auctioned from the original trilogy in the history of film memorabilia. And if it were not for the diligent detective work of Prop Store CEO Stephen Lane, it might have faded into obscurity, left on a rack inside a costume house somewhere in Los Angeles.
"We're constantly on the treasure hunt, trying to find and track down where these, almost ancient artifacts, have ended up," Lane told Newsweek. "We're often trying to uncover where they've gone and what the journey has been after filming."
Caledonian Costumes made the Solo jacket for Lucas's production and rented it to the movie's crew. After filming wrapped in 1979, the item went back to the costume house, where it disappeared for decades.
"We found out that company had gone bust in the late 80s," Lane said. "They had sold their assets to two different costume houses.
"One of those was still in existence, and it took me a year of phoning this other costume house and saying, 'We want to come down and have a look in your inventory, there may be some costume pieces from Empire Strikes Back.' The guy I was speaking to wasn't a Star Wars fan. Eventually, we got to go down there and have a look through [their items]."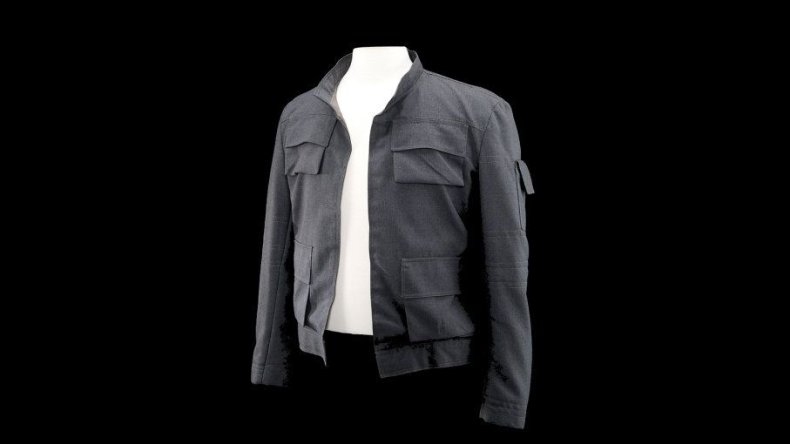 Although Lane had only expected to find some Hoth rebel gear or a couple of rebel pilot jumpsuits, he was determined to salvage the items so the public could have the opportunity to own a piece of Star Wars history.
"Toward the end of the day, I was going through the racks," Lane recalled. "I put my hand on this jacket, and I slid it past me as I was looking and then I slid it back. I pulled it off the rail and I was like 'Oh, I think I might have just found Harrison Ford's jacket from Empire Strikes back.'"
The item was hidden among several racks of miscellaneous military-style jackets. Although its decades-long journey from 1970s Harrison Ford to today is unknown, it was in incredible condition, with only a few minor wear and tear marks.
Not quite believing the magnitude of his discovery, Lane sent photos of the jacket to his team to check its authenticity. Five hours later, the item was screen matched to some of the most significant scenes in The Empire Strikes Back.
"I've watched the film so many times now, I've read all the books, seen the poster. This jacket is on the [Han Solo] action figure," Lane said. "It was an incredibly exciting moment."
Solo's jacket is now the centerpiece of the Prop Store's 2018 collection, currently on display at London's BFI IMAX, alongside Tyler Durden's robe from Fight Club ($13,000-$20,000), Marty McFly's hoverboard from Back to the Future 2 ($38,000-$65,000) and hundreds of other rare iconic props and costumes from the world of film and television.