How HAWK Missile System Compares to Ukraine's Current Defense Options
The U.S. is reportedly considering providing Ukraine with new air defense equipment as the war against Russia continues.
On Tuesday, Reuters reported that the U.S. might be sending HAWK air defense equipment to Ukraine, citing two anonymous U.S. officials. Reuters also reported that the officials said the HAWK air defense equipment would be an upgrade to the Stinger defense systems the U.S. previously sent to Ukraine.
The report comes as Ukraine continues its counteroffensive against Russia, following President Vladimir Putin's partial mobilization announcement. Over the past several weeks, Ukraine has attempted to retake several regions that were partially under Russian control. Ukrainian defense forces have been able to shoot down numerous drones and missiles sent by Russia, including the Iranian-made Shahed-136 Kamikaze drones.
Tom Karako, the director of the Missile Defense Project at the Center for Strategic and International Studies (CSIS), told Newsweek on Tuesday that he wouldn't really consider the HAWK air defense systems an upgrade from the Stinger systems.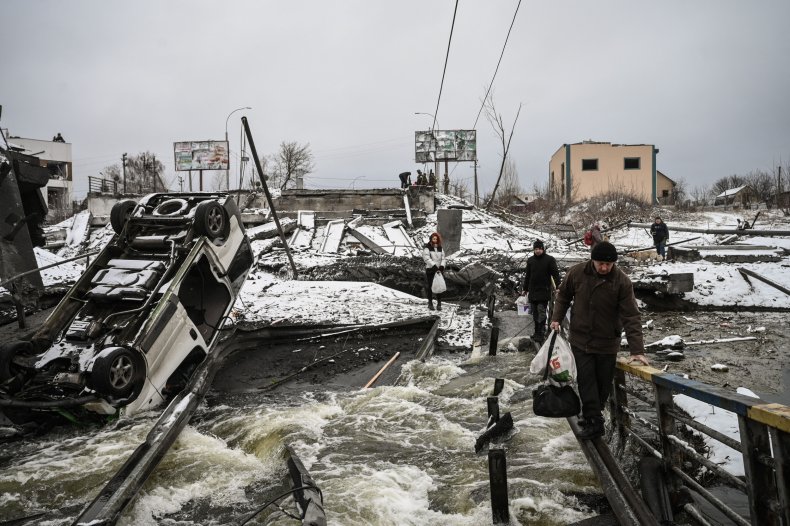 "These are much, much bigger missiles than Stinger. It was in some respects a predecessor to the Patriot [systems] but it was actually supplement to Patriot back in the day," Karako told Newsweek.
However, Karako noted that the HAWK systems have more capability than the Stinger systems.
According to the CSIS Missile Defense Project, the "MIM-104 Patriot is the U.S. Army's primary air and missile defense system."
Karako said that the HAWK systems are "certainly much older" than other air defense systems. The HAWK might be useful for air defense against fixed or rotary wing aircraft, Karako said.
"The real takeaway is it shows that the United States really is scrounging whatever capability we can prudently provide [to Ukraine]," Karako said, adding that the HAWK systems are essentially "museum pieces."
"Even if it's older and limited, nevertheless it can have a deterrent effect for Russian aircraft, if nothing else," Karako said.
Gabriella Rosa Hernández, a research associate at the Arms Control Association, told Newsweek: "The air defense systems that were initially provided to Ukraine are mainly man-portable systems. The US Stinger is an infrared seeker that acquires its target by detecting heat. It is commonly produced and these kinds of MANPADS are also the easiest to operate. These qualities likely played a large role in the Biden administration's decision about what systems to provide Ukraine.
"The HAWK is a mobile air defense system. This system would definitely help Ukraine survive missile strikes and it can also engage low-flying targets with high precision. The real question is how fast can the US government get this system to Ukraine and how fast can the Ukrainians be trained to use and maintain the system."
Earlier this month, Ukraine's Minister of Defense Oleksii Reznikov tweeted that Spain was sending "4 Hawk air defense systems to Ukraine."
"There are more Hawks on the way. Today air defence is a priority not only for Ukraine, but for all of Europe," the tweet said.
In a statement following the announcement, the Ukrainian military said, "Initially, the system was developed to destroy aircraft. Later it was finalized to intercept missiles. The first versions of the system had a range of 25 km for aerial targets, and an altitude of 14 km. After modernization: the maximum target interception range increased to 40 km with a maximum interception altitude of 18 km."
Newsweek reached out to the Ukrainian Foreign Ministry and U.S. State Department for comment.
Update 10/25/22, 1:03 p.m. ET: This story was updated to include comment from Gabriella Rosa Hernández.