The Heisman Trophy is the most prestigious individual award handed out annually in college football. It's not a team trophy, and it does not always go to a quarterback. There also might be some misconceptions of how the trophy is voted upon and awarded.
There are nearly 1,000 Heisman voters, and this year all of them received a digital ballot. The top of the ballot ask the voter to consider their choices for "Most Outstanding" player in college football.
Who are the Heisman voters?
The Heisman Memorial Trust selects media writers and personalities who cover college football from six different regions in the United States, with 145 voters per region. That equals 870 total media votes. When a person is no longer a voter, a representative from their state will nominate someone else. Should they accept the responsibility, they are an annual voter as long as their college football coverage status doesn't change, or unless the Heisman Trust changes its system of voting.
Then there are former Heisman Trophy winners, who each get a vote. Then, a collective fan vote gets one last ballot. In all, there are less than 1,000 votes.
How does the Heisman voting work?
For each ballot, voters select three players, in order, from No. 1 choice, No. 2 and No. 3, with the players getting 3 points, 2 and 1, respectively. The player with the most overall points across all ballots will be awarded the Heisman Trophy.
Votes are counted secretly by Deloitte, and voters are asked to keep their votes private—not broadcast publicly, through their publications or on social media—until the Heisman Trophy is awarded.
The deadline for voters to submit their electronic ballots was the evening of Monday, December 21, 2020.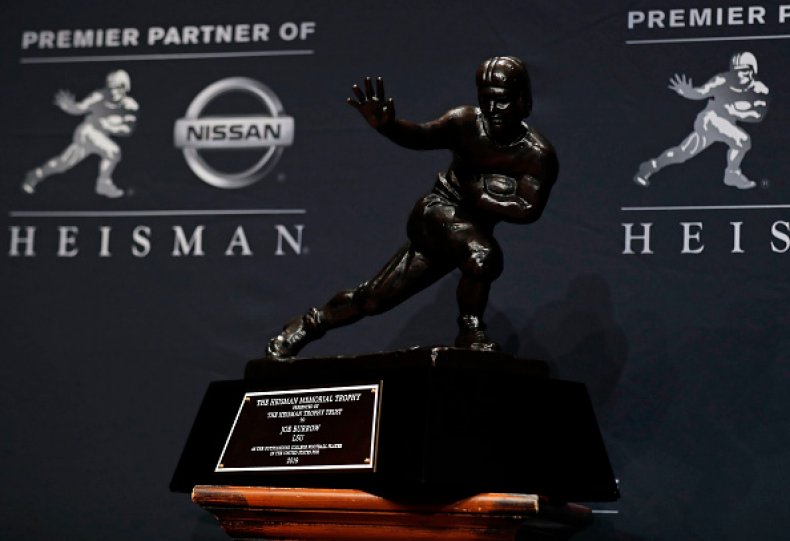 When are the Heisman Trophy 2020 finalists being announced?
The Heisman Trophy finalists will be announced during a program televised on ESPN this Thursday, December 24, 2020.
When is the Heisman Trophy ceremony?
Typically, the Heisman Trophy is awarded the weekend following conference championship games in early December, and before the beginning of bowl season.
This year, the trophy presentation will be held on Tuesday, January 5, 2021. The broadcast will begin at 7 p.m. ET on ESPN that evening.
Who are this year's favorites to win the Heisman Trophy?
This year has a slew of favorites to win the trophy, and many could be named finalists. Here are some of the players who could land as finalists (in alphabetical order by last name):
Travis Etienne (RB, Clemson)
Justin Fields (QB, Ohio State)
Breece Hall (RB, Iowa State)
Najee Harris (RB, Alabama)
Mac Jones (QB, Alabama)
Trevor Lawrence (QB, Clemson)
Kyle Pitts (TE, Florida)
DeVanta Smith (WR, Alabama)
Kyle Trask (QB, Florida)
Zach Wilson (QB, BYU)
About the writer
Scott McDonald is a Newsweek deputy night editor based in Cape Coral, Florida. His focus is assigning and writing stories across all topics, from news to politics, business, weather, sports and international news. Scott joined Newsweek in 2018 after a lengthy career of print journalism in Texas, including The Dallas Morning News, where he was a sportswriter, and he's a voter for the Heisman Trophy. He has been a newspaper editor-in-chief and also a newspaper publisher. He is a graduate of The University of Texas at Austin. You can get in touch with Scott by emailing s.mcdonald@newsweek.com. Languages: English