The California Department of Social Services (CDSS) has extended its list of resources for those affected by natural disasters, as nine active wildfires continue to burn through parts of the state.
As of Friday morning, at least 50,000 people have been ordered to evacuate, The New York Times reported. The areas most affected by the flames include northern Los Angeles County, Sonoma County and the northern parts of the Wine Country region.
One of the state's biggest blazes, the Kincade Fire, has scorched over 21,000 acres of land in Sonoma County, according to Time.
"We expect the fire to grow," said California Department of Forestry and Fire Protection Deputy Fire Chief Mike Parkes at a news conference Thursday.
On Thursday, Pacific Gas & Electric (PG&E) reported having problems with one of its transmission lines on Wednesday evening around the time the fire broke out, according to the Los Angeles Times.
PG&E said tens of thousands of people in Sonoma County were affected when distribution lines were shut off around 3 p.m. Wednesday, the Times noted. On Friday, the utility company announced the possibility of additional power cuts across the area as a safety measure.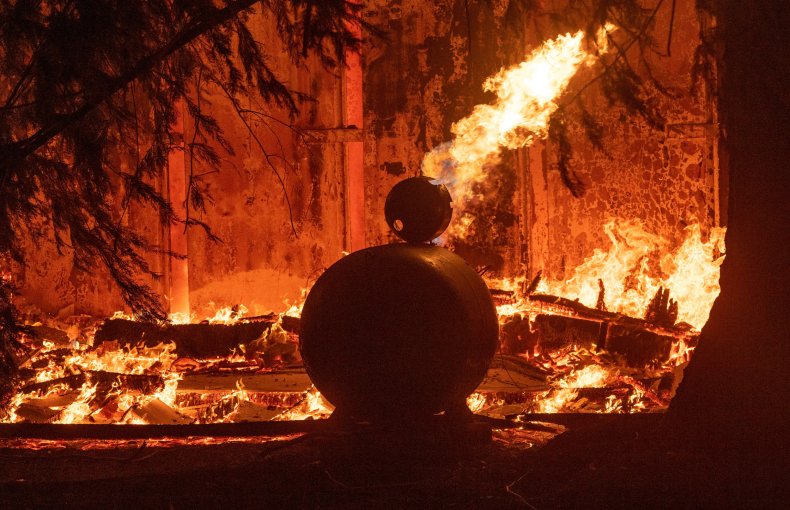 In Santa Clarita, the Tick Fire has burned through more than 4,000 acres and is only 5 percent contained, according to the local authorities. Named after the city's Tick Canyon Road, the fire broke out on Thursday, forcing thousands to flee their homes.
"This is the largest evacuation that we've had in Santa Clarita," Los Angeles County Supervisor Kathryn Barger said Friday, according to LAist.
For many displaced by the fires, the most pressing concerns are food, water and shelter, per the CDSS resource guide.
"The United States Department of Agriculture, Food and Nutrition Service, has approved a waiver to allow the sale of hot foods as a result of the Camp and Woolsey Fires," the CDSS wrote, offering information to evacuees. "The waiver allows CalFresh households to purchase hot foods with CalFresh benefits through January 16, 2019, at participating retailers in the counties of Butte, Tehama, Plumas, Yuba, Sutter, Colusa, and Glenn."
The Red Cross says that the best ways to lend assistance in times of natural disaster are through financial contributions and volunteer work. Donations to Red Cross Disaster Relief, which responds to an average of 62,000 disasters a year, can be made through the website or phone number (1-800-RED CROSS).
You can undergo training to become a more hands-on helper for the Red Cross by visiting the volunteer site or contacting a local chapter.