How Hillary Clinton Is Leveraging Her Debate Triumph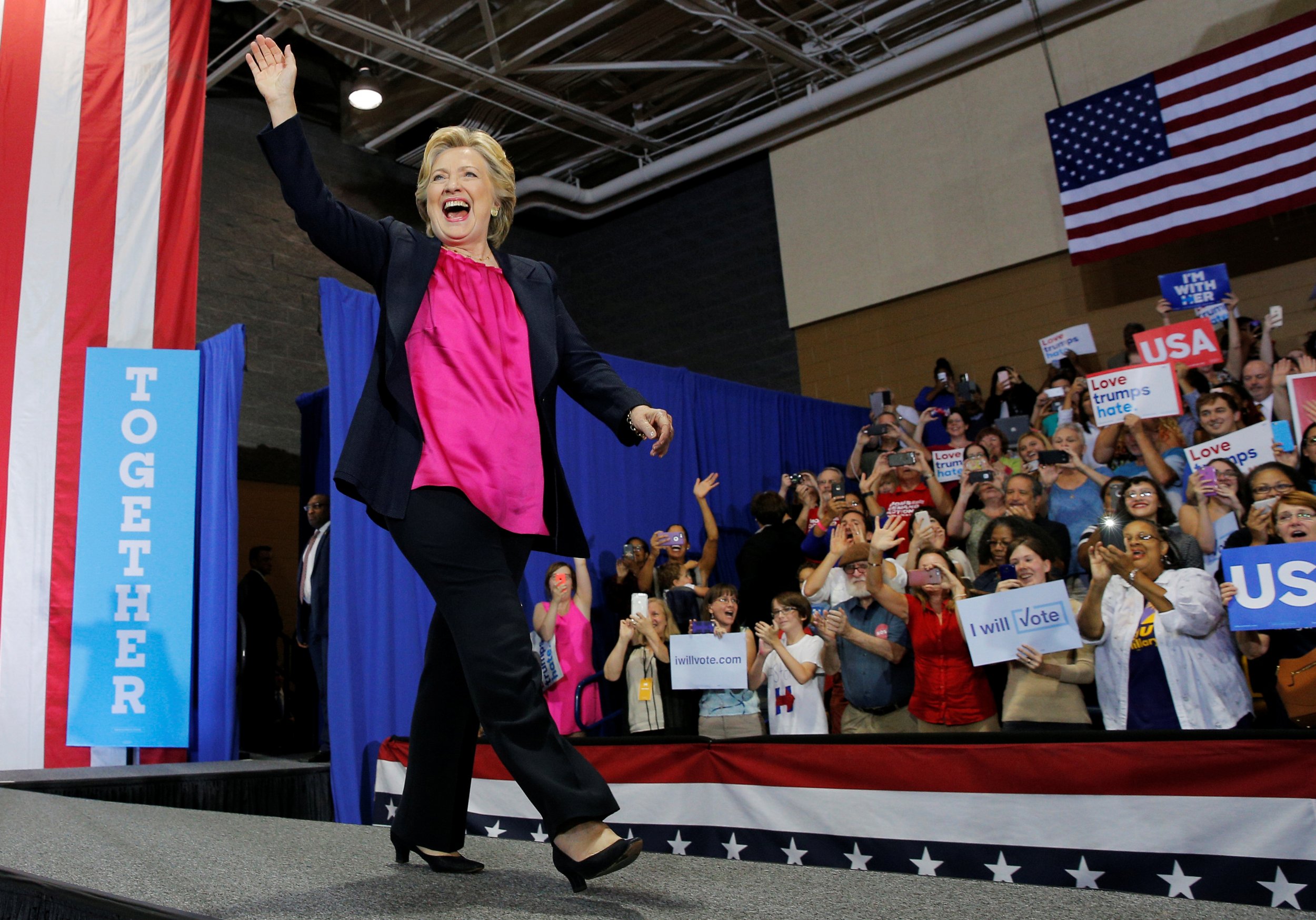 In some ways, it was a typical Hillary Clinton campaign event. She was in a swing state, North Carolina; she was at a venue that underscores her message about investing in education, Wake Technical Community College in Raleigh; and there were the familiar campaign slogans like "Stronger Together" and her standard closing line, "Love Trumps Hate," a reference to you know who.
But Clinton's appearance Tuesday was also different: It was energized by her win in the first presidential debate. She seemed more spry than she has during other recent speeches, and it offered at least a hint of a roadmap for the final six weeks of the campaign.
Clinton devoted only a modest portion of her talk to address the debate performance. "Did you all see the debate last night," she asked and was greeted by cheers and laughter. "One down and two to go!"
There were jabs at Donald Trump. She mentioned that she was joined at the debate by Mark Cuban, owner of the Dallas Mavericks basketball team, who she termed "a real billionaire."
She repeated her assertion, backed up by complaints and lawsuits, about Trump "stiffing the little guy," and repeated her line from the debate about how happy she is her father, a drapery manufacturer, never worked for Trump. Look for more of that in the days ahead.
Clinton also built on Trump's confirming that he pays little or nothing in taxes. During the debate at Hofstra on Monday night, Clinton noted that for the two years Trump had to release his tax returns to comply with New Jersey casino regulations, he paid nothing in taxes. "That makes me smart," replied Trump.
On Tuesday in Raleigh, Clinton elaborated on why that's in fact bad, spelling out an argument that might at first blush not seem so terrible. (Who doesn't want to pay less in taxes?) "He actually bragged about gaming the system to not pay taxes," Clinton said. "If not paying taxes makes him smart, what does that make the rest of us?" The answer, left unsaid, is that Trump is playing us for chumps. We pay and he doesn't.
She went on to say that Trump was doing nothing to help our military, to build roads or any of the things that tax dollars go toward. By contrast, Clinton said, 40 years of her tax records have been made public and they reveal that she and her husband, who have become enormously wealthy, pay the highest rate.
Clinton also jabbed Trump on the economic collapse of 2008, saying he "rooted for the housing crisis," adding: "What kind of person would root for 9 million families losing their homes? One who shouldn't be president." To be fair, Trump wasn't the only person who saw opportunity in the tumult of collapsing housing prices. The film and book The Big Short is all about traders who bet against housing prices going up. Any number of stock purchasers used the collapse in prices to buy equities, including Clinton backer Warren Buffett, a billionaire who picked up a massive stake in Goldman Sachs at a low price in 2008. Still, Clinton's attack on Trump as a vulture feeding on the economic carrion of the crisis resonates, and Trump clearly hasn't discovered how to rebut it.
If Clinton found that taxes and the housing crisis were Trump's biggest wounds from Monday night, she also returned to the familiar theme of "stronger together," saying it "isn't just about what government can do but what we can do for each other," a clear reference to Trump's coarseness.
Will Trump's self-inflicted wounds from the debate really hurt him? We don't know yet.
Meanwhile, Tuesday was National Voter Registration Day, so Clinton urged the multiracial crowd to get registered and vote early if possible, beginning later this month in North Carolina.
That state is now the ninth most populous, with 15 electoral votes. It went for Barack Obama in 2008 but for Mitt Romney in 2012, and it's tightly contested this year. A telling moment was when Clinton offered a shoutout to Jim Hunt, who was North Carolina governor during much of the 1980s, serving at the same time as Bill Clinton was governor of Arkansas. The two were natural, centrist allies. To win in North Carolina back then, one had to be seen as pro-gun and tough on crime and foreign policy. (When Hunt tried to unseat Jesse Helms for the U.S. Senate, he allied himself with Ronald Reagan even though he was a Democrat and Helms was a Republican.)
North Carolina used to have a more hawkish trade streak, some of it having to do with its textile and furniture industries, but the people Clinton is appealing to now are more open to free trade. That is why she didn't get into Trump's positions on trade or the Trans Pacific Partnership, supported by President Obama and opposed by Clinton, which is seen as a boon in Charlotte, the country's biggest banking city outside New York.
Clinton pushed hard for minority support. Hispanics only comprise 2.1 percent of the state's eligible voter population, but African-Americans comprise 22.4 percent and African-Americans for Hillary signs were plentiful in the audience. A coalition of young people—blacks, Hispanics, educated professionals and women—is central to a Clinton victory in every state. That's why she spoke at a college and not a senior center. It's also why she brought up gun control, which a Democrat from the 1980s seeking to win over rural white voters would never do. Behind Clinton sat a Hispanic woman with a sign that read: Estoy Contigo (I am with you). Whether more voters will be with her after a strong debate isn't certain. And, as Clinton said, there are two more to go.