How Hollywood Reacted to Vicious Trump v Clinton Round Two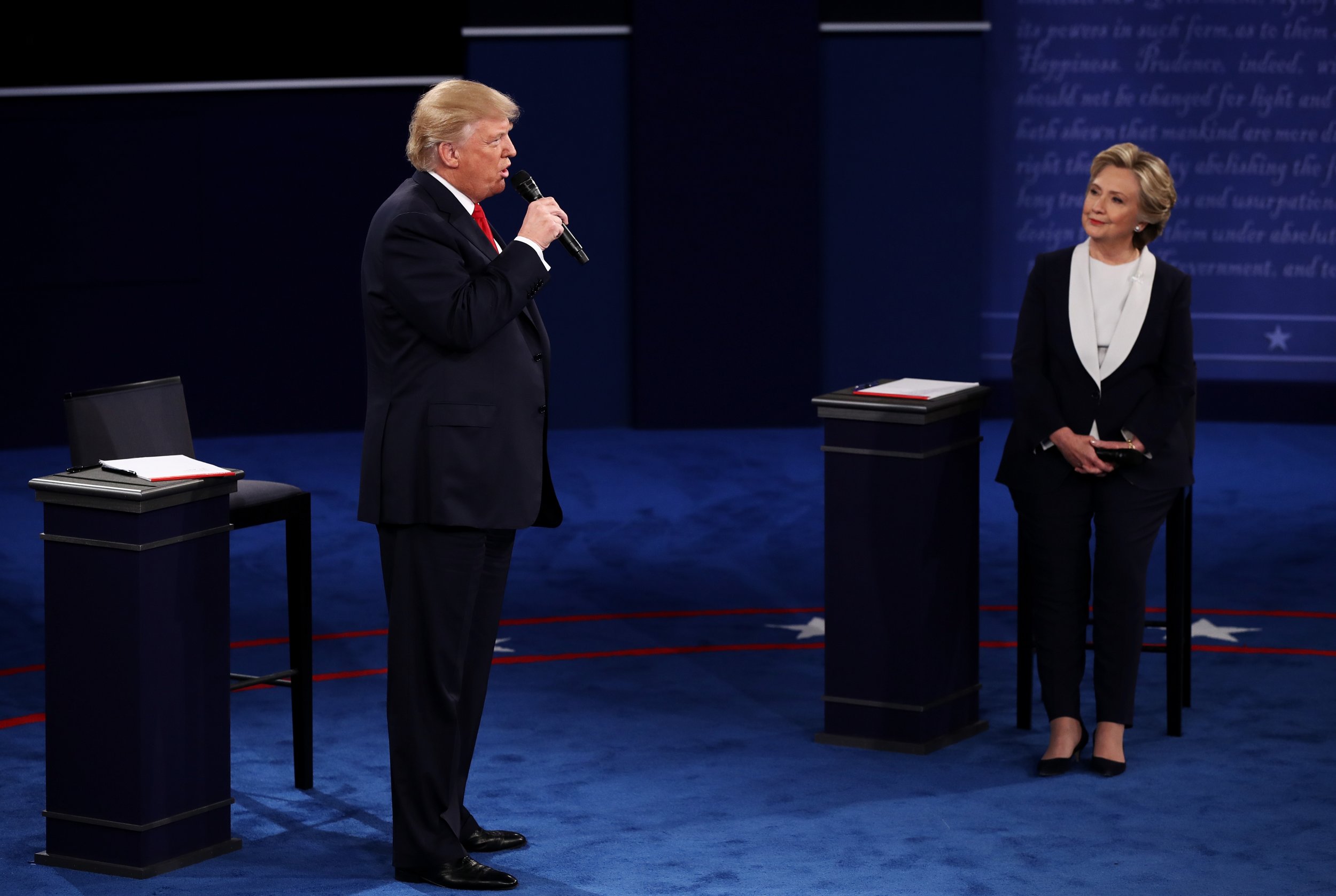 Sunday's second presidential election debate between Donald Trump and Hillary Clinton was nothing short of popcorn television. After a weekend of explosive threats of physical violence—including audio of Trump saying he wanted to grab you-know-what, referring to female genitalia surfacing and actor Robert De Niro declaring he wanted to punch the would-be prez—the smackdown continued, albeit a verbal one this time, as high-profile names weighed in with their scathing hot-takes on round two of Trump v Clinton.
The second televised debate between the candidates had all the drama of an episode of The Real Housewives as they failed to shake hands before the tit-for-tat session ensued, Trump threatened to prosecute Clinton over her leaked emails, and, yes, Trump did bring out a slew of women who have previously accused Clinton's husband, former president Bill Clinton, of being unfaithful in an impromptu press conference.
See some of the celebrity reaction to what is being dubbed the most vicious debate in election history below:
Chelsea Handler and more on Trump dismissing his controversial "grab them by the p***y" comments as "locker room talk":
Pop star Katy Perry was enraged by the heatedness of the debate:
Ghostbusters star Leslie Jones has some ideas about where Trump gets his information:
It looks like J.K. Rowling won't be inviting Trump to see Harry Potter and the Cursed Child any time soon:
Trump nemesis Rosie O'Donnell pulled up Larry King on his past conversations with the candidate:
Actor Kat Dennings summed up pretty much most of the nation's feelings:
The lack of handshake didn't go unnoticed:
Trump leering behind Clinton was uncomfortable viewing:
Moderator Anderson Cooper was praised for holding Trump to task about his comments to Billy Bush:
Author Stephen King offered this after 90 minutes of back-and-forth between the candidates:
And this offer from Jerry Springer sounds like a great idea to us:
Now, if the ugliness of Sunday's events has made you a little depressed this Monday morning, rewatch Alec Baldwin's spot-on impersonation of Trump on Saturday Night Live: