How Hollywood Shuts Out Gay Actors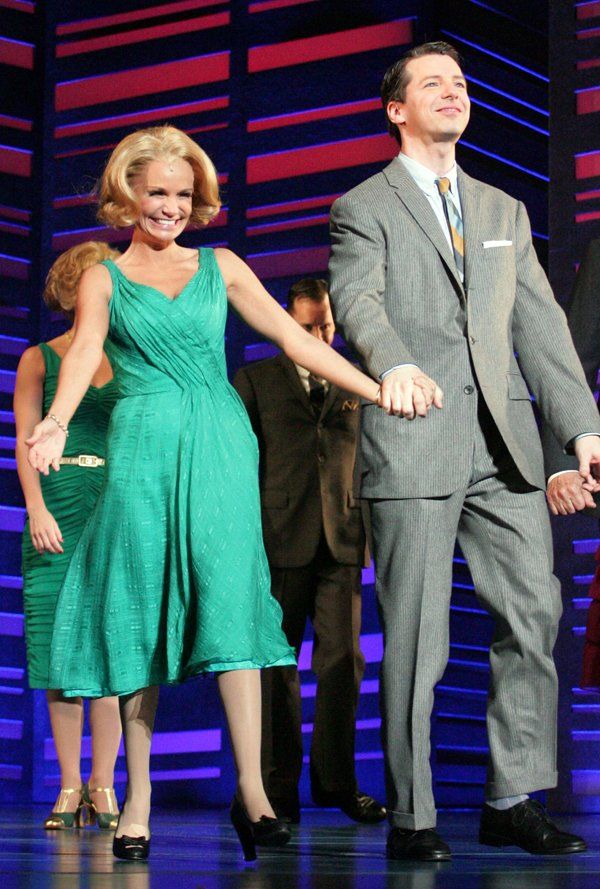 "Why isn't somebody like you married?" asks a woman to Sean Hayes's character in the Broadway revival of Promises, Promises. That's not a rhetorical question, although it feels that way. Last spring I argued that Hayes, best known as the flamboyant Jack from Will & Grace, did not make a convincing straight man. And if an accomplished performer like Hayes can't pull it off, can any openly gay actor? Is homosexuality such an innate part of who you are—like age, gender, or skin color—that you just can't leave it at the stage door? Richard Chamberlain said as much last week when he told The Advocate that gay actors should stay in the closet. Rupert Everett made a similar comment in 2009.
The Internet wasn't happy with my line of thinking, and blogs twisted my words to suggest that I was homophobic. Hollywood's gay elite joined in the attacks. Glee creator Ryan Murphy called for a boycott of NEWSWEEK. Cynthia Nixon accused me of setting the gay-rights movement back 10 years. Alan Cumming said I was "a danger to us all, not just gay people ... but everyone on the planet." Perez Hilton posted pictures of me on his blog. I could not walk through New York's gay neighborhoods without causing a stir.
Was I really a traitor to my own community? Before Promises, Promises closed on Broadway on Sunday, I bought a ticket and secretly went to see the show again. Once inside, I slumped down in my seat, afraid somebody would call the GLAAD police if I were spotted. The lights dimmed, and Sean Hayes opened the show alongside a troupe of male dancers. When he sang about his passion for basketball, the men performed aerial splits. Then he started to pine after the office lunch lady (Kristin Chenoweth), and I realized that I had been all wrong.
It's not just that audiences don't often see openly gay actors in straight roles. What's even more unsettling is that Hollywood doesn't even allow gay actors to play gay. With the film industry swept up in the congratulatory swirl of awards season, not a single openly gay actor is up for an Oscar nomination. Of course, that's probably because no openly gay actors even starred in any big films of 2010. The lovable lesbian wives in The Kids Are All Right were played by the heterosexual actresses Annette Bening and Julianne Moore. The quirky couple in I Love You Phillip Morris were portrayed by straight men Jim Carrey and Ewan McGregor.
You could say that's why it's called "acting." But that's little comfort to gay actors, who are routinely shut out of the studio system, even though Hollywood is supposedly one of the most "gay-friendly" towns. Movies need to attract the broadest possible audience, and filmmakers worry that if they cast a gay person as a romantic lead, audiences will be too grossed out. Instead, straight actors get the roles, and everybody talks about how brave they are. Stanley Tucci has played gay so many times (The Devil Wears Prada, Burlesque) it's as if he's switched teams. Eric Dane and Bradley Cooper were lovers in Valentine's Day, and they follow a long tradition of straight actors who play gay and collect accolades: Jake Gyllenhaal (Brokeback Mountain), Sean Penn (Milk), Greg Kinnear (As Good as It Gets), Philip Seymour Hoffman (Capote), Hilary Swank (Boys Don't Cry), Charlize Theron (Monster), Tom Hanks (Philadelphia), Robin Williams (The Birdcage). The blog AfterElton.com could name only nine working gay TV actors, and they all hold minor or supporting roles. The new gay guy on 90210 is played by heterosexual hunk Trevor Donovan.
"A lot of straight actors are actively searching for gay roles because it is something different to do," Rupert Everett said last week to BBC Radio. "I think that's fine, but that does mean the gay actor who used to just get to play the gay part—like me—has been reduced to drag, really."
In case you were wondering, the last time an openly gay man was nominated for an Oscar was in 2002—and Ian McKellen wasn't even fully human in Lord of the Rings. Forty-seven years after Sidney Poitier shattered the glass ceiling for black actors by winning the best-actor Oscar for Lilies of the Field, no gay actor has yet achieved leading-man status—and probably won't for some time.
The rationale for these casting decisions is a Catch-22. You could argue that no one who's openly gay is on the A list, so Hollywood has to hire straight people to fill those roles. But it also has to do with something else. Society still shows a prejudice against gay people, especially those who fit the stereotype: feminine men and masculine women. If you're willing to hide your sexuality, that's another story. Rock Hudson did that for years, and as long as he didn't tell, audiences wouldn't ask, and he could continue playing the leading man. What do you think would have happened if he had walked the red carpet arm in arm with his boyfriend?
Sadly, not enough has changed since the 1950s. We speculate about the sexuality of megastars, and as long as they stay straight offscreen, we're willing to let them play straight onscreen. When somebody famous comes out of the closet, "gay" is the first label he or she wears. We can believe that Natalie Portman is a ballerina or Colin Firth is a king, but audiences still haven't gotten to the point where they can suspend disbelief long enough to accept a gay person in a leading romantic role. Try this exercise for yourself. When you think of Ricky Martin, what's the first word that comes to mind? What about Ellen DeGeneres? In 2009, New York magazine named Neil Patrick Harris as Hollywood's first openly gay "breakthrough star." It might have jumped the gun, since his most memorable work lately has been hosting awards shows. He did some voice-over in Cats and Dogs: The Revenge of Kitty Galore and has a part in the upcoming Smurfs movie. In the trailer for his new film, Beastly, he's a blind man of indeterminate sexuality. The star is Vanessa Hudgens from High School Musical.
The New York Times recently reported about a new class just for gay actors, who are often marginalized and see their careers crumble from lack of confidence. "I don't know too many situations where actors have been told, 'You're too gay,' " Brad Calcaterra, an acting instructor, said in the article. "But it's almost like, 'We just won't move you forward.' "
In Promises, Promises, Hayes was an effusive entertainer. He gamely engaged in slapstick comedy, including a gag with a fruitcake in his living room. But the musical didn't work, not because of the singing or dancing but because he and Kristin Chenoweth weren't convincing as a couple. You know what Promises, Promises really needed? Something that would have revived this worn-out revival—a leading man for Sean Hayes.
Ramin Setoodeh is a senior writer at NEWSWEEK. He has written for The Wall Street Journal, the Los Angeles Times, and U.S. News & World Report, among other publications.