How Hot Will It Get This Weekend? Excessive Heat Temperatures Expected Across U.S.
Tens of millions of people across the country are set to be hit by a "dangerous" heatwave, as temperatures are forecast to soar above 100 degrees Fahrenheit in many places, according to officials.
Saturday is set to be the hottest day of the weekend, as a heatwave will move eastward from central parts to the East Coast, according to the National Weather Service.
In urban centers and parts of the interior Mid-Atlantic and into central New England, the mercury could rise above 110F. Even the lowest temperatures in urban areas could still reach over 80F, the agency warned. Although the heat is forecast to ease on Sunday, temperatures could still climb to more than 100F.
Some 87 million Americans live in a region which could experience a daily record-high temperature on Saturday, Accuweather estimated. Cities hit by scorching weather at around 100F are likely to include Washington, D.C, Baltimore, Philadelphia, New York City, Boston, Chicago, and St. Louis. Such temperatures are around 10 to 15 degrees higher than the average for this time of year. In fact, temperatures in Washington D.C. may rival Death Valley, which often claims the title as the hottest place on Earth.
The National Weather Service put out excessive heat warnings for areas in New York State, Ohio, Indiana, Virginia, Pennsylvania, Kentucky, West Virginia, New Jersey, Nebraska, Illinois, South Dakota, Iowa, Michigan, Kansas, Massachusetts, Wisconsin, and Missouri. An excessive heat warning is issued when a prolonged period of dangerously hot temperatures is expected.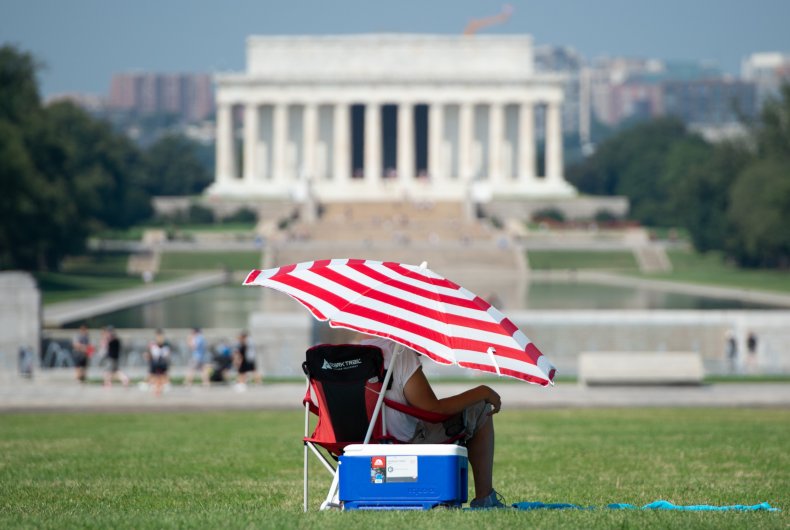 Meanwhile, southeastern states will see rain and thunderstorms into the weekend, meaning it won't get quite as hot as those northern areas, according to Accuweather. Severe thunderstorms and excessive rainfall could strike parts of the Upper Mississippi Valley into the Upper Great Lakes, the National Weather Service stated.
The National Weather Service urged the public to stay safe in the sweltering conditions.
"The combination of hot temperatures and high humidity will combine to create a dangerous situation in which heat illnesses are likely," the agency said. "Drink plenty of fluids, stay in an air-conditioned room, stay out of the sun, and check up on relatives and neighbors."
It also stressed that this weather is not normal.
"Before you're tempted to say, 'it's summer, what do you expect?' consider the forecast highs each day," the agency tweeted. "The dark orange and reds here show where high temperatures will be well above normal. This heat, combined that with high humidity, mean heat index values well above 100 °F!"
To help you stay cool, Newsweek has compiled expert tips on staying cool in the heat.
Laura Ellam, deputy chief meteorologist at the Met Office, told Newsweek: "Heat is one of the leading weather-related killers in the U.S., resulting in hundreds of fatalities each year and even more heat-related illnesses, such as heat exhaustion or heat stroke. One example of the dangers of excessive heat is how quickly temperatures rise inside vehicles; already nine toddlers have died in hot cars in 2019."
She warned heatwaves have increased in number and severity in recent decades. "Studies suggest that climate change will drive more frequent and extreme summer heatwaves in parts of the United States over the coming decades," said Ellam.
This article has been updated with comment from Laura Ellam.