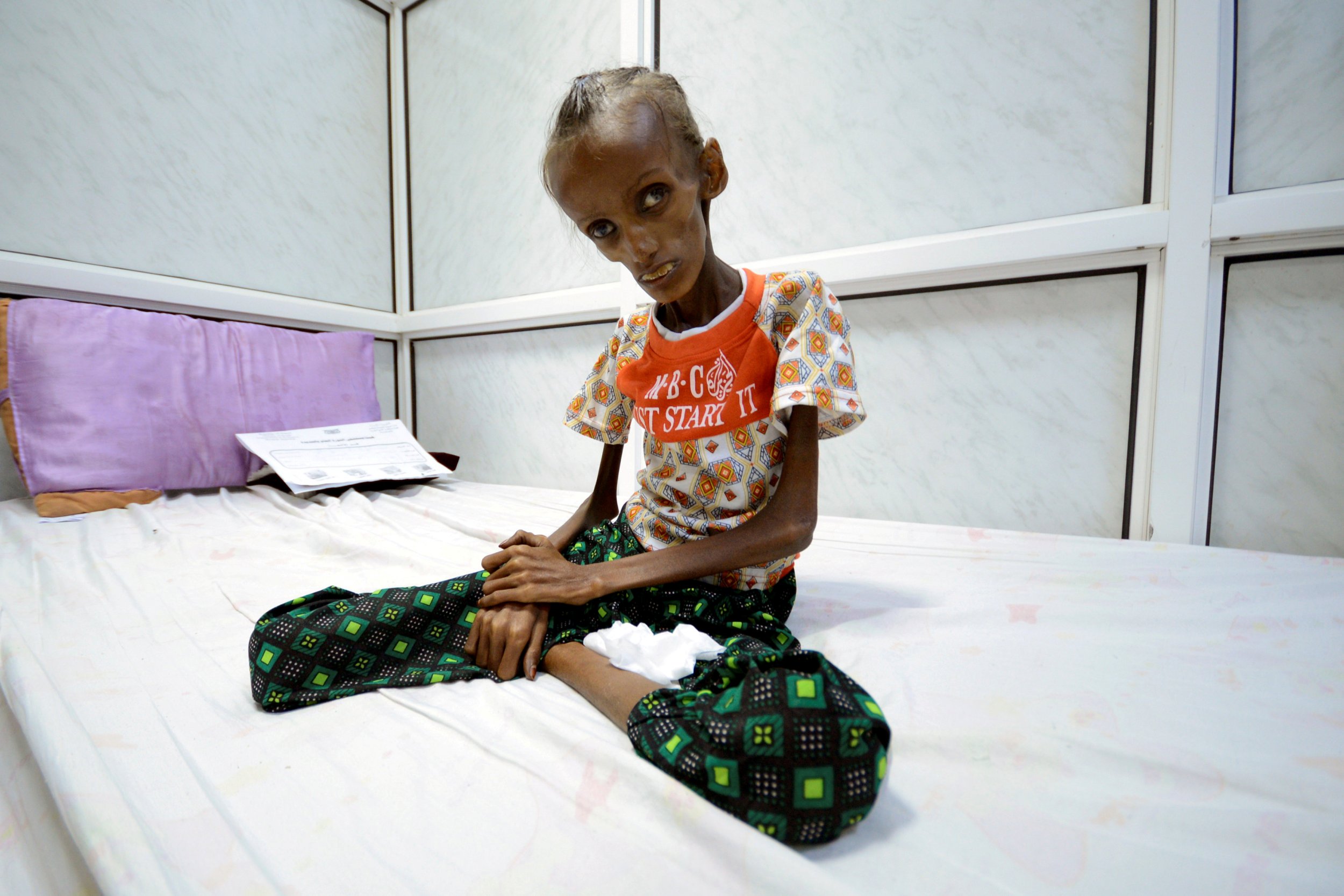 Yemen's Hodeidah has become an alarming humanitarian tragedy. Thousands have lost their lives and tens of thousands more have lost their homes and livelihoods—hopeless and displaced.
Floods of upsetting pictures of starving children, recognized by their wide-eyed skeletal body features, and patients suffering from preventable diseases have become the norm.
The suffering of these communities is bewildering given the fact that they are actually located in very close proximity to one of the most important aid delivery gateways to Yemen, Hodeidah's port. One would presume that these communities would be flushed with aid goods, but regrettably, this has not been the case.
There is a reason for this absurdity: The Hodeidah port is still under the control of the Houthis, an Iranian-backed militia that took control by force areas in Yemen in their failed attempt to overthrow the government in September 2014, with the assistance of former president Ali Abdullah Saleh and various military groups still loyal to him.
For the Houthis, Hodeidah's port proves to be a source of significant, albeit illegitimate, revenue from customs and taxes imposed on incoming goods. Additionally, the Houthis have worked on deconstructing Yemen's economy and financial system, creating profitable black markets for their own economic gain, which has become a key funding source for their war efforts.
This comes at the expense of vital goods not being delivered to traumatized communities across North West of Yemen. According to local traders, aid has been corruptly and immorally commercialized in Hodeidah.
Related: Helicopter attack kills 31 Somali refugees fleeing Yemen
Moreover, imported fuel is frequently siphoned into the black market by the Houthis. According to the U.N.'s Panel of Experts report, the Houthis have "worked on deregulating the distribution of fuel in order to allow the black market to flourish under their control."
In a statement released by the Norwegian Refugee Council on February 20 2017, the organization detailed how six of its aid workers were arrested and detained for a week by the Houthis just because some of the aid products that they were distributing had origination markings from Saudi Arabia.
This sort of detention unmistakably demonstrates how the Houthis are undermining relief efforts. Even the U.N.'s aid chief, Stephen O'Brien, was subjected to the Houthis' abrasiveness when he was turned away on February 28 as he was trying to access the city of Taiz.
More worryingly, the Houthis continued arbitrary arrests and forced disappearances are going unchecked in Hodeidah, Taiz and elsewhere. Human Rights Watch documented incidences where a number of civilians, including children, were detained and later discovered dead. Civilians are trapped and they immediately need protection.
Recapturing Hodeidah is necessary to bring back stability to Yemen's west coast. The presence of the Houthis in Hodeidah threatens international maritime navigation and shipping routes in the Red Sea. On numerous occasions, the Houthis have fired upon ships in international waters, and on three incidences U.S. Navy ships were targeted prompting the U.S. to launch retaliatory military strikes that destroyed radar installations controlled by the Houthi rebels.
Furthermore, on March 1, the U.S. Office of Naval Intelligence warned of sea mines being placed by the rebels in the strategic Bab al-Mandeb strait, where 30 percent of the world's oil supply passes.
And for those reasons, there is no room for indecisiveness and inaction.
Our government is determined to continue pushing back the Houthi and Saleh militia in order to liberate those distressed communities. A few weeks ago, government forces successfully recaptured the coastal city of Al Mocha, the city that gave birth to Mocha coffee, and while basic services are being restored there, much needed humanitarian goods have found their way into local communities.
Subsequently, government forces have started to target Houthi armed positions in the outskirts of Hodeidah. Being mindful that some communities are trapped in certain locations, the government has vowed to put safety measures in place in order to protect those vulnerable civilians.
Some reports have suggested that the government's attempt to counter the rebels in Hodeidah might impact the flow of aid given the importance of its port. Our government recognizes the significance of Hodeida's port for aid delivery, and therefore rooting out the Houthis will eliminate their destructive meddling in aid distribution. Authors of such reports failed to detail the current awful conditions that civilians are subjected to living under the Houthis as detailed in this article.
Yet, reaching a peaceful resolution is our government's ultimate objective. Our country has been put through extraordinary conditions, and we are keen to rebuild our country for the sake of our people and the generations to come. We will continue to support the U.N.'s special envoy efforts.
Until then, we cannot sit idle as our people continue to suffer. Unconfronted, the Houthis will grow bolder and their actions will continue to amplify the humanitarian tragedy.
It is the government's duty to protect its citizens and ensure that Yemen meets its obligations in protecting its coastline and international waters. Therefore, we call upon the international community to help Yemen's government end the tragedy in Hodeidah and other areas to create an environment conducive for the passage of humanitarian aid wherever needed while at the same time urging the militias to come to the negotiating table to forge a final settlement to the conflict.
Ahmed Awad BinMubarak is Yemen's ambassador to the United States.