Why #hungerforjusticeSF Shut Down San Francisco's Busiest Streets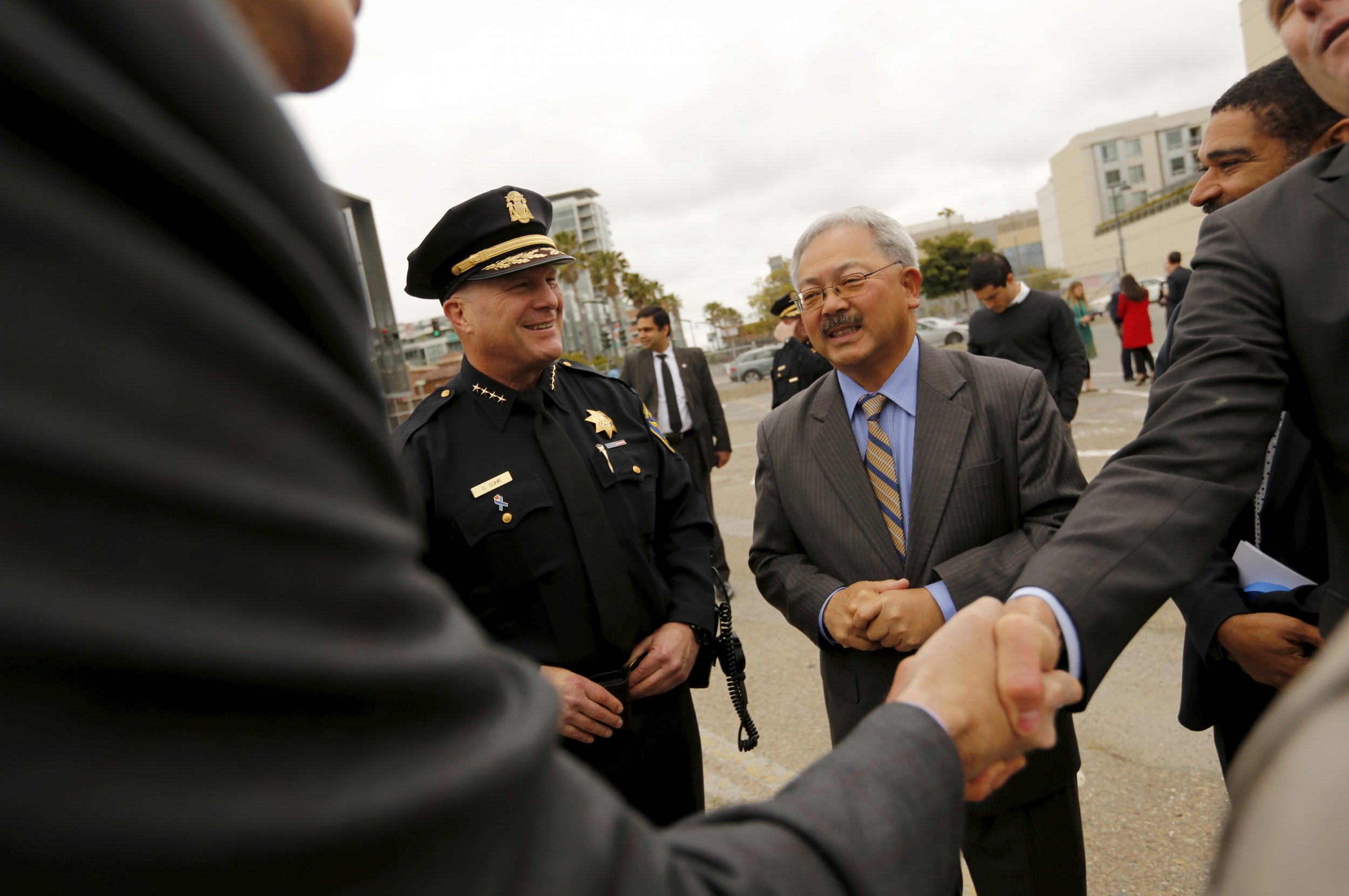 On Tuesday, hundreds of protesters marched down two of the biggest thoroughfares in San Francisco, Valencia and Market Street, shutting down traffic in the heart of the city. On Twitter, whose headquarters was a temporary stop for the protesters en route to City Hall, the #hungerforjusticeSF and #Frisco5 hashtags began trending.
The cause of the protests? Black and Latino residents are frustrated by what they call violence, racism and even death at the hands of the San Francisco Police Department (SFPD) over the past year. But rapid gentrification is also a major grievance. Here's a look at what's behind the protests and the people demonstrating in the streets.
What are these protesters mad about?
Over the past three years, SFPD has been criticized for killing a number of black and Latino men. Among them: Mario Woods , a 26-year old black man whom police shot and killed on December 2. His death was captured on video showed Wood, who was holding a knife, shot 20 times by the surrounding police. Activists also point to deaths of Alex Nieto , Luis Gongora and Amilcar Perez-Lopez as examples of police brutality against minorities. After the Woods shooting, the Department of Justice launched an investigation on SFPD's policies and practices for accountability in February.
In March 2015, racist and homophobic texts shared among SFPD officers surfaced to the shock of chief Greg Suhr, who responded by firing eight of his officers. In April of this year, more texts emerged, and San Francisco's public defender, Jeff Adachi, reopened over 200 cases handled by the police officers implicated in the texting scandal.
One former officer texted to his colleagues that black people were like "wild animals" and said that "nothing good would come out" of a rape victim "going in with a n— and a Mexican." Another officer texted in response a picture of a blackened Thanksgiving turkey a "Ferguson turkey" in reference to the protests that occurred in Ferguson, Missouri, in 2014.
Despite Suhr's repeated assurances that these are isolated incidents, Adachi said the texts reveal a deep culture of bias inside the police force serving a city famous for its liberalism and tolerance. As Adachi put it: "It can no longer be said to be an isolated problem."
What do the hashtags #hungerforjusticeSF and #frisco5 mean?
Beginning on April 21, five protesters—now known as the Frisco Five—have been holding a hunger strike in front of Mission Police Station to demand Suhr's removal as SFPD chief. They joined Tuesday's march from the Mission Police Station to City Hall, as other protesters pushed them along in wheelchairs—they were too weak to walk the march—demanding to speak to Mayor Ed Lee about firing Suhr.
The Mission District, where the police station is located, has been a traditionally low-income, Latino neighborhood that has been gentrifying quickly thanks to the influx of tech employees. It was also the site where SFPD officers shot and killed a homeless man named Luis Gongora, who they say was wielding a knife and threatening the police.
What has been the response from Lee and Suhr?
After the latest text scandal, Suhr ordered all officers to attend an anti-harassment class and says he plans on instituting more training to combat bias within the SFPD. Lee, in an open letter, pleaded with police officers to turn in colleagues who display bigotry. "It is incumbent on all of us to ensure that every police officer, from a cadet to the highest ranking members of our department, represent our shared San Francisco values," he writes.
Lee also paid visit to the Frisco Five on Monday but the strikers refused to speak to him before Tuesday's march. When the Frisco Five and protesters arrived at City Hall, Lee was out of the building, coincidentally tweeting about his visit with small businesses in the Bayview neighborhood. Many of the protesters remain outside City Hall as of 4:50 p.m. Pacific Time, waiting for Lee. Some marched on to the Board of Supervisors, San Francisco's legislative body, inside City Hall to present their demands.