'How I Met Your Father' Season 2 Release Date: Will There Be Another Series of 'HIMYF'?
After ten episodes, plenty of highs, lows and a whole lot of romance, How I Met Your Father (HIMYF) Season 1 has come to an end. The first series followed Sophie, played by Hilary Duff, as she navigated looking for love in a world of social media and dating apps. With the first season over, fans want to know if there is going to be more drama to come and more importantly, if they will find out how Sophie met the father of her son.
Will there be another series of HIMYF? Newsweek has everything you need to know about the show's future.
Will There Be Another Season of How I Met Your Father?
There is some very good news for fans of How I Met Your Father. The story of Sophie (played by Hilary Duff) and her friends' complicated and thrilling love lives is not over.
Yes, HIMYF will officially return for Season 2 on Hulu.
The streaming giant confirmed the news on February 23, 2022, almost a month before the Season 1 finale.
Announcing the news, Jordan Helman, head of scripted content for Hulu Originals said in a statement: "Isaac [Aptaker] and Elizabeth's [Berger] inspired vision for How I Met Your Father has proven to be true appointment viewing that fans cannot get enough of week to week.
"The lives of these characters, as portrayed by the immensely talented cast led by Hilary Duff, are just starting to unfold and we're thrilled to bring more of this group's journey to our viewers with a supersized second season."
When Will How I Met Your Father Season 2 Start?
At the moment, How I Met Your Father Season 2 does not have an official release date.
However, the good news is HIMYF Season 2 will consist of 20 episodes, double the number of the current season.
The first series premiered in January 2022 and Season 2 will most likely follow in its footsteps, arriving in January 2023 at the earliest.
Star Hilary Duff has been sharing her excitement on Instagram about the Season 2 renewal and even posted a hilarious video of the cast reading tweets about the show.
Announcing the news about Season 2, Duff posted an image of the cast with the caption: "HAPPY NEWS! Surprise! You'll be seeing more great chapters in this love story because #HIMYF has been renewed for Season 2!
Who Will Star in How I Met Your Father Season 2?
The entire main cast is set to return for How I Met Your Father Season 2.
This means Hilary Duff will be back as Sophie, a hopeless romantic living out her 20s in New York City.
Sex and the City's Kim Cattrall is also likely to return as future Sophie and narrate her love story.
Also set to return are Chris Lowell as Jesse, Francia Raisa as Valentia, Tom Ainsley as Charlie, Tien Tran as Ellen and Suraj Sharma as Sid.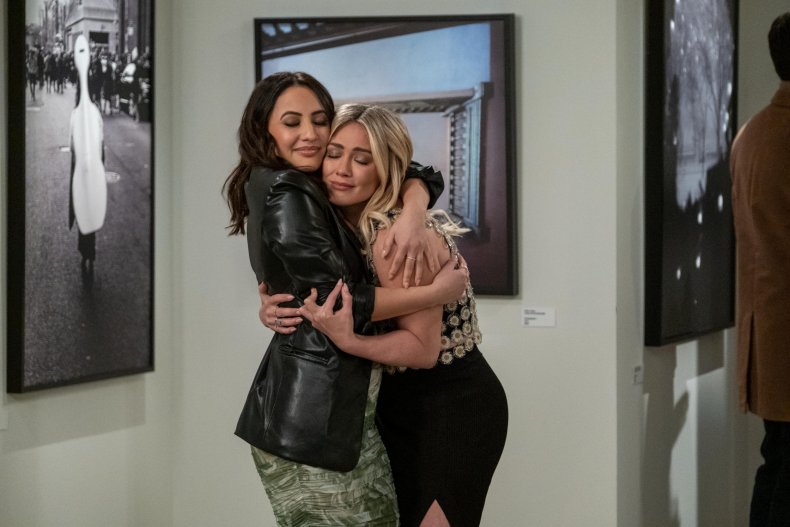 What Will Happen in How I Met Your Father Season 2?
The second season of How I Met Your Father is sure to pick up from the seriously dramatic ending of Season 1.
After a spell of self-sabotage, Sophie realized she wanted to give things with Jesse (Chris Lowell) a go. However, by the time she could reach him after some advice from How I Met Your Mother alum Robin Scherbatsky (Cobie Smulders), he had rekindled his romance with ex-girlfriend, Meredith (Leighton Meester).
Charlie (Tom Ainsley) and Val (Francia Raisa) ended their relationship after Charlie shared he did not want to have children and Sid (Suraj Sharma) and Hannah (Ashley Reyes) tied the knot in a spur-of-the-moment wedding.
In Season 2, HIMYF will follow the fallout from Season 1 as well as introduce a whole load more romance.
Speaking to Variety, co-showrunner Aptaker teased: "I mean, there's a lot left on the table right there. So we definitely are going to revisit the immediate events. We literally cut to black, so I think we're certainly going to see what happens the rest of that night, whether we do it linearly or jump around a little bit before we get there, I think people are gonna have to wait and see."
Fellow showrunner Berger also teased audiences might meet the father in Season 2, adding: "Of course, there is a chance. You know, we obviously chose our language very carefully in our first episode. Future Sophie says, 'That's the night I met your father.'
"So we know that we could potentially return to that night. Obviously, that's something we want to do very sparingly, should we choose to do it, because we don't want fans to revolt against us and say, 'Hey, you're just going back to that night 100 times!' But there is always a chance."
How I Met Your Father is streaming on Hulu now.