How the Invasion of Ukraine Sounds to Syrians | Opinion
Packing and heading to Ukraine in March 2022 was a no-brainer for some of us. As physicians and humanitarians who have worked in protracted armed conflicts such as Syria, we arrived in Ukraine with an immense feeling of déjà vu. We thought that as humanitarian partners, we would duplicate the lessons learned from other armed conflict zones and formulate a response plan quickly. However, the complex, unpredictable and fast-paced tragedies in Ukraine have confounded this scenario.
Despite the unprecedented preparedness and mobilization soon after the war began, the vulnerabilities in Ukraine are alarmingly increasing. The trajectories of the ongoing invasion are not only driven by the valiant resistance on the ground but also largely by the various intersections and developments on the international stage, extending the damaging impacts beyond the Ukrainian territories, in both the short and long term. Many, including the co-authors of this piece, believe what has unfolded from the humanitarian catastrophe in Ukraine is but the tip of the iceberg, and the worst is yet to come.
Déjà Vu and Jamais Vu (Already Seen and Never Seen)
The terrible scenes of destruction spilling out from the frontlines have triggered memories of what we have seen in Aleppo, Syria and Mosul, Iraq. However, the massive destruction in the targeted Ukrainian cities seen over only several weeks—compared to months or years in other armed conflicts—reflects the unmatched ferocity and brutality of the Russian army on the battlefield.
From the first days, it was apparent this war was different. At the coordination meetings in Poland and Ukraine, led by the United Nations Office for the Coordination of Humanitarian Affairs (UNOCHA) and World Health Organization (WHO), official representatives of governments and militaries gathered with Ukrainian and international humanitarian partners, discussing progress and solutions—a level of multilateral coordination we'd never witnessed. Contrast that with the fact that the U.N. still operates from Damascus under the supervision of Bashar al-Assad's regime. The U.N.'s support for victims of a decade-long aggression must be coordinated and approved by their perpetrators, the Assad regime, and its allies. Numerous Syrian humanitarian partners serving millions of civilians in Syrian cities that are both out of and under the control of Assad have no access to these meetings.
Trapping cities by tight siege and preventing them from obtaining basic necessities remains one of Assad's and Vladimir Putin's preferred tactics to force the surrender of opponents. Eastern Ghouta in Syria, for example, witnessed "the longest running siege in modern history." While establishing humanitarian corridors can save lives, the experience with Russia and Assad's regime was problematic; civilians, including patients, evacuated from besieged areas never to return home.
Attacks on Health Care Delivery: No Place to Hide
As we witness deliberate military attacks on health care delivery in Ukraine, we need more than open and transparent dialogue on how the international community has failed Syrians and other victims of Russian armed forces across the globe. It's time to better understand why we're still doomed to repeat the same failures and take this "opportunity" to develop stricter actions, procedures and policies to protect health care facilities and personnel, and reduce the health and economic havoc of such attacks.
From 2016 to 2021, 4,000 attacks were documented on health care delivery globally. In Syria, the Assad regime and its main sponsor, Russia, were responsible for more than 90 percent of the brutal 600 attacks on health care facilities and personnel. For years, Syrian and international human rights and medical activists have been appealing for actions to hold the perpetrators accountable for these deliberate attacks. Unfortunately, the perpetrators of war crimes and crimes against humanity in Syria are still sheltered from any legal or criminal prosecution.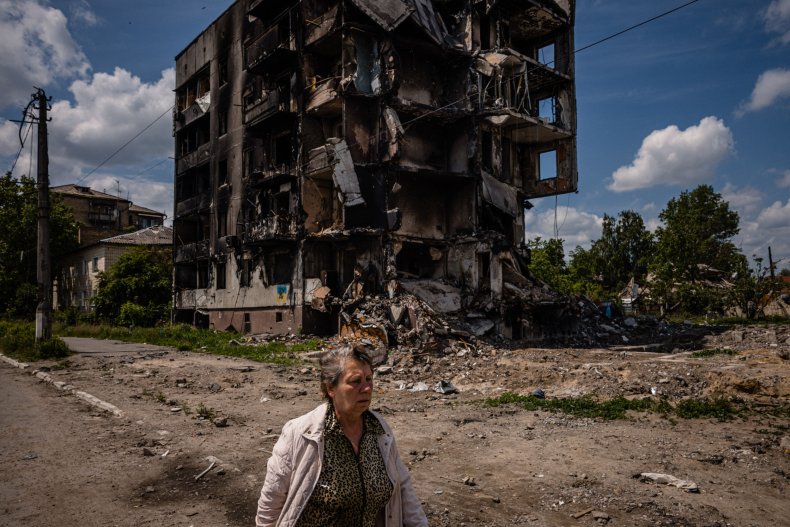 Mounting Cost of War
As the war is still raging unabated, with no end in sight, the Russian invasion continues to cost lives and cause suffering. The U.N. Children's Fund (UNICEF) reported that 1.4 million people are currently without running water across eastern Ukraine and that hostilities-related damage to infrastructure and power cuts put an additional 4.6 million people across Ukraine at risk of losing access to safe water.
The brutal fighting has claimed thousands of lives so far and those numbers are increasing. The State Emergency Service of Ukraine (SESU) reported that some 300,000 square kilometers, or almost half of Ukraine's landscape, currently requires demining operations. This will gradually but steadily increase the human and economic plights of the war for a long time to come.
The intense fighting has uprooted and displaced millions of civilians. On the first day of the invasion, the U.N. High Commissioner for Refugees (UNHCR) registered around 77,000 refugees crossing into bordering countries; one month later the number exceeded 3.65 million refugees. In less than two months, refugees from Ukraine have exceeded 5.4 million. Additionally, over 7.7 million people have reportedly been internally displaced as of April 17.
Although the dynamics of war in Ukraine differ from Syria, the resulting humanitarian crisis bears many similarities. The war in Ukraine provides another rare moment for the international community to refine its actions, procedures and policies. Advocating for the protection of civilians and public infrastructure alone isn't enough. Decisive actions are urgently required. Holding perpetrators and war criminals accountable in Ukraine will give hope to millions of victims and survivors of war atrocities and fulfill the prophecy of the late Syrian playwright, Saadallah Wannous, who said: "We are doomed by hope, and today cannot be the end of history."
Dr. Jawdat Abboud is a board member of C4SSA, a 501(c) (4) organization with a mission to promote democratic change in Syria. He is a medical doctor in Chicago, Ill., born and raised in Deir-Ezzor, Syria. Dr. Abboud established the Arab Spring for Syria organization in the U.S., involved in interfaith activities, Community Service Campus Challenge and the National Prayer Breakfast. Dr. Abboud also is a leading member of the Syrian Civil Movement for Rehabilitation and Change based in northeast Syria.
Dr. Tayseer Alkarim is a physician, humanitarian and human rights activist originally from Syria, now living in exile in France. He is specialized in humanitarian programs in violence and forced displacement contexts and is an international fellow with the Center on International Cooperation (NYU) and Center of Human Rights and Humanitarian Studies (Brown University).
The views expressed in this article are the writers' own.