Europe's LGBT Communities Hopeful After Irish Gay Marriage Referendum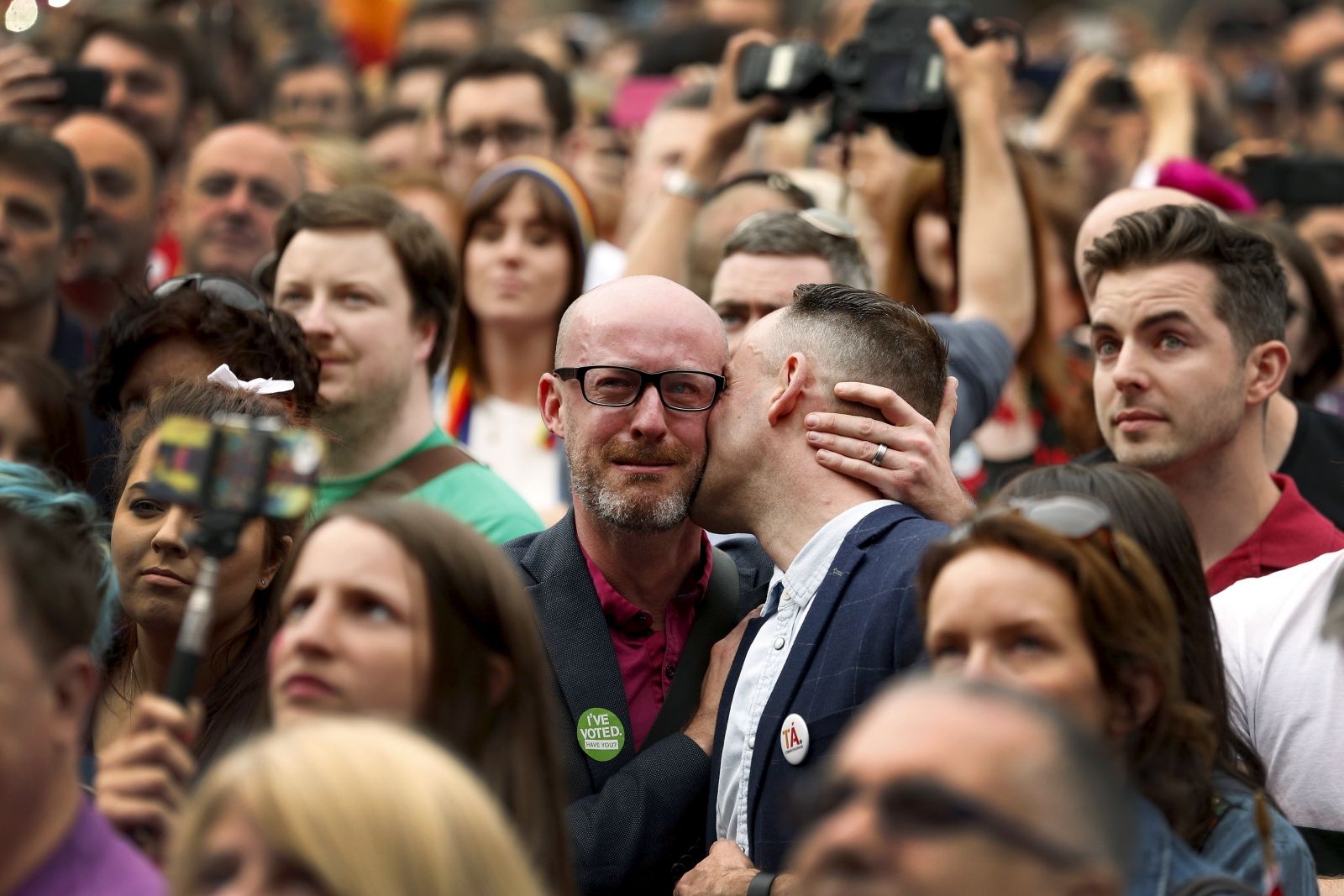 The Irish referendum on same-sex marriage, held last Saturday, has created a wave of hope for lesbian, gay, bisexual and trans- equality across Europe and indeed the rest of the world.
Last weekend, 62% of Irish voters chose to back gay marriage in what the archbishop of Dublin described as "a social revolution" and what the Vatican's secretary of state, Pietro Parolin, described as a "defeat for humanity".
However, the passing of the law in Ireland, a predominantly Catholic country, is already having a knock on effect all over the world, even in Italy, which has long been considered the home of the Catholic Church.
A public opinion poll released yesterday by Italian daily La Stampa found that for the first time over half (51%) of Italian voters would support gay marriage, a major jump in public opinion in the country. Only last October a poll showed support for gay marriage was running at around one third.
Though opposition to adoption by LGBT couples remains high at 73%, in a country of 60 million citizens - 82% of whom are Roman Catholic - public opinion appears to be changing.
In reaction to yesterday's poll, openly gay Italian politician and president of the Apulia region, Nichi Vendola, said: "Ireland is giving us a lesson in civility", while Laura Boldrini, speaker of the Italian Chamber of Deputies, said Ireland had given Italy a much-needed push forward, tweeting: "To be Europeans, means to recognize rights".
On Wednesday, just four days after Ireland gained its long awaited Yes vote, Greenland's MPs unanimously voted to approve same sex marriage and adoption, scrapping its previous laws which were adopted in 1996. Every MP voted for the adopting the new laws, which are expected to go into effect on 1 October later this year. This vote makes Greenland, a country of just 57,000 residents, the 22nd country to legalise same sex marriage.
Interestingly, the Irish referendum has also had a major impact on Australia, a country whose government has long objected to the idea of same-sex marriage. The last time Parliament voted on same-sex marriage was in 2012, the results were 98-42 against same sex marriage in the Lower House and 41-26 in the Senate.
However, in the aftermath of the Irish vote, both sides of the Australian marriage equality debate have vowed to step up their efforts to bring about change in Australia.
On Wednesday, Australia's Prime Minister Tony Abbott, a Catholic who is openly opposed to same-sex marriage, said that "questions of marriage were the preserve of the federal government". However, he also acknowledged that it's up to members of parliament who are in favour of same sex marriage to decide whether they want to bring it forward and put it to a vote in parliament.
Back in Europe, German Chancellor Angela Merkel ruled out legalizing same-sex marriage on Wednesday saying that it was not a "goal" of her government. Although polls show 75% of Germans are in favour of legalising gay marriages, the ruling coalition only agreed to make small changes, expanding rights for registered same sex partnerships. They firmly declined the idea of following in Ireland's footsteps any time soon.
Matt Horwood, communications officer at Stonewall, a lesbian, gay, bisexual and transgender rights charity told Newsweek that "opposition to same-sex marriage is not synonymous with being of faith. What the referendum in Ireland demonstrates is the power of individuals who are willing to take a stand for what they believe in".
"Complacency is a huge issue facing the LGBT community, and it's important that we don't ever assume that one country will see faster progress for lesbian, gay, bisexual and trans equality than another", he continued.
However, Horwood believed that the Irish referendum has created a "wave of hope" for LGBT people and that grassroot pressure will emerge. He concludes that the decision in Ireland will "speak to governments and people around the world in countries where same-sex couples currently cannot get married".