How James Dyson Revolutionized the Vacuum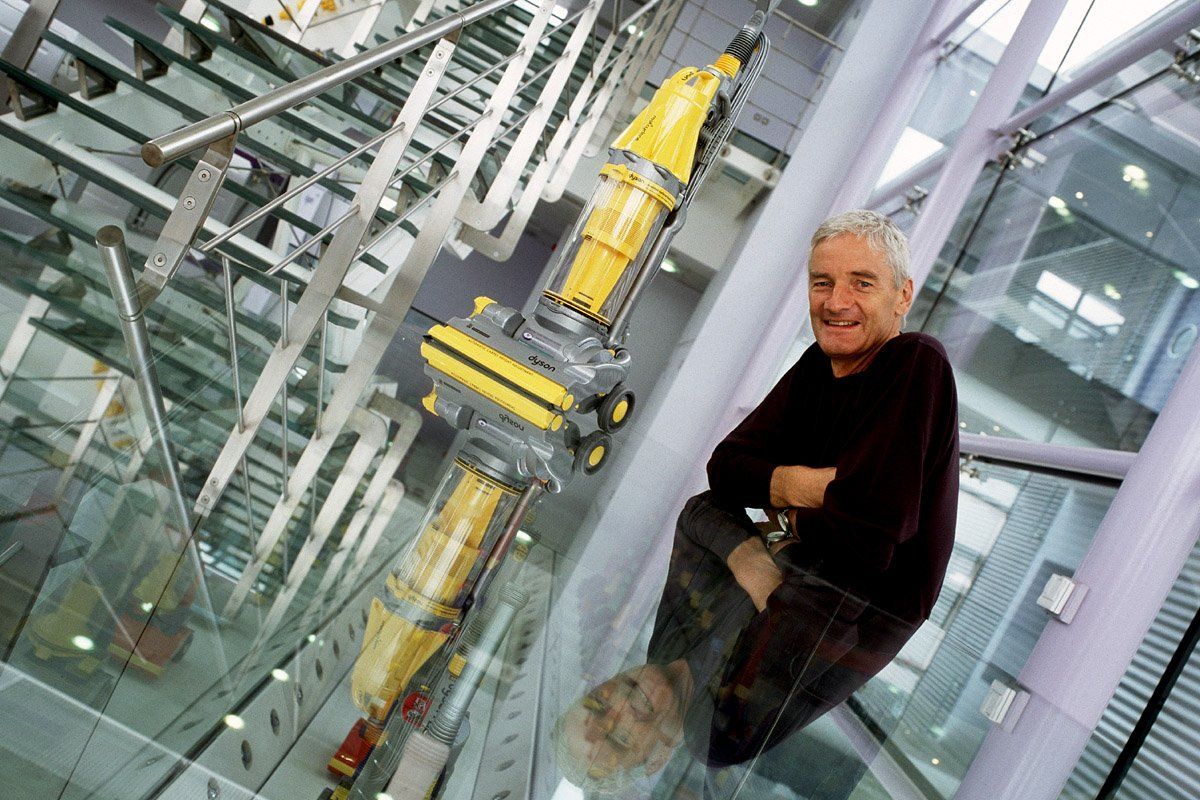 In 2002, when the average price of a vacuum was about $125 and the world was experiencing a hangover from the recent dotcom bubble, Sir James Dyson came to America to sell a vacuum cleaner. Specifically the Dyson DC07, a cyclonic upright vacuum capable of generating 100,000g of centrifugal force (three times that of a bullet exiting a gun) and pulling dirt into a canister made from the same material manufacturers use for crash helmets. All for the chin-dropping price of $399.
The dashing Dyson was trying to sell something to the U.S. consumer that nobody voiced a huge need for and at a price point that felt, well, outrageous. But within two years, he had nearly 15 percent of the $4 billion vacuum-cleaner market, second in market share to Hoover, the inventor of the upright cleaner. At first glance, the vacuum is an unlikely place to find a game-changing concept. But the British entrepreneur not only improved the technology—a feat not attempted in nearly a century—but introduced a revolutionary design that made the vacuum nothing short of a cool and even "sexy" purchase. Dyson soon became a household name and a kind of cult figure. But eight years later, amid a tougher economic climate, Dyson faces a new, albeit well-known, challenge. Will the quality and innovation that helped sell his product when he first came here in 2002 be enough to keep a growing number of price-conscious consumers coming back?
From the beginning, few thought the Dyson vacuum really had a chance of succeeding. The legend goes that in 1978, after a career designing and engineering products for the British military, Dyson was ready for a more peaceful enterprise. He started with the Ballbarrow—a Dysonian twist on the standard wheelbarrow that cost three times as much but didn't dig trenches into your yard or require a visit to the chiropractor after use. It was a huge success and gave Dyson the confidence to take on the vacuum cleaner—mostly because he hated his own Hoover and was determined to invent one that didn't lose suction. "People didn't realize the bag was the problem," Dyson told NEWSWEEK. "So I built one without a bag that never lost suction."
Not that it was easy. After going through 5,127 prototypes and accruing a pile of debt, Dyson launched the "G-Force" cleaner in Japan in 1983. In England there was already a thriving vacuum-bag industry that did not initially look kindly upon a bagless intruder. But by the '90s Dyson had revolutionized the entire British market. The Dyson Corp.'s first official vacuum, the DC01, quickly became a bestseller in the U.K., and nowadays Dyson has in excess of 40 percent of the vacuum-cleaner market there. "They changed the nature of the [vacuum] into an aesthetic lifestyle product, a status symbol," Nick Platt, a vacuum-cleaner expert at the retail audit firm GfK Group, told the BBC. Of course, the fact that it didn't need expensive new bags and actually didn't lose suction helped, too.
Despite his success around the world, everyone told him that selling to the American market would never work. In his memoirs, Dyson originally wrote of the U.S.: "What else is there to say? Britain is about to go 100 per cent Dyson; Japan has jumped on the bandwagon; Australia is on the way; and from France all Europe is about to open up to the all-conquering cyclonic army. Oh, well I suppose there is still America to clear up. But that is not our job, thank God." Yet the temptation to capture one of the largest consumer electronic markets in the world proved too irresistible. So even though the country was too big to get traction selling to individual stores as Dyson had done in the U.K. and the big national chains such as Walmart, Target, and Sears were super price-sensitive, he decided to give it a try.
Dyson started slowly in 2002, speaking to art and design programs such as the Rhode Island School of Design about the cool look and the construction of the Dyson DC07, which began to create a niche market in such circles. Best Buy placed an order, and the DC07 began to fly off their shelves. Then came the national commercial that helped him really crack the U.S. market. In 30-second increments, Dyson explained to Americans that their trusty Hoovers and Eurekas were losing suction. The commercials stirred something in the types of shoppers who were interested in technology and how it could be used effectively in everyday life. Turns out, a Dyson vacuum engine really does work well—it sounds like sales speak, but the cyclonic engine uses centrifugal force to keep the suction constant and strong. The clear dustbin allows the user to see all the dirt the vacuum is getting up, and two different kinds of bristles make sure it can clean on a variety of floors, from shag carpeting to bare wood. To date, Dyson has 23 percent of the U.S. market share and his vacuums are sold in every chain store including Walmart, Target, Kohls, and Sears. Because a Dyson attract technophiles and gadget geeks, its demographic cuts across traditional socioeconomic boundaries and ranges from young to old, rich to not-rich. "Americans like to know how things work," says Dyson. "We could show you why a Dyson was a better choice."
So even as the larger vacuum market took a hit during the Great Recession with sales volume dropping nearly 10 percent since 2008, according to the market research firm Mintel, Dyson's sales surged 23 percent and doubled the company's global operating profits in 2009. Part of this boon is due to new products such as the Dyson Air Multiplier fan, which has 64 percent of the market in Australia and recently went on sale in the U.S. and Europe for the starting price of $329. The other major factor is growing vacuum sales powered by new releases such as the Dyson Ball and the Dyson City, which come with suction-technology improvements. "We increased our market share in every country we sell in," Dyson told the London Times this year. They have a term for that in Britain—turning the laws of business allegedly on their head and getting people to pay more to get more even during a recession. It's called "doing a Dyson."