How Joe Biden's Approval Rating Fares Before 2023 State of the Union Speech
President Joe Biden will deliver his second State of the Union address to a joint session of Congress on Tuesday as he faces a challenging year with a new Republican majority in the House of Representatives.
While Democrats retain control of the Senate, it's unlikely that any major legislation will be passed and there are concerns about raising the federal debt ceiling as the House GOP has said they will not raise the debt limit without spending cuts that Biden and Democrats won't accept.
The president is giving this year's State of the Union while he's being investigated by Special Counsel Robert Hur over his handling of classified documents and amid criticism of his reaction to a suspected Chinese spy balloon.
Biden's approval rating appears steady ahead of the speech, though it has declined over the past month, according to analysis from poll tracker FiveThirtyEight.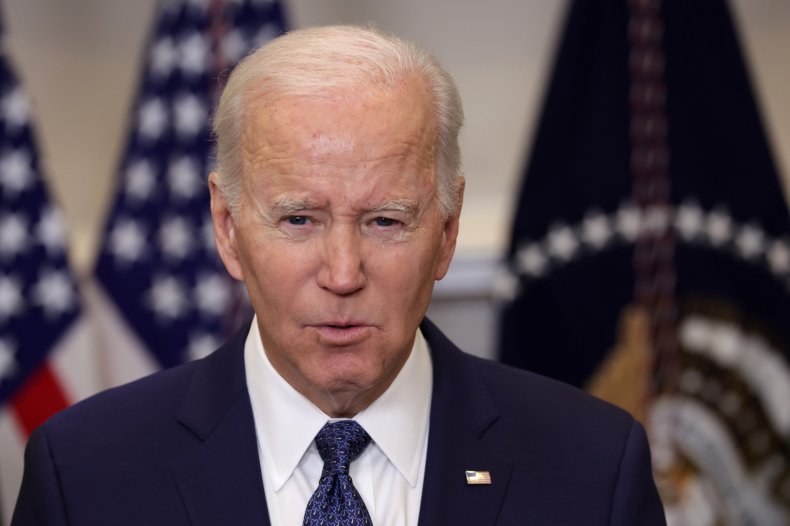 The president enjoyed an approval rating of 43.2 percent as of February 6, while disapproval of the job Biden is doing stood at 52.3 percent—that represents a decline since January.
On January 6, Biden's approval stood at 43.5 percent in FiveThirtyEight's analysis, while disapproval of the president was 51 percent.
FiveThirtyEight analyzes a large number of polls from reputable pollsters and uses its own system of pollster ratings to determine the president's popularity.
Though Biden's approval rating has declined slightly over the past month, he is still in a better polling position than his predecessor, former President Donald Trump, at the same stage of his presidency.
Trump delivered his second State of the Union address to Congress on February 5, 2019 and according to FiveThirtyEight's analysis, Trump's approval rating on February 4, 2019 was just 39.8 percent, while 55.7 percent of Americans disapproved of him.
On February 6, 2019, Trump's approval rating was 40 percent and disapproval of the then president stood at 55.4 percent. Trump used his State of the Union speech at the time to announce a summit with North Korean leader Kim Jong Un, as well as touching on a wide range of issues including the economy, crime and foreign policy.
President Biden is widely expected to tout his administration's achievements over the past two years in his speech on Tuesday and political scientists who spoke to Newsweek suggested he could also target Republicans.
David A. Bateman, an associate professor of government at Cornell University, told Newsweek that Biden "has the opportunity to lay the groundwork for what is sure to be a central political task of the next few months: convincing the public that Republican intransigence is responsible for the upcoming political fights and potential economic instability that results."
Newsweek has asked the White House for comment.