How Joe Biden's Stimulus Deal Compares With Donald Trump's First on 5 Key Issues
Almost a year since the Coronavirus Aid, Relief and Economic Security (CARES) Act provided emergency relief to the American people affected by the coronavirus pandemic, the Senate has cleared President Joe Biden's $1.9 trillion COVID bill.
The sprawling bill was narrowly approved in the upper chamber by a 50-49 vote, along party lines, and is now heading back to the House for final approval before Biden can sign it into law.
But how does the amended version of Biden's American Rescue Plan compare to the $2 trillion stimulus package signed into law by former president Donald Trump last spring?
Stimulus checks
Biden's plan will provide a third stimulus check for Americans—$1,400 checks for a single taxpayer, or $2,800 for couples that file jointly. It also includes $1,400 per dependent.
Only those earning up to $75,000 would get the full amount, as would couples with incomes up to $150,000. The size of the stimulus payment would be lower for those earning slightly more, but will cut off at $80,000 for individuals and $160,000 for couples.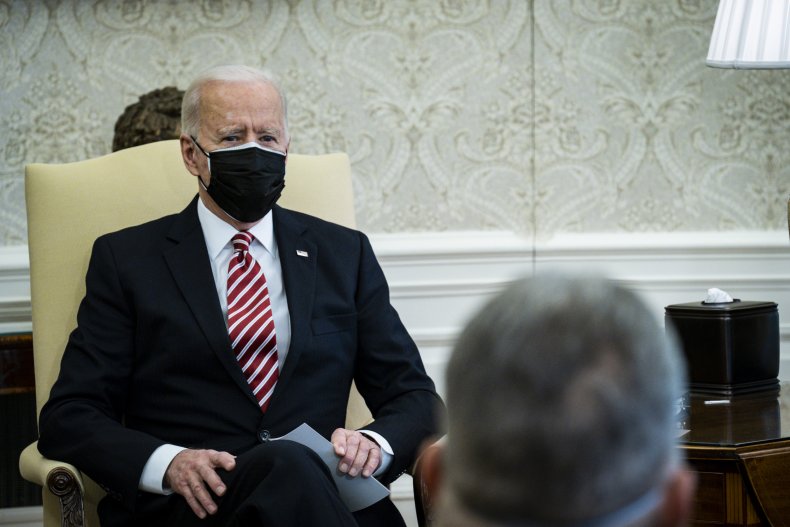 The CARES Act, in contrast, provided one-time checks of $1,200 to most individuals earning less than $75,000, or $2,400 for a couple earning less than $150,000, plus $500 per child.
However, the income cap was higher in the CARES Act—only those earning more than $99,000 and couples making more than $198,000 were ineligible for checks.
The eligibility criteria in the latest Senate bill means an estimated 12 million adults would be cut off from receiving a third stimulus check, CNBC reported. However, 280 million Americans will still be eligible for direct payments.
Unemployment Insurance
The Senate bill extends unemployment benefits from the federal government, at $300 a week, through September 6—on top of what is issued through state unemployment insurance programs.
The original American Rescue Act passed by the House had included $400 in additional weekly payments through August, but Democrats ultimately compromised on the lower amount.
The Senate-passed version also makes the first $10,200 of unemployment payments from 2020 tax-free, but is limited it to those earning less than $150,000.
In comparison, the CARES Act had temporarily added $600 per week of unemployment benefits from the federal government, on top of what workers received from the state, and permitted states to extend unemployment benefits by up to 13 weeks.
It also created a temporary Pandemic Unemployment Assistance program to help those who didn't quality for regular unemployment compensation (such as gig workers) but who lost work as a direct result of the coronavirus pandemic.
Money for state and local governments
The Senate version of the American Rescue Act would send $350 billion to state, local and tribal governments for costs incurred up until the end of 2024.
The CARES Act included $150 billion in direct assistance for state, local and tribal governments—known collectively as the Coronavirus Relief Fund. It also provided around $274 billion towards specific COVID response efforts.
Help for businesses
The new legislation creates a $25 billion Restaurant Revitalization Fund to help restaurants and bars struggling due to the pandemic.
It would provide grants of up to $10 million per company, but with a limit of $5 million per physical location, that can be used to cover payroll, rent, utilities and other expenses.
The CARES Act provided $10 billion for grants of up to $10,000 to small businesses to cover operating costs. Another $350 billion was allocated for the Small Business Administration to provide forgivable loans of up to $10 million per business.
The Washington Postreported that Biden's stimulus package allocates most of its funding to aid American families and state and local governments, with very little money going to companies. The CARES Act, on the other hand, set aside around $500 billion for big corporations, according to NPR.
Public health
The Senate bill provides $46 billion to expand federal, state and local testing for COVID-19, along with $14 billion to expedite the distribution and administration of coronavirus vaccines, according to the Associated Press.
The CARES Act allocated around $100 billion for hospitals and healthcare providers responding to COVID-19.
It also set aside $11 billion for diagnostics, treatments and vaccines, as well as $80 million for the U.S. Food and Drug Administration to prioritize and expedite the approval of new drugs.
It also provided $16 billion to the Strategic National Stockpile, in a bid to increase availability of necessary supplies, such as ventilators and masks.