How to Join the Slack Channel That's Recreating Episodes of 'The Office' Right Now
If you're a fan of The Office—and, let's be real, you probably are—odds are that you've spent a good chunk of time rewatching your favorite episodes and seasons. (Or, hey, even the whole series!) Well, now there's a new way to enjoy the beloved sitcom, and it's very office-appropriate: You can watch it on Slack.
That's right, every single episode of The Office is being recreated on the work organizational app right now. No, that doesn't mean Netflix is broadcasting the series on the digital workplace. Instead, the Slack account is posting each hilarious scene line by line through text exchanges—almost like you're reading the episode scripts. Each character has an account and an avatar, and each memorable moment takes the stage, one message at a time.
The Office channel was launched by app MSCHF, a phone download that gives users early access to unique product launches. (Some of their other claims to fame are the Cuss Collar, a collar that turns your dog's barks into swear words, and the Boomer Email, a newsletter that compiles real email chains from Boomer inboxes.)
Not everything MSCHF launches is free, but this Slack channel is. Those who join will be able to access a handful of particular channels, just like in their normal workplace. The Office list starts with #accounting, where Kevin, Angela and Oscar keep their conversations.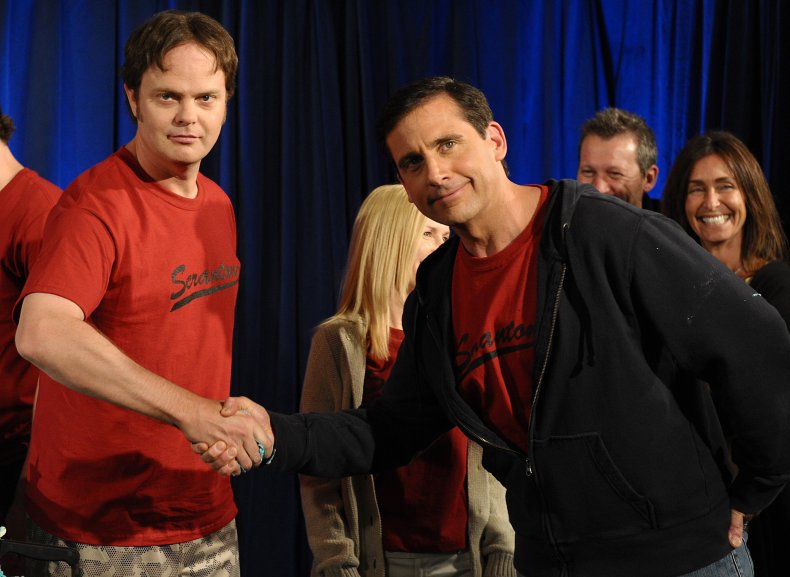 On Friday, when published, the #accounting channel was replaying the episode where Holly thinks Kevin is intellectually disabled, message by message.
Other channels include #kittenappreciation, #worlds_best_boss and #call_of_duty. The latter hosted a fan-loved conversation between Jim and Karen in which Jim admits to still having feelings for Pam.
There's one obstacle to the Slack channel: Since it's an open workspace forum, anyone can comment. It appears that, so far at least, users are being respectful of the Slack's mission and holding back personal feedback. Instead, users have been responding with emojis to support, or laugh at, their favorite lines.
So how can you join the Office Slack channel? It's simple. All you need to do is follow the link here, and sign up for Slack how you normally would. You can use a work or personal email to make an account and join the server.
The Office Slack account isn't always active. It's only live during work hours, weekdays from nine to five.
If you love the idea of a totally unique, entertaining product drop each week, you can download MSCHF to be the first to know in the coming weeks. The website also gives links to a few other opportunities available now, like the Word of the Day, where you use a Slack channel to guess random words until someone is correct. There are no guidelines, and that person wins $1,000.
Another app streams Netflix through a platform that looks like a conference call, so your boss won't know that you're slacking off. Would've been perfect for the Scranton office.