How a Journalism Project No One Had Heard of Stole Times Columnist Bill Keller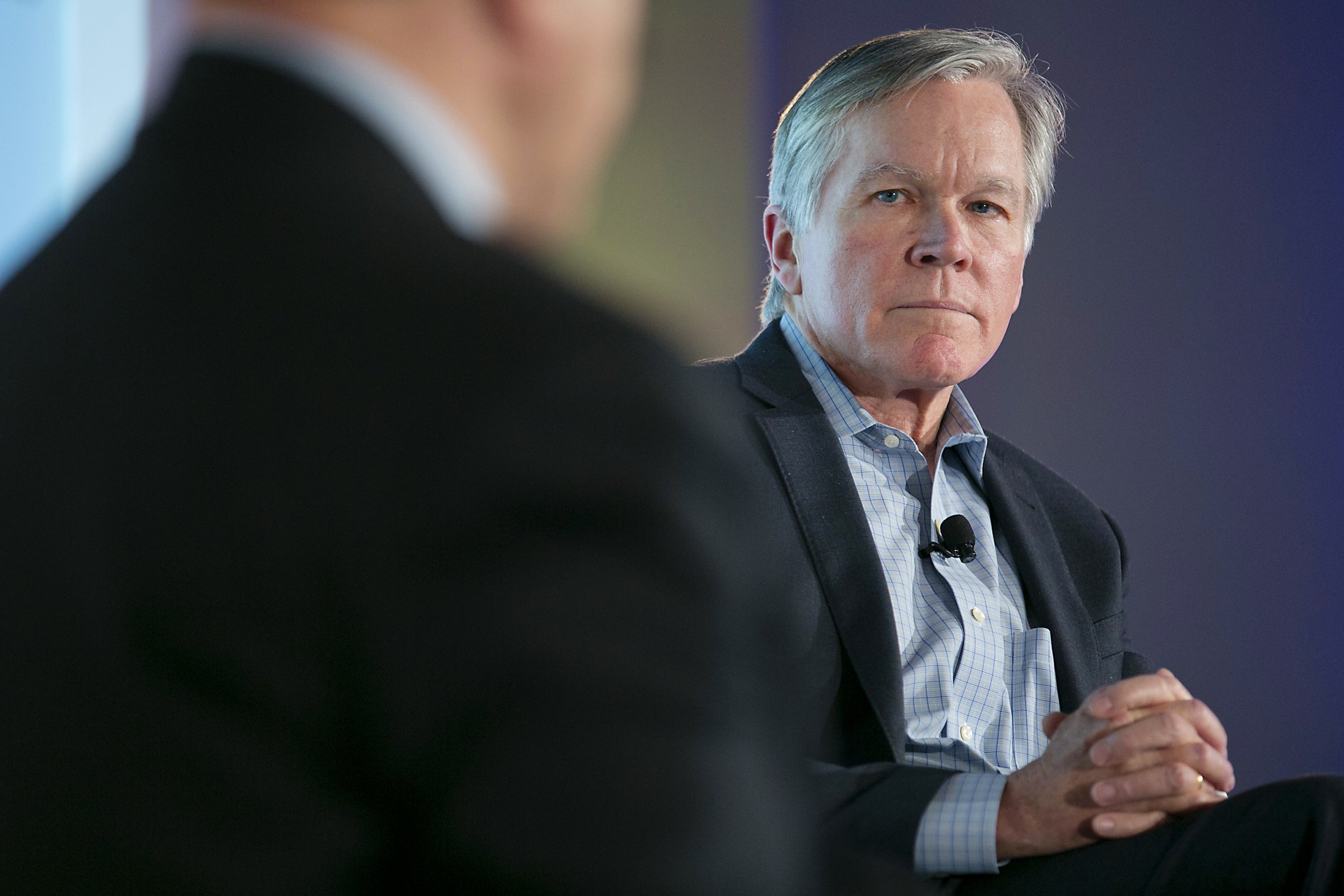 Former New York Times executive editor-turned-columnist Bill Keller is the latest old media giant to jump ship for a digital news start-up, but his destination, a soon-to-launch criminal justice outlet called The Marshall Project, is virtually unheard of. Turns out he didn't know anything about it either when founder Neil Barsky contacted him out-of-the-blue. Barsky, a former Wall Street Journal reporter and hedge fund founder, chatted with Newsweek about the impetus for the project, the specifics of the subject matter, and how he poached a three-decade Times veteran and Pulitzer Prize winner.
How did the idea of The Marshall Project emerge?
I've been involved in the journalism world since retiring from the hedge fund world. I've been chairman of the Board of the Columbia Journalism Review Board of Overseers. And I've wrestled with all the issues facing legacy journalism organizations, of business models and what have you. I started life as a reporter -- I was a newspaper reporter for 15 years -- and I couldn't really find a business that was worth doing as a business. I really felt that all these online business models were quite fragile.
At the same time, it became quite clear when I looked at places like ProPublica, that were doing amazing work and were able to raise money from funders, that there is a real public and civic good to supporting journalism. So I'm not engaging in ideas for nonprofit journalism, and criminal justice seemed like such a fertile area. I began to realize there's a story a day that's amazing and horrifying that's out there. What if we were able to aggregate everything that's going on in the country – all the outrages and all the heartbreak – and put them in one place? And by doing that, maybe refocus the issue a little bit. Because it really is a national scandal.
I read books. One of the most influential books was The New Jim Crow by Michelle Alexander. So that's how the idea was born.
How long has it been in the works for?
I'd say three or four months.
You've spent most of your journalism career covering finance and business. What makes you qualified to cover criminal justice, and what prompted this shift in focus?
Well, I don't know what qualifies me to cover criminal justice. I just hired Bill Keller. He's the editor. I'm not covering it. I'm facilitating this, I'm helping with strategy, I framed the plan. But I haven't been a journalist for 20 years. Unless you count the film. So I'd be crazy to think I could manage the editorial side of this. You want to hire great people. I've done that in everything I've done – in hedge funds, in the film I made. So that's not really a question. So we hired Bill Keller. Bill Keller is sort of the perfect person to build this news organization. I think we're in great shape there.
As for my own interest, I'm political, I care a lot about our country, I like great stories, but I'm totally struck by how pervasive and persistent our broken criminal justice system has been.
What made you think of Bill of all people you could have hired?
I literally, randomly emailed him. I said, "You don't know me." I said, "My name's Neil Barsky, I'm doing this project, this is a long shot, would you be interested in considering working together?" Not only have I been reading The New York Times my whole life, certainly when he's been running it, but I have tons of friends at the Times, who are reporters, who uniformly speak highly of him on the record and off the record.
So he replied to your email?
He replied to the email, we had breakfast, then we kept talking. It took about a month to finalize our arrangement, but it's pretty thrilling.
How did you convince him?
Ask him. I just told him what the plans were, what the ideas were. For him, at this stage in his career, he seems very eager to be able to build something from scratch – something that could have a real impact on the world.
Some people have criticized you for hiring an old-media type to run an online news startup.
[Laughs] Who's criticizing me?
There was a post on Gawker, for instance…
Gawker!? I believe the fundamental underpinning of any news organization is excellence. The principles of journalism hasn't changed; the technology has. The principles of journalism are transparency, fairness, thoroughness, intellectual honesty, and creativity. Bill embodies those goals.
Now, we're going to have a big staff. We're going to have web designers. We're going to have IT professionals. We're going to have social media editors. And we are going to be living in the world that exists, not the world that did exist. I don't break the world down between old media and new media. I think any news organization has to live in the world we live in. That's what Bill believes, and that's what I believe.
Are you planning to hire any other big-name reporters?
I have no idea. There's nobody that's going to come in tomorrow.
What's the meaning behind the name?
I read a book this summer, Devil in the Grove. It won the Pulitzer Prize for nonfiction last year. It's about a case in Florida in 1949 where four blacks were falsely accused of rape, and all the horrible things that happened in the wake of those accusations. And the book shows how Thurgood Marshall, before he had litigated Brown v. Board of Ed in 1954, and his team of attorneys, from the NAACP Legal Defense Fund, tried heroically to save these men's lives at great personal risk to them. And frankly I was inspired. I thought who better to name this project after than Thurgood Marshall.
And you've already secured the funding for it?
No, that's iterative. But I don't expect it will be problem. We have to raise the money. We're still in the process of raising the money.
Are there any particular issues inherent in the criminal justice system that you hope to take on?
I think it'll be pretty comprehensive. I can name you ten: juvenile justice, drug sentencing, the death penalty, privatization of prisons – these are all very rich areas to explore. Solitary confinement, mental illness…
That's quite a bit to take on.
We have time.