Coodie and Chike had their lives changed forever once they met the fledgling talent of Kanye West, which led to them creating the Netflix documentary series jeen-yuhs: A Kanye Trilogy.
The early days of West's career are explored in the first part of the trilogy, with Episode 1 available to watch on Netflix now. Jeen-yuhs is directed by filmmaking duo Clarence "Coodie" Simmons and Chike Ozah, with both men featuring prominently in the documentary.
Before the launch of the Netflix trilogy, Ye, as West is now known, had publicly called for the final edit on the show, something which Coodie admitted to Newsweek that he was "shocked" by.
The trio's origin story is covered in jeen-yuhs, but in case you missed it here's exactly how Kanye West met Coodie and Chike.
How Coodie met Kanye West
Coodie seemed set for an entirely different career before he crossed paths with West. It was previously suggested that Coodie and Ye met in the early 2000s but as jeen-yuhs shows, the two first interacted in 1998.
The opening scene of jeen-yuhs shows Coodie presenting his Chicago-based Channel Zero show, speaking to talent at producer Jermaine Dupri's birthday party. Coodie interviews Mase and his group Harlem World, but while he's hearing from each member, we see a familiar face.
A 21-year-old West is shown onscreen, chewing gum and wearing large gold-framed spectacles. West was with Harlem World as he'd just produced three tracks for their first and only album The Movement.
Via voiceover after the moment is captured, Coodie says: "I had no idea that this short interview would be the beginning of a brotherhood that would last for more than 20 years." Coodie also suggests that he had previously seen West perform with his group The Go-Getters, and his name was mentioned all over Chicago for his skills as a producer.
Previously acting as an on-camera interviewer, Coodie then picked up the lens and started filming others. In a clip from 2000, Coodie filmed some local rappers who happen to take him to West's crib where we meet the rapper again sitting behind his equipment, this time wearing dreads in his hair. Coodie captures early footage of West rapping, and that relationship led to Coodie documenting West's career, in a similar style to the basketball film Hoop Dreams.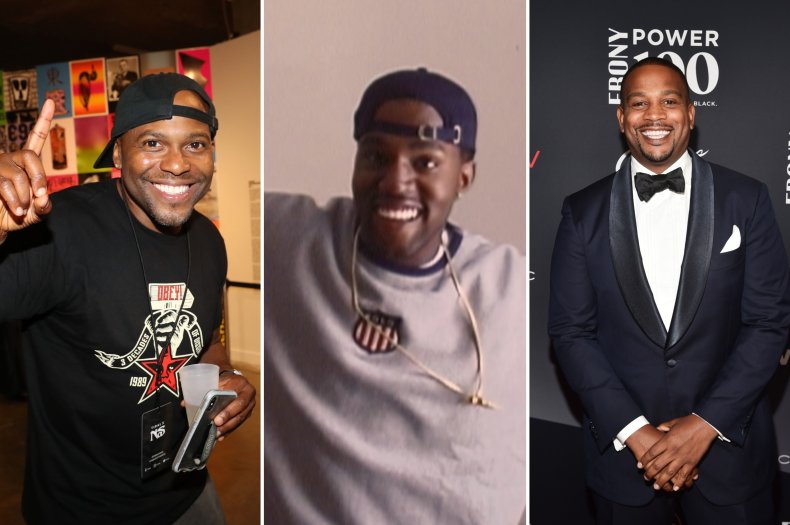 How Chike met Kanye West
West wouldn't meet the filmmaker Chike until a few years later, when his career was just starting to take off. Chike actually met West and Coodie at the same time when Coodie was deep into his journey of filming almost every moment of Ye's career.
Chike worked as a producer for the MTV show You Hear it First. When West was booked on the show as a performer—one of his first big platforms to showcase his work as a rapper and not just as a producer—Chike crossed paths with his future filmmaking partner, and the subject of a future documentary.
Chike and Coodie's partnership eventually led to them creating the music videos "Through The Wire" and "Jesus Walks" for West.
The first episode of jeen-yuhs: A Kanye Documentary, "Act I: Vision" is available to watch on Netflix now. Act II and Act III will be released on February 23 and March 2, respectively.