How Katrina Reshaped Disaster Planning for Kids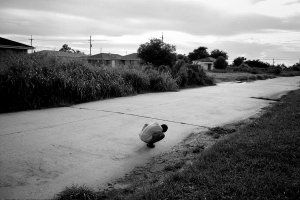 The horrors of Hurricane Katrina faded from the headlines—and from many people's minds—long ago. But five years later, its human toll is far from over. Perhaps most neglected are kids in Louisiana and Mississippi, at least 20,000 of whom are to this day suffering from emotional disorders, behavioral issues, or unstable living arrangements, according to a new study by Irwin Redlener and colleagues at Children's Health Fund and Columbia University's National Center for Disaster Preparedness. Many of these kids show signs of hyperactivity, have trouble getting along with peers, or perform poorly in school. About half of the kids tracked in the study have moved in the last year, and about 40 percent still live in transient housing situations—such as hotels, motels, or trailers—or expect to move again in the near future.
Children who experienced Katrina are nearly five times more likely than others to have emotional or behavioral problems, in many cases brought on or exacerbated by traumatic experiences during the disaster and the long-term instability that followed. More than 5,000 kids got separated from their families during the initial evacuations, and some had to wait as long as six months to be reunited with their loved ones. Sixteen thousand kids being held in the juvenile justice system were stuck for days without basic necessities like food, water, and medicine thanks to grossly inadequate disaster planning. And those are just two of the many horror stories. Worse yet, experts say that many of the failings of the Katrina response and recovery have yet to be addressed in the planning for future disasters. In a recent report, Save the Children found that only 12 states required child-care facilities and schools to have disaster plans that meet four basic standards. That suggests that adequate planning is the exception rather than the rule at these institutions, which are collectively responsible for 67 million children at any given point on a weekday.
Kids have unique needs that frequently aren't taken into account during response and recovery. For instance, emergency-response vehicles are often not stocked with equipment and medicine that are fit for youngsters. Children are also especially susceptible to stress, uncertainty, and instability, felt either directly or through their parents, which is why timing is of the essence—the sooner families are brought back to a state of relative normalcy, the better kids fare.In the aftermath of Katrina, kids were a casualty of a disaster-management system that wasn't even able to adequately handle adults, let alone children. It's a situation of "benign neglect," says Mark Shriver, who leads U.S. programs at Save the Children. "No one went out to shortchange kids, but they didn't think of children's needs. Unfortunately kids don't vote, they don't give money, and they are not a strong constituency, but they're very much at risk."
A fundamental failure of the Katrina recovery efforts is that affected children and families weren't tracked in the aftermath of the storm—a necessary precursor to identifying their needs and then actually fulfilling them. FEMA case-management programs—which are supposed to ensure that affected families are getting access to necessities like food, medical supplies, and housing—weren't functional. Some programs were funded and then expired before a single family could be helped. Other programs had limited funding and expired before completing action plans for vulnerable families. "Disaster case management was itself a disaster for the first several years after Katrina," Redlener says. "It's almost as if every imaginable kind of bureaucratic barrier and bumbling was evident on the services side of the recovery process." As a result, too many families didn't get access to resources when they were needed most.
There are some signs of improvement. FEMA has created a children's working group, signaling commitment to children and families. And two years ago, Congress formed an independent group of experts, including Shriver and Redlener, the National Commission on Children and Disasters (NCCD), to make recommendations to the president and Congress for improving disaster management with respect to children. This commission has successfully worked with the Red Cross and FEMA to improve the shelter system, which had been ill-equipped to handle kids. "Shelters have traditionally not counted children and therefore, didn't know what kinds of supplies were needed," Shriver says. There were often not enough diapers, no cribs, no facilities for washing infants, no baby food, no delineated play areas, and sleeping arrangements that left kids unnecessarily vulnerable. But that's been changed. Shelters are now stocked with age-appropriate supplies, have play areas, and are structured so that families are congregated and housed in a separate area from the general shelter population.
On the ground, people like Howard Osofsky, a psychiatrist at Louisiana State University, are working to develop resilience programs that can help kids cope with or prepare for disaster situations. These are group sessions, conducted at schools and in communities, that aim to empower participants and help them gain strength, hope, and a sense of control through connections with others. "There's been considerable progress," he says. While these sessions grew out of the Katrina disaster, they are now taking on the human impact of the Deepwater Horizon incident as well.
The latest National Center for Disaster Preparedness study suggests three key areas of disaster response that need restructuring: better tracking of affected individuals so kids don't fall through the cracks; identification of needs; and provision of resources and services until those needs are met. What it really comes down to, though, is better coordination among all the federal, state, local, and nongovernmental entities that are involved in these responses, to avoid the bureaucratic mess that plagued the Katrina response.
Redlener would like to see a high-level disaster-recovery czar put in place to oversee and coordinate the many groups in and out of government involved in a response. "I'm well aware the president has been criticized for creating too many czars in too many arenas, but recovery is too complex an issue for any particular agency," he says. Yet he's found the administration to be reluctant to consider this proposal.
And that's only one of many political challenges. In 2006, Congress mandated that the federal government develop a National Recovery Strategy, intended to structure policies and programs to make the recovery process as efficient as possible. The strategy was supposed to be delivered to the president in draft form in April 2010 and released in June. But these deadlines have been missed. Furthermore, a bill derived in part from the findings of the NCCD, called the Child Safety, Care, and Education Continuity Act of 2010, has been introduced in the Senate by Mary Landrieu (D-La.) and Lamar Alexander (R-Tenn.), but appears to be stalled.
It's also unclear whether Congress will renew NCCD's charter, which soon expires. A bill that would extend its life by two years has passed the House, but has not yet been taken up by the Senate. If that doesn't happen, the commission's work will have to be wrapped up soon after it completes its latest report, which urges the president to develop a national strategy specifically for addressing children's needs in disasters.
A huge obstacle, Redlener says, is the tendency to become complacent once the drama of the acute event passed. "We call these kinds of disasters wake-up calls, but we behave as if they are snooze alarms." The country is not good at learning lessons and acting on them. "Since Katrina, Congress has done more to protect pets—dogs and cats—than they have to protect kids," Shriver says. "And that is truly outrageous."
This article is part of NEWSWEEK's series on the fifth anniversary of Hurricane Katrina. Click here for all our coverage.