How Kentucky Derby Winner 2019 Country House Claimed a Stunning, Controversial Win at Churchill Downs | Opinion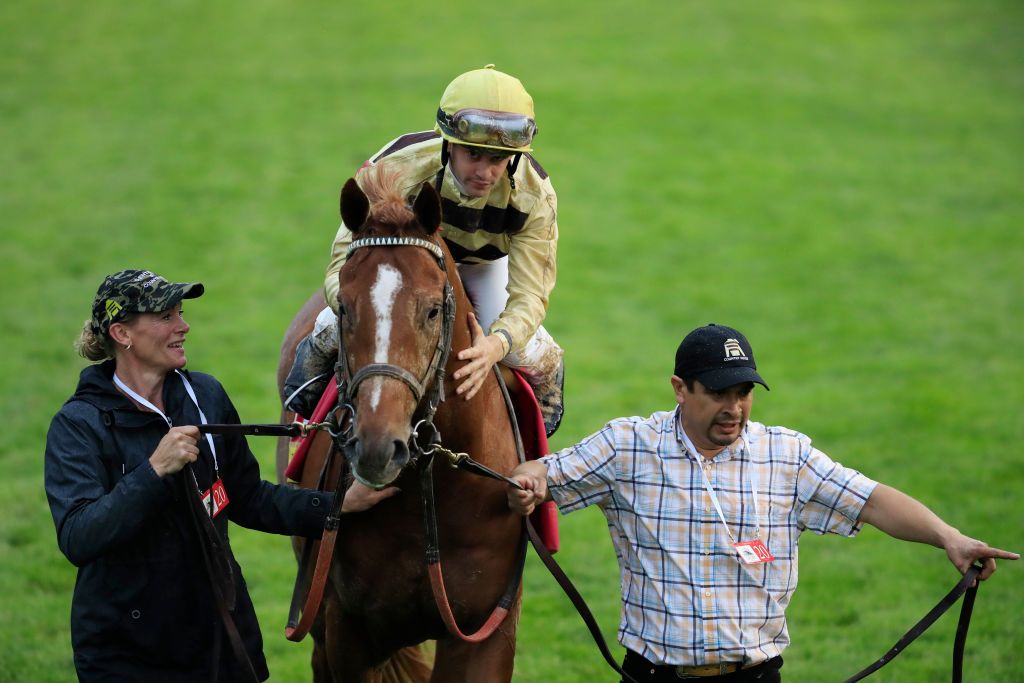 LOUISVILLE, Ky. — Maximum Security ran wire-to-wire, but it was Country House that was a stunner. It's hard to silence the Kentucky Derby crowd at Churchill Downs, but that's what this 65-1 longshot horse did on a day that was anything but predictable.
By all appearances, Maximum Security was the 2019 Run for the Roses winner. But the horse was nervous mid-race, bolting out to the right and pushing against the pack. His jockey, Luis Saez, said he pulled the horse back into position. Maximum Security ran strong from there and appeared to cross the finish line first.
But hold those tickets. In what would be the only time in Kentucky Derby history — that's 145 years — an apparent winner was disqualified, Maximum Security saw its win taken away and given to Country House, at 65-1 odds.
"It was an odd way to do it," Country House trainer Bill Mott said.
That's an understatement.
This was the Kentucky Derby win that soured Mint Juleps. It was supposed to be either trainer Bob Baffert's day or Maximum Security's day. There didn't seem room for another horse or trainer in the buildup.
On a sloppy track with rain falling, a compelling cast of characters assembled before the Twin Spires, including the dapper, 66-year-old trainer Baffert with his three entries in the race, the gray horse Tacitus with its two-toned tail (not since 2006 has a gray horse won the Kentucky Derby), and the toothy biter, Vekoma.
For the record, Baffert, who trained 2015 Triple Crown winner American Pharoah and 2018 Triple Crown winner Justify, arrived by himself at Churchill Downs at about 1 p.m.., tanned and wearing his trademark sunglasses and blue blazer. He was carrying only a mobile phone and wallet in his pocket, and was full of hope that one of his three entries would be another Kentucky Derby winner and Triple Crown hopeful.
Then there was Master Fencer, the Kentucky Derby's first Japanese-bred horse, and there was the horse Bodexpress, a so-called "brat" with behavior issues. Bodexpress was only placed in the field after early favorite Omaha Beach was scratched on Wednesday. At 70-1 odds, he was seen as calm and behaved as the raindrops fell and "My Old Kentucky Home" played.
Crowded around to watch the 145th Kentucky Derby was a gathering of fans totaling more than 150,000, dressed in their Derby duds of many spring colors and unfazed by the drizzle that began to fall in the late afternoon. For the inexperienced, the Kentucky Derby crowd is perhaps unlike any sporting crowd in America due to its sheer size. They fill every crevice so that one imagines they could not fit one more single person in anywhere.
Consider how diehard they are by remembering that the Kentucky Derby is America's only outdoor sporting event that can take on inches of rain and 150,000 socializing fans still show up. That's what happened in 2018 when it poured three inches and was pelting down at the precise moment Justify splashed to a striking win.
But on this day, it was a Kentucky Derby like the previous 144. It's a party. It's hats. It's trousers, cocktails, food, betting – petite men riding large, strapping horses - and a grand Kentucky festival in every sense built around one two-minute-plus race around a mile-and-a-quarter track.
More than $150 million was wagered. More than 30,000 mint juleps were consumed. And, it was electric.
You've heard, for instance, how LSU's Tiger Stadium has registered on the Richter scale when the crowd roars over a miraculous win. If we could measure collective energy at Churchill Downs those two minutes the horses are sprinting through the dirt, around the mile-and-a-quarter, we'd see a miraculous surge.
That's how it was on this day as Maximum Security strode in the puddles to apparent victory. Bettors went to the window to cash their tickets – but hold on, the objection was called. And for the first time in its colorful history, the Kentucky Derby results were turned upside down. The once-vibrant crowd went silent.
Then came the official results: The longshot, Country House was declared the winner while Maximum Security was disqualified – moved to last place. The 145th Run for the Roses became official, though tens of thousands dressed in their spring best didn't understand how or what happened.
David Magee, Managing Editor of U.S. Operations, is a former publisher of The Oxford (MS) Eagle daily newspaper, vice president at Alabama Media Group (al.com), and publisher of Birmingham magazine. He is the author of a dozen non-fiction books, including How Toyota Became #1 (Penguin) and profiles of John Deere, Bill Ford Jr., and Dallas Cowboys owner Jerry Jones.