How a Kentucky Farmer Running to Unseat Mitch McConnell Earned Andrew Yang's Endorsement
Andrew Yang is wading into the battle for control of the U.S. Senate and his first endorsement of the 2020 election cycle is a surprising one—even for the recipient himself.
"It's completely unexpected for a guy like me," Mike Broihier, a progressive Kentucky farmer running to unseat Mitch McConnell, told Newsweek.
But in a statement, Yang said Kentucky "needs a fighter like Mike" and criticized McConnell's lack of leadership on Capitol Hill.
"I'm tired of Mitch McConnell blocking meaningful action in Washington. Mitch is the king of the swamp. Mike is a farmer, educator, former small-town newspaper editor, and a former Marine officer. Who would you vote for?" Yang said.
On the surface, Yang and Broihier may not appear to be likely allies. One is a former tech executive whose influential presidential campaign spurred the loyal "Yang Gang" following. The other is a 57-year-old retired Marine, an asparagus farmer and a political newcomer looking to go up against the most powerful man in Congress.
But the two have a surprisingly intertwined relationship. Broihier's campaign manager Liam deClive-Lowe once ran Yang's Iowa caucus operations. After Yang suspended his presidential bid in February, deClive-Lowe returned to his home state of Kentucky with a mission to oust McConnell and he brought several Yang organizers with him. They all landed at Broihier's 75-acre farm in Lincoln County.
"The thing about Yang is he was very genuine. That was one of the things that really resonated with people during the campaign and why the Yang Gang was such a motivated, excited group. I got that same impression from Mike," Scott Santens, a Yang campaign surrogate who is now a senior advisor to Broihier, told Newsweek.
Broihier is one of two progressive underdogs running against presumed Democratic frontrunner Amy McGrath for the party's Senate nomination. McGrath has a massive $14 million war chest and is backed by national party leaders. While polling in the state is sparse, surveys conducted in January showed her tied with McConnell or trailing him by single digits. The polls did not include Broihier or other Democratic candidates.
But Broihier argues that Yang's support is just another sign of momentum ahead of the state's primary election on June 23. The other campaigns, he said, have been caught "flat-footed by the coronavirus" while he's racked up other big endorsements from former presidential candidate Marianne Williamson and the progressive political group Indivisible Kentucky.
"The immediate reaction was validation that we're on track, that we're heading in the right direction," Broihier said, describing the "high-five moment" he had with his wife when he found out he had clinched Yang's first endorsement.
Broihier's platform includes several progressive policies that were also backed by the Democrat during his run for the White House. Like Yang, Broihier supports single-payer health care, the Green New Deal, marijuana legalization and gun control.
After so many Yang staffers arrived at his doorstep this winter, Broihier adopted his most signature policy: universal basic income. UBI is a government guarantee that each citizen receives an unconditional minimum income. The idea picked up steam during Yang's presidential bid as he proposed a "Freedom Dividend" of $1,000 per month for all adult Americans to help combat increased automation.
"When I started my campaign, it was on the idea of economic and social justice for all," Broihier said. But he admitted he needed help turning his ideas "into words that would make sense to people."
Together, Broihier and Santens—a famed UBI expert—created a more specific basic income proposal that calls for a permanent stipend of $1,200 a month per adult and $400 a month per child.
"There's really nothing that can bring back the Main Streets of Kentucky and the rest of the U.S. like basic income can," Santens said.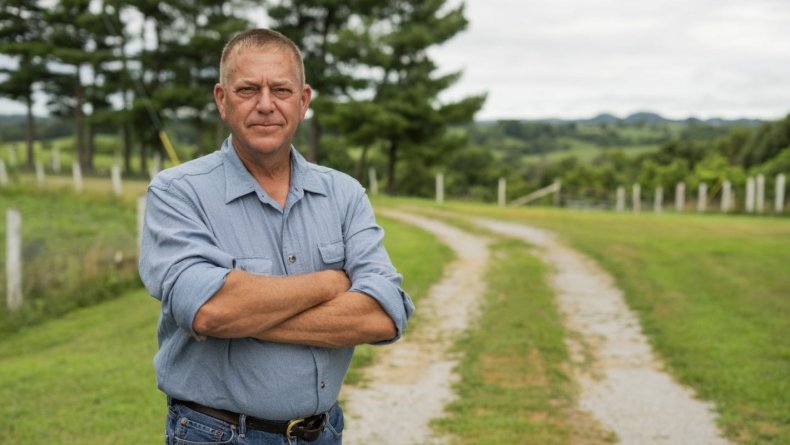 Yang commended Briohier for his commitment to UBI in his endorsement, explaining how the plan could specifically help the Commonwealth: "Nearly half of Kentucky children live in low-income households. The majority of Kentucky residents are living paycheck to paycheck. For many, the paychecks have stopped coming altogether. Kentucky needs a fighter like Mike."
But the question remains whether Kentuckians, who tend to vote more conservative, will go for the progressive proposal.
"We pose it as a question: What would your life be like with an additional $1,200 a month?" Broihier said. "When you ask that question you see the light come on in their eyes, you see the gears start turning... Not one of them says, 'I'd never work a day in my life.'"
The idea of basic income has become even more mainstream due to the economic fallout of the coronavirus pandemic. In response to the crisis, Broihier called for emergency UBI as early as March 9 and in early April released a plan that would provide $2,000 for every U.S. resident over the age of 18, plus $1,000 for those under 18. That monetary amount has been echoed by leaders in Congress, including Senator Bernie Sanders and Representative Alexandria Ocasio-Cortez.
But such a proposal likely wouldn't make it very far in McConnell's Senate. The Republican leader isn't likely to commit to monthly $2,000 checks, as he's been hesitant to even send a second round of $1,200 stimulus checks to Americans. He's called the House-passed Heroes Act, which calls for more direct payments to the public, a "Democratic wish list."
While Yang's endorsement could boost Broihier in the Democratic primary, it may be a problem if he makes it to the general election. With Kentucky being a reliably red state that voted for President Donald Trump by more than 20 points in 2016, Broihier admitted it could repel some GOP voters but that it would be "a very, very small number."
"The same percentage who might drink bleach or not get their kids vaccinated. That percentage is fixed. There's no amount of talking or math that is going to convince them of anything else," Broihier said. "I just think the timing was incredibly fortunate, to be ahead of this conversation on UBI. It's all affirmation that we're on the right track."