How 'Kevin Can F*** Himself' Finale Sets Up Season 2
At the end of Season 1 of Kevin Can F*** Himself on AMC, Kevin seems truly f****d. The genre-twisting drama came to an end on Sunday night, with an ending suggesting there's more to come from the engrossing story.
Annie Murphy helmed the show in her first major role since Schitt's Creek ended. She played Allison McRoberts, the long-suffering wife of the clueless and chauvinistic Kevin (Eric Peterson).
It's not currently known what AMC is planning for the future of Kevin Can F*** Himself but the final episode of Season 1 could reveal if we're likely to see more from the McRoberts and friends.
What happened in Kevin Can F*** Himself Season 1?
Spoilers ahead
The story focuses on Allison, a wife who is used to playing second fiddle to husband Kevin. Sick of putting up with his attitude and antics, she decides to take control of her own narrative and makes a decision that will change her future.
Part of the show featuring Kevin in his own fantasy land is shot like a three-camera sitcom, but Allison's reality is filmed in a gritty realistic drama style.
Early on in the season, an exhausted Allison reveals she's planning on killing her husband. The plan changes a couple of times throughout the season from forcing him to overdose, to framing him, to hiring a hitman to take Kevin out.
The hitman, Nick (Robin Lord Taylor), was presumed to have shot Kevin at the end of the penultimate episode "Broken," but in episode 8 "Fixed" we quickly find out that Kevin shot Nick.
After a brief and welcome show of vulnerability, Kevin quickly brushes off the incident and decides to run for city council. Allison gets drunk and finally tells her husband that while he thinks he's an everyday hero, he's actually just a dick. It was a great fan-pleasing moment but it unfortunately didn't register with the infuriating husband who uses the term "everyday hero" as his new campaign slogan.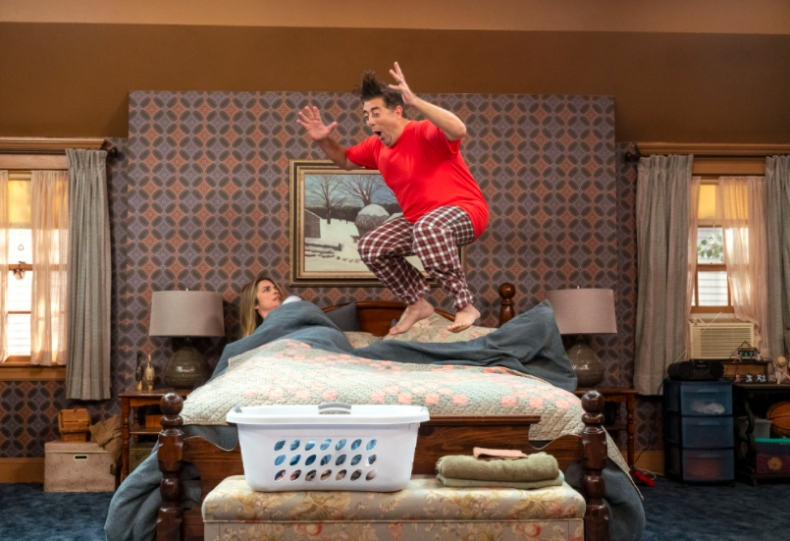 Towards the end of the episode, Kevin's friend Neil (Alex Bonifer) overhears Patty (Mary Hollis Inboden) and Allison arguing about their plot to kill Kevin. A fight ensues and the tones of the genre are played with again as a sitcom character attempts to strangle Allison. Patty is on hand to save her friend by smashing a bottle over Neil's head.
The season ends with Allison and Patty holding hands with an unconscious man in front of them.
This cliffhanger ending promises there's more to come from the story and potentially from the series as a whole. The hitman Kevin shot survived and is a danger to all, Kevin's unconscious friend could reveal everything when he wakes up, and despite Allison's best efforts, her naive husband is still alive.
Will there be a Kevin Can F*** Himself Season 2?
AMC and the production team behind Kevin Can F*** Himself have yet to reveal whether the show will get a second season but the open ending implies that the writers are planning on it.
The show has gained generally positive reviews from critics and viewers, which is often a good indicator that a series will be renewed.
The entire first season of Kevin Can F*** Himself is available to watch on AMC+ now.