How Kyrgyzstan's Pogrom Tamed Russia's Imperialism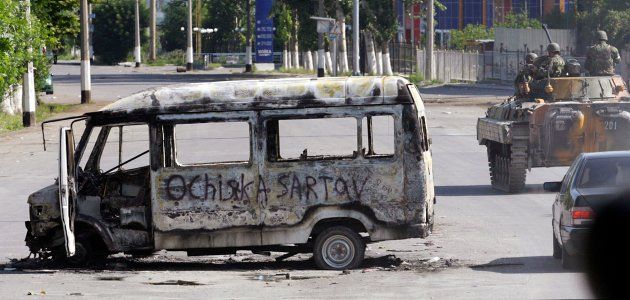 It's still not clear what sparked the ethnic pogroms in south Kyrgyzstan that left at least 124 people dead over the weekend and forced up to 75,000 Uzbeks to flee their homes. But the most surprising reaction so far has been from Russia. Instead of seizing on the unrest as an excuse to flood their former colony with troops and extend their influence in Kyrgyzstan, Russian officials have emphatically signaled that they want to stay well out of the violence. "It is an internal conflict, and so far Russia doesn't see conditions for participating in its resolution," a Kremlin spokesperson said Monday.
Russia has not always been so cautious. In the early 1990s the Kremlin was eager to insert itself back into the former Soviet space by sending armies of peacekeepers to South Ossetia (to intervene in a separatist ethnic conflict); Adzharia (after it broke away from Georgia); Trans-Dniestria (after it broke away from Moldova); the border region of Karabakh (contested by both Armenians and Azerbaijanis); and Tajikistan (after a civil war where underrepresented Tajiks from the center and eastern parts of the country tried to overthrow the western-dominated government). As recently as 2008, Russia effectively annexed two breakaway provinces of Georgia after a failed attempt by Tbilisi to take control of South Ossetia.
Now, though, it seems that Russia is playing a smarter game. For one, the Kremlin has long been trying to build itself up as the leader of a regional security group called the Collective Security Treaty Organization, or CSTO. A power grab in south Kyrgyzstan would be self-defeating because it would spook the largely totalitarian leaders of the CTSO countries in Kyrgyzstan, Armenia, Belarus, Kazakhstan, Uzbekistan, and Tajikistan. Instead, Moscow hastily convened a CSTO summit that promised vaguely worded "joint action." That could include a multinational CSTO peacekeeping force if unrest continues.
But Russia also knows that if it gets too greedy in Kyrgyzstan it would also endanger another key component of its new foreign policy—a rapprochement with the United States. The U.S. air base at Manas in Kyrgyzstan is a key staging point for operations in Afghanistan, and until last year it was the subject of an ugly tug-of-war between Moscow and Washington. Moscow offered the former Kyrgyz president, Kurmanbek Bakiyev, a $2.5 billion loan in return for an agreement to throw the Americans out. Washington in turn offered to quintuple the rent for the base. Bakiyev accepted money from both sides, angering Moscow and fueling Russian support for Bakiyev's political opponents, who eventually overthrew him in April.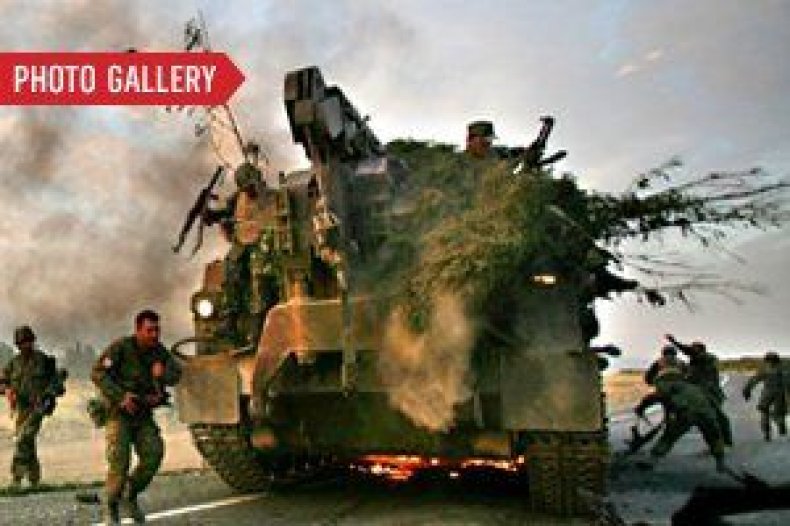 Kremlin officials seem to think they don't need the headache. Today they've abandoned plans to oust the Americans from Manas in return for a host of geopolitical goodies, including the end of a NATO courtship for former Soviet states like Ukraine and Georgia, and U.S. support for Russian accession to the World Trade Organization. Thanks to that unwritten grand bargain, both the United States and Russia now have a shared interest in maintaining stability in Kyrgyzstan, rather than working to undermine each other.
Russia may also be less eager to get involved because it's not the only party at fault. In fact, both Moscow and Washington share some responsibility for the breakdown of the Kyrgyz government. The United States "wanted their bases so much that they were ready to cut deals and give more and more money to Bakiyev's clan," says Konstantin Zatulin, the deputy head of the Russian Duma's Committee for CIS Affairs. "Do they now feel responsible for Kyrgyz civil war? Why don't they send U.S. peacekeeping troops in?" Russia, for its part, did not anticipate that the downfall of Bakiyev—engineered by its allies in the opposition—would leave a dangerous power vacuum. "Now there is no legitimate power left: no strong presidency, no Parliament, no constitutional court—total anarchy," says Igor Bunin, director of the Moscow-based Center of Political Technologies. "The Kremlin was naive not to foresee that."
What the Kremlin does realizes is that there's definitely no upside to getting sucked into the ethnic quagmire of southwest Kyrgyzstan, where intercommunal violence has flared up regularly over the last 15 years. A Russian intervention would probably only end up causing a backlash among the Kyrgyz. "It will be a black hole sucking in money and weapons…and they will call us occupiers by next week," says Zatulin. "We should leave Kyrgyzstan to its fate."
Kyrgyz President Roza Otunbayeva called Monday for Russia to send peacekeeping troops—a plea that the Kremlin has chosen to ignore because of its wider regional and global interests. That caution is not a sign that Russia has abandoned its ambitions to become the region's power broker. Rather, it means that Russia has learned that its postimperial desires are better served by statesmanship. Good news for Washington and Central Asia, but bad news for Bishkek.