How Kyrsten Sinema Could Deal a Blow to Manchin-Schumer Inflation Bill
Congressional Democrats' newly revived domestic spending package again faces uncertainty as the revamped legislation seeks to close tax loopholes supported by key party moderates.
Democratic Senator Joe Manchin on Wednesday said he had struck a deal with Senate Majority Leader Chuck Schumer of New York on a bill that includes money for health care and climate change. The West Virginia moderate has been a key holdout as the bill was slimmed during months of negotiations. But Democrats' tight margins in Congress mean Arizona Senator Kyrsten Sinema and a group of House moderates could sink the bill to preserve tax provisions that critics say favor wealthy households.
Dubbed the Inflation Reduction Act of 2022, the legislation dedicates $369 billion for climate and energy spending, while seeking to reduce the federal deficit by $300 billion and cutting federal spending on prescription drugs by $288 billion, according to a summary. The bill also contains provisions to expedite domestic energy production and allow Medicare to negotiate with pharmaceutical companies over prescription drugs.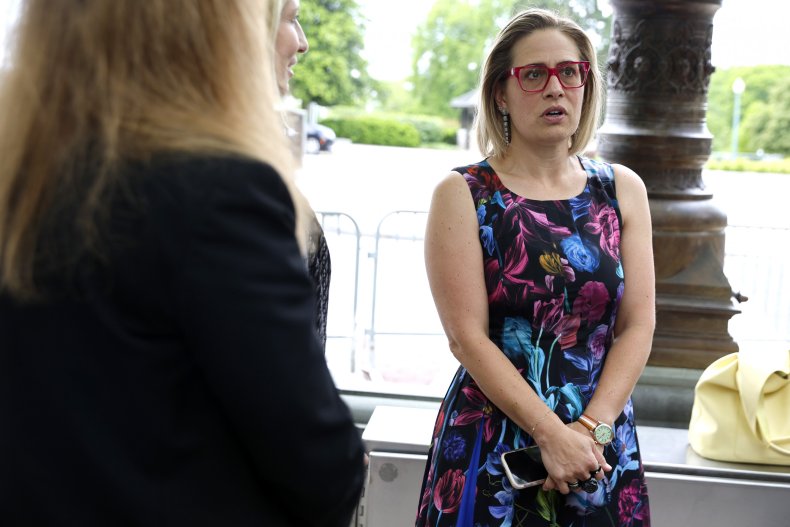 "The Inflation Reduction Act of 2022 will make a historic down payment on deficit reduction to fight inflation, invest in domestic energy production and manufacturing, and reduce carbon emissions by roughly 40 percent by 2030," Manchin and Schumer said in a joint statement.
Democrats are planning to pass the legislation through the evenly divided Senate using budget reconciliation. The arcane Senate procedure allows Democrats to sidestep the 60-vote requirement to overcome a legislative filibuster. But that means Democrats can't afford a single defection in the Senate and already have little leeway in the House, where they hold a slim majority.
Manchin and Schumer said in the statement that "the investments will be fully paid for by closing tax loopholes on wealthy individuals and corporations."
While details on the bill are forthcoming, Manchin issued a separate statement calling for the end of tax loopholes like carried interest as well as the state and local tax deduction (often referred to as "SALT.")
Carried interest is the portion of an investment company's profits paid to a manager or partner. Because the money is treated as capital gains, it's taxed at a lower rate than income. Critics, who include Massachusetts Senator Elizabeth Warren and former President Donald Trump, say carried interest means wealthy investment managers end up paying a lower tax rate than other lower-paying professionals.
The U.S. Chamber of Commerce says eliminating it would cost 4.9 million jobs within five years.
As negotiations were underway last year on a different version of the legislative package, The New York Times reported that Sinema privately said she would oppose any corporate or income tax rate increases.
Although Sinema signaled last year that she was supportive of the spending bill, she has not issued a statement concerning the Inflation Reduction Act as of Wednesday evening. Newsweek has reached out to Sinema's office for comment.
In the House, a group of moderate Democrats have been pressing to reinstate SALT, which allows taxpayers to deduct state and local taxes from their federal tax bill, after previously being capped by the Republican tax bill in 2018.
New Jersey Representative Josh Gottheimer, who has led efforts to reinstate SALT, told Politico that he didn't immediately oppose the legislation.
"I've got to understand the impact it has on families in my district," he said. "Until I see specifics, it's hard to know."
Newsweek has reached out to Gottheimer for further comment.