This Is How LeBron James Will Decide Where He Will Play Next Season
The NBA playoffs are less than a week away but speculation over the future of LeBron James continues to overshadow action on the court.
The three-time NBA champion is widely expected to opt out of his final year with the Cleveland Cavaliers this summer to explore his options in the market and there is the distinct possibility he might leave Ohio for a second time.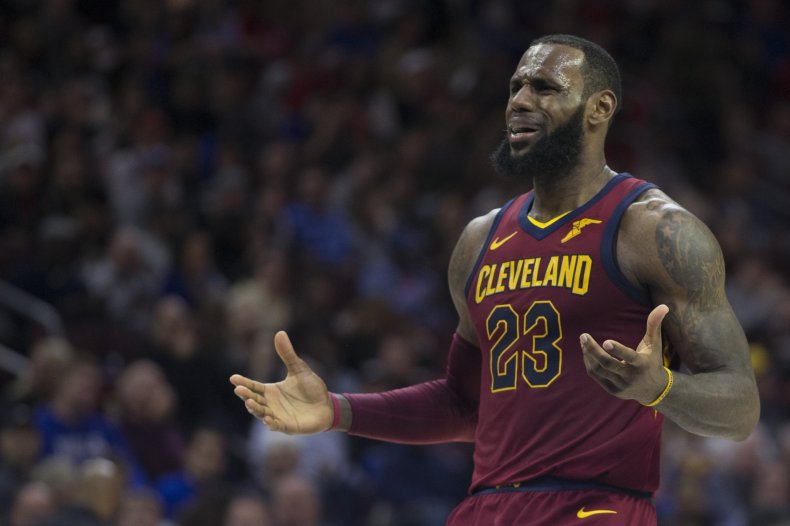 LeBron has so far remained largely non-committal over his future but on Sunday he revealed what he will base his decision on.
"My family. That's all that matters," James was quoted as saying by Joe Vardon of Cleveland.com.
"I want to continue to win at the highest level, because I know I can still do it as an individual, and then my family. My family is what's most important to me, more than anything."
Last month NBA.com reported Sixers TV game analyst Alaa Abdelnaby as saying James had been looking at private schools in Philadelphia in February.
The Cavs' star subsequently rubbished the rumors but when asked whether his family wanted to leave Cleveland he declined to comment.
Like LeBron, his wife Savannah also hails from Akron and their eldest son, LeBron Jr, could still follow the footsteps of his father and go to St.Vincent-St Mary's in his parents' hometown.
James has always retained a strong bond with Ohio, keeping the Bath Township mansion he and his wife live in even when he spent four years with the Miami Heat between 2010 and 2014.
However, the couple also own two properties in the Brentwood neighborood of Los Angeles, which has long been seen as an indication they might want to swap their home state for California at some stage. The Los Angeles Lakers, along with the Houston Rockets and the Philadelphia 76ers are reportedly the three teams on his shortlist, should he opt to leave Cleveland for a second time.
"He's not going to a city with no homes," Fox Sports' Colin Cowherd said last month, dismissing rumors suggesting LeBron could join the 76ers.
"If he's going to leave, the place he's going to go with young talent is the place he has two homes and sunshine in a winter league and his business partners all live."
Speaking after the Cavs practiced in New York on Sunday, LeBron said whichever decision he takes this summer, it will be taken with the consent of his family.
"That's just a small piece of it," James explained.
"We make joint decisions all together, all the time. Once we get to it, my agent and my team we will all tackle it the right way but my family plays a big part in it. And winning."
The 33-year-old is enjoying one of his finest seasons in the league since making his debut in 2003, averaging 27.7 points and 9.2 assists per game—making him the third and second most productive player in the league in those categories—as well as 8.7 rebounds.
However, before finalizing his future, James will focus on taking the Cavs to their fourth consecutive NBA Final.
On Monday night, Cleveland faces the Knicks in New York in the first of back-to-back games against Jeff Hornacek's men that will conclude its regular season.
Despite winning 10 of their last 12 games, the Cavs have slipped to fourth in the Eastern Conference standings with a 49-31 record, one game behind the Philadelphia 76ers. However, two wins in their remaining games would see the Cavs equal their record from last season, which would be a remarkable feat given they traded Kyrie Irving in the summer and have been beset by rumors of locker-room upsets throughout the campaign.