How Civil Rights Groups Are Fighting Trump's Voter Fraud Commission in Every State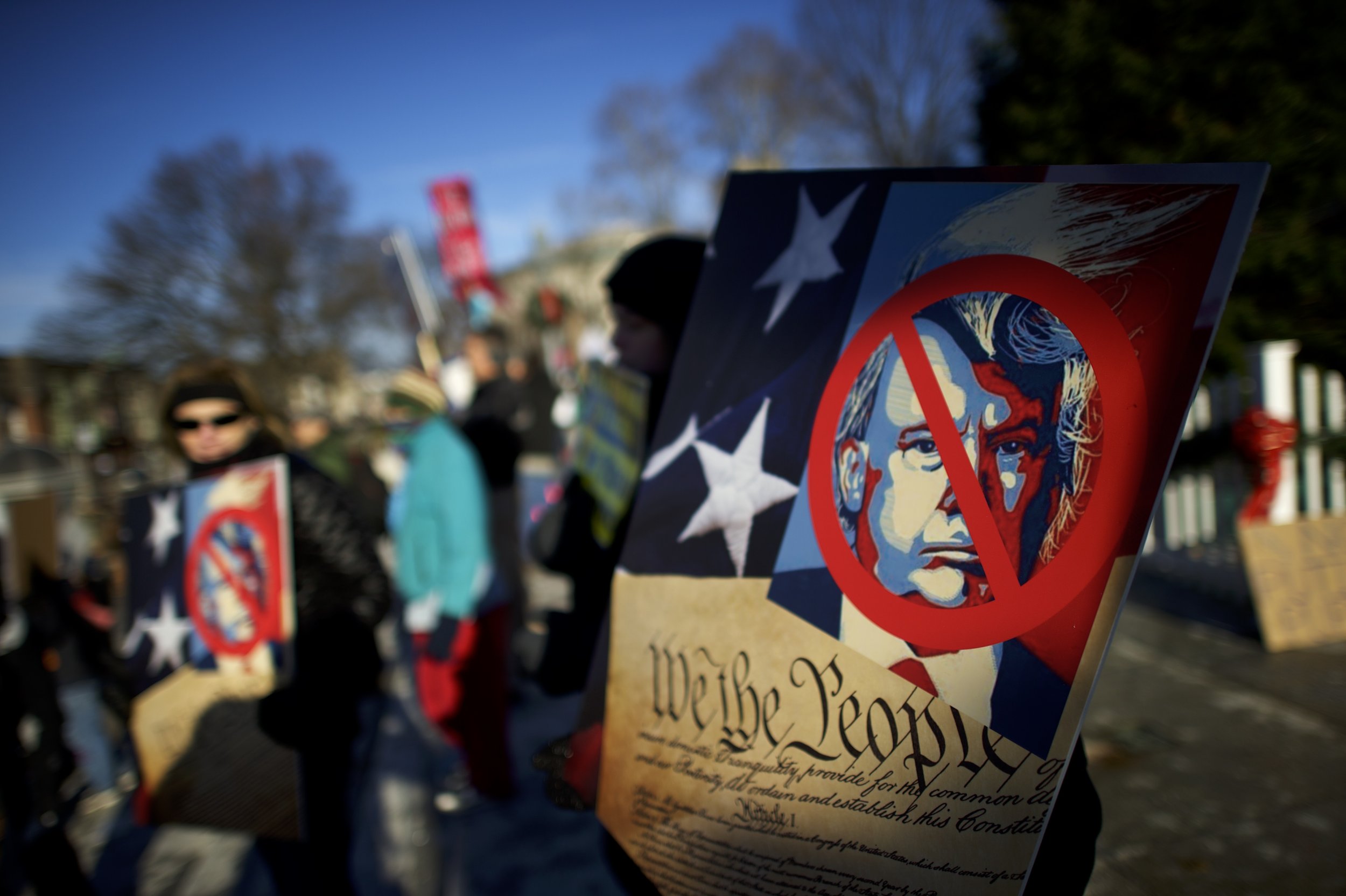 Civil rights advocates have launched a direct attack on President Donald Trump's election integrity commission in the form of a grassroots campaign aimed at increasing voter participation in all 50 states.
Taking a step beyond simply responding to Trump-backed efforts to find voter fraud, the American Civil Liberties Union over the weekend kicked off a "Let People Vote" campaign in Lawrence, Kansas, the home state of Kris Kobach, who leads the controversial commission. The location wasn't accidental.
"Kobach is one of the country's leading vote suppressors and we wanted to let him know we were not going to sit around and wait for his responses," the ACLU's director of strategic initiatives Ronald Newman, told Newsweek. "We're going to go on offense."
ACLU's campaign involves initiatives individually tailored to each state that will connect thousands of volunteers to opportunities to advocate for state and local policies making it easier for people to vote where they live. The launch event in Lawrence on Sunday was live-streamed to more than 500 viewing parties in every state, reaching 100,000 viewers.
In Kansas, where Kobach serves as secretary of state, the ACLU is pushing for voter registration ahead of Election Day. Kobach continues to champion a Kansas law that requires voters to show a photo ID and proof of U.S. citizenship at the polls to register. The ACLU is challenging the law, and a court blocked Kobach from fully enforcing it during the 2016 election.
Upon hearing about the campaign, Kobach said in a statement that "Their campaign should be entitled 'Let People Vote Without Showing Photo ID' … No matter how much money the ACLU spends, I will fight to ensure that Kansas elections are the safest in the country, with photo ID when voting and proof of citizenship when registering."
"I don't think they're likely to succeed in any of them," Kobach said about the ACLU's call to action in Kansas.
Trump established the Presidential Advisory Commission on Election Integrity in May in an attempt to find evidence that millions of noncitizens voted in the 2016 election and cost him the popular vote against Hillary Clinton. Kobach has requested voter information from all states. At least 44 of them have refused, and a judge on Tuesday temporarily blocked one state from handing the data over due to privacy concerns.
Other pieces of the ACLU's campaign include supporting a ballot initiative in Florida to restore voting rights to former felons, fighting attempts in West Virginia to narrow the types of identification voters can use at polling locations, and pushing for an independent redistricting commission in Georgia.
The NAACP Legal Defense and Educational Fund on Thursday launched a similar nationwide campaign, called "Reclaim Your Vote," to inform voters about their rights and stop them from deregistering out of fear of Trump's election fraud commission. The effort includes a #ReclaimYourVote tweetstorm planned on October 11 with multilingual content encouraging voter registration.
"The voter fraud commission is aimed to suppress their right to vote and so the campaign is to encourage and to let them know that it is their right and they should not be giving it up," NAACP LDF attorney Natasha Merle told Newsweek.
The NAACP LDF in July filed a federal lawsuit against Trump's commission alleging it was formed with the intent to discriminate against voters of color and violates the Constitution. The suit contends that the president exceeded his executive authority in forming the commission to investigate voters and that the panel's "overwhelmingly skewed composition and pre-determined findings" violate the law governing federal advisory committees.
Election officials and organizations dedicated to registering voters have reported a disturbing number of cancelations and reluctance to register since Trump formed the commission, the NAACP LDF reports, and the organization says the president has used racially coded language linking voter fraud to predominately minority urban communities and "illegals," despite a lack of any evidence.
Nationally, 25 percent of African Americans and 16 percent of Latinos do not possess valid government-issued photo ID, compared to 8 percent of whites, according to the NAACP LDF.
"Never has there been a more important time for LDF to confront voter suppression, one of the most damaging vestiges of discrimination," the organization's president and director-counsel Sherrilyn Ifill said in a statement.