Is it safe to fly again? It's the question on many travelers minds. Of course, many travel plans have been altered or canceled due to the coronavirus pandemic leaving some travelers wary of traveling at all, for the time being. A recent study found that 67 percent of American travelers are uncomfortable with air travel. With international borders continuing to open for tourism as well as the lifting of the State Department's Level 4 Health Advisory, some travelers are considering flying once again.
In early July, the U.S. Department of Transportation released public health guidelines for both airports and airlines to follow in an effort to help stop the spread of COVID-19 in those settings. The guidelines were dubbed "The Runway to Recovery," and they encourage enforcement of social distancing, wearing face coverings at all times and enhanced disinfecting and cleaning procedures—among other recommendations.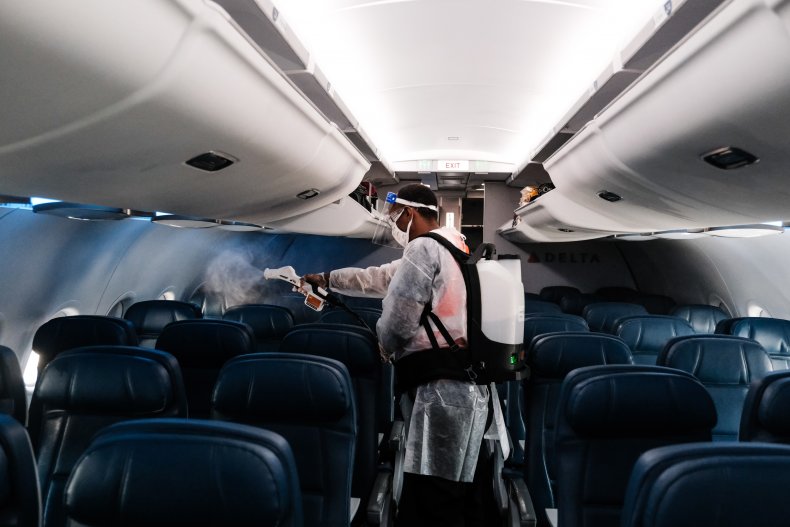 "The document provides guidance to airports and airlines for implementing measures to mitigate the public health risks associated with COVID-19 and prepare for an increase in travel volume, while ensuring that aviation safety and security are not compromised," a spokesperson from the Federal Aviation Administration tells Newsweek. "It identifies measures that airports and airlines should implement across all operations and all stages of travel to, from and within the United States, along with a roadmap explaining how those measures should be adapted to the unique air travel environments."
Many airlines have put guidelines in place such as keeping the middle seat unavailable to purchase in an effort to help passengers feel more comfortable flying. But what are the chances of contracting COVID-19 while aboard your next flight?
Arnold Barnett, a professor of management science at the Massachusetts Institute of Technology (MIT), says the odds are about 1 in 4,300 on a two-hour flight filled to capacity, and drop to 1 in 7,700 when a flight keeps all middle seats vacant.
Barnett published his findings in a not-yet-peer-reviewed article in which he used his background in mathematics and statistics to estimate the risks involved in stepping on an airplane in the coming months.
"I tried to take into account several things, including the fact that air travel travelers—as a group—might be less likely to be carriers of COVID than randomly chosen citizens," Barnett tells Newsweek. "They tend to be more affluent and more likely to be working at home."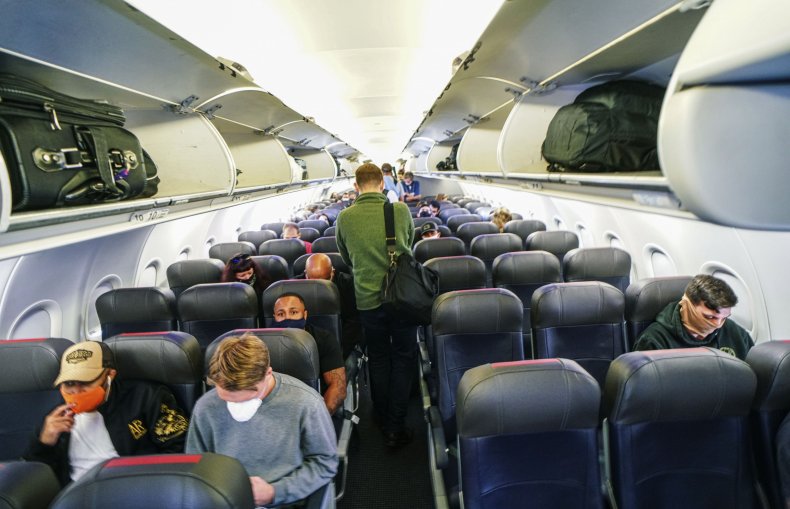 Barnett stresses that his estimates are based on assumptions, due to the lack of studies that exists currently.
Barnett says the chances of any given person having COVID-19 when boarding a flight is about 1 in 300. He took into account both what is happening in higher-risk states such as Texas as well as states with lower infection rates like New York. With that in mind, he says that statistically speaking, the probability that more than one person on your flight is infected is pretty low.
"If you're sitting in row 16, and someone from row 12 passes you en route to the lavatory, that momentary proximity is very, very unlikely to cause you COVID, even if the person passing you has COVID," says Barnett.
According to his analysis, there are three things that have to go wrong in order for a person to contract COVID-19 in flight: There has to be an infected and contagious person on the plane, the mandatory mask has to fail and the person has to be in close proximity—in the same row or possible the row in front of or behind you—for an extended period of time.
"Other than that I, thought the risk is negligible," says Barnett.
As noted in his paper, as of July 2020, Alaska, Delta, JetBlue and Southwest Airlines are keeping middle seats open, but Allegiant, American Airlines, Spirit, and United Airlines are "selling all seats when demand warrants."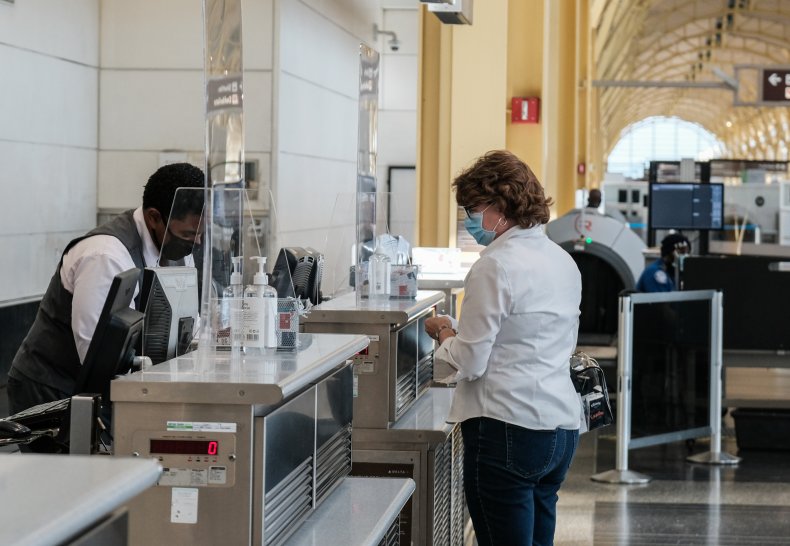 Delta Air Lines has confirmed that through September 30, it's reducing its capacity as well as keeping all middle seats unavailable to purchase. Additionally, the seat next to you will automatically be blocked through parties of three or more will have the ability to book seats together. All flights will also be sanitized with electrostatic sprayers.
"What I do know is that the airlines are not lying when they say that the caliber of air in an airplane is really much better for reducing the spread of germs than most indoor air," Barnett said.
As is the case with all airplanes, no matter the airline, the air circulated throughout an aircraft is some of the cleanest indoor air possible.
"Most viruses and other germs do not spread easily on flights because of how air circulates and is filtered on airplanes," a spokesperson from the Centers for Disease Control and Prevention tells Newsweek, though highlights that due to the enclosed nature of an airplane, social distancing is often difficult to achieve and that sitting within six feet of others, often for hours, could increase chances of contracting the virus.
Barnett says he is not in the position to tell anyone what to do, but rather, his role as a technician is to present the data. How people react to those numbers, he says, is up to them.