How to Limit the Disaster for Afghanistan's Girls and Women | Opinion
Neelab* remembers life under the Taliban.
When she was 10, a talib stopped an SUV she was in. It was a wedding party—they were all female members of her family, save for the male driver. The women, realizing what was happening, hurriedly put on their burqas but a 16-year-old cousin, Amineh*, froze in fear. The talib forced his way into the vehicle and upon seeing Amineh's hair, immediately began whipping her. Everyone started screaming.
"Imagine, we were in such a good mood, coming from a wedding party," Neelab said. "And then this happened."
There is an Afghan adage that says women "hold up half the sky." On the surface, the deal that the U.S. signed with the Taliban in Doha, Qatar on February 29, 2020, appeared to have sealed the women's fate in Afghanistan. There were no provisions for women's rights. The U.S. government deferred the issue of gender equality to intra-Afghan negotiations.
With the fall of Kabul and the Taliban in control of most of the country now, how women's rights will be defined is in the hands of the Taliban and their interpretation of Sharia law. This may provide surprising wiggle room for future negotiations. The U.S., by carefully leveraging its partnerships with Muslim-majority countries, may still be able to make a crucial difference to the lives of Afghan women and girls. According to a Brookings Institution September 2020 report, the issue of women's rights is a highly contested and charged debate within Afghan society.
The good news in the past two decades is that Afghan women have made some progress in terms of political representation, education, employment and health care. Today, 27 percent of seats in parliament are reserved for women. In 2003, fewer than 10 percent of girls were in primary education. By 2017, that number had grown to 33 percent. By 2020, 21 percent of Afghan bureaucrats were women compared with almost zero during the Taliban regime. Women's life expectancy increased from 57 years in 2000 to 66 in 2018. Maternal mortality rates declined from 1,450 per 100,000 live births in 2000, to 638 per 100,000 in 2018.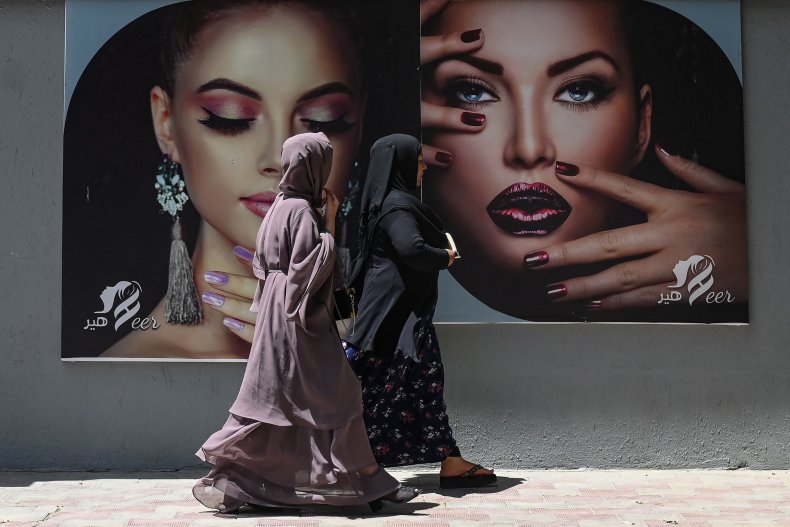 But cultural norms persist. A 2019 study by U.N. Women and partners showed that only 15 percent of Afghan men think women should be allowed to work outside the home after marriage. Two thirds of men feel that Afghan women have too many rights. The same study observed that male Afghan powerbrokers "resent quotas for women in public shuras (assemblies)" and in parliament. An August 2021 U.S. Congressional Research Service report noted that the "failure to anticipate Afghan cultural context undercut US efforts to support women and girls."
The same U.N. study revealed that important segments of Afghan society appear to be becoming more conservative, welcoming interpretation of Sharia law that call for curtailing women's rights and freedoms. About half of women languishing in prison and 95 percent of girls in juvenile detention are detained for "moral crimes" such as having sex outside of marriage. Female rape victims have been murdered by their families in "honor killings."
Progress has also been uneven. Though gains have been far greater for women in urban areas, many Afghan men remain deeply conservative. According to the Brookings Institution report, for many rural women, especially in Pashtun areas, life has not changed much from the 1996-2001 Taliban era. They are still highly dependent on the men in their families to access health care, attend school and work due to mahram or having to be accompanied in public by a male blood relative.
Given entrenched cultural norms, the U.S. and the international community should demand that the new Taliban regime uphold the basic rights of Afghan women as defined by the Afghan constitution, and to abide by the Convention on the Elimination of All Forms of Discrimination Against Women (CEDAW), which the Parliament of Afghanistan ratified in 2003. Should the Taliban prove to want international legitimacy, donor countries should provide aid on the condition that women's rights are fully respected.
The Taliban has often stated that they would "protect" women's rights under Sharia law, but by refusing to specify how, the Taliban are giving themselves ample space to maneuver later. The U.S. government should work with like-minded countries from the Organisation for Islamic Cooperation (OIC), of which Afghanistan is a member, to exert some pressure for an interpretation of Sharia law where Afghan women can enjoy significant freedoms.
Congress should check on the effectiveness of past U.S.-funded programs for Afghan women and girls. For future initiatives, Afghan female stakeholders should be involved in their co-designing.
The February 2020 deal in Qatar was a dismal failure in terms of women's rights. We owe it to Afghanistan's girls and women that it is not repeated.
*Names have been changed to protect the individuals.
Eirliani Abdul Rahman is pursuing a doctorate in public health at Harvard University. She is a Prajna Leadership Fellow.
The views expressed in this article are the writer's own.