How to Listen to Alejandro Aranda's 'American Idol' Audition Original 'Out Loud'
Coming into American Idol 's audition room, Alejandro Aranda, a self-taught musician, felt under-qualified; however, he instantly floored all three judges with his original song "Out Loud."
"[Out Loud] is about how I didn't really tell the truth when I was younger," Aranda, 24, told the judges. "It took me a while to finally speak the truth."
From the moment the Californian strummed the guitar and opened his mouth, the panel of judges was completely mesmerized by his talent.
"I think you're really special, I think you're an absolute genius," judge Katy Perry added.
"I don't think I want to see anybody else," Bryan interjected. "I will not sleep until I watch him perform again."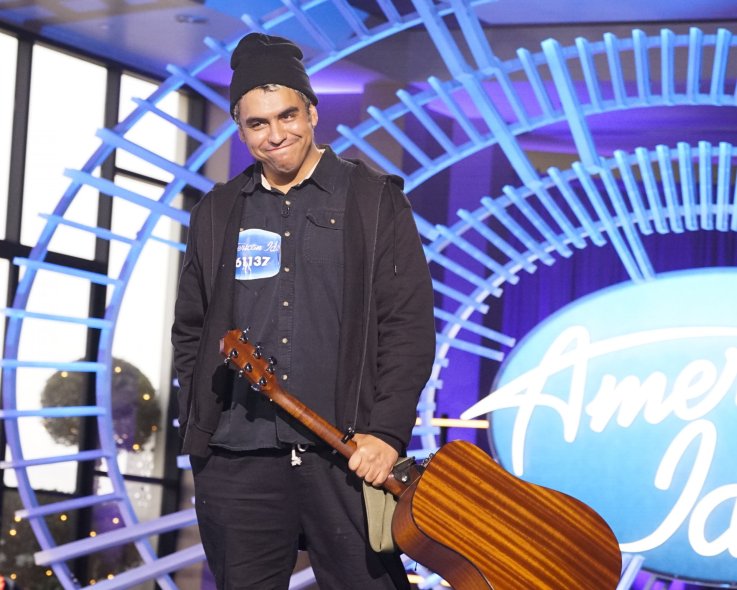 "That was the greatest–you, my friend, are so talented," Richie said at the conclusion of Aranda's audition. "I'm so inspired."
Keeping a nonchalant tone, it's evident that Aranda looks to be an artist of great humility, and as the judges continued their rich compliments, tears began to well in his eyes.
"I feel like I'm in the presence of greatness," Bryan said. "I am so glad that you are here. It was like watching my favorite movie that I did not want to end."
Along with "Out Loud," Aranda's music is available, along with two other singles, for streaming on Spotify. Under the same name as his Instagram handle, Scarypoolparty, the 24-year-old released "10 Years" and "Fading Away" in 2018. The Pamona-native was also featured in British rapper Chris Birdd's single "Thinking of You."
Following his audition, some Twitter users took to social media to beg for more original music from the "Out Loud" singer.
"Homie. Plz. Add more of your music to Spotify. Thx. - everyone," one user wrote.
"We just witnessed the birth of a star," another Twitter user added.
Currently, Aranda has over 17,000 monthly listeners on the music streaming platform and after growing by more than 30,000 followers on Instagram since the airing of his American Idol audition, it may look like the 24-year-old is just on the cusp of a successful music career.
"You have such a career, and the fact that you don't know it, makes it even more special," Richie concluded during his audition. "There's nothing like you, my friend."
How to Listen to Alejandro Aranda's 'American Idol' Audition Original 'Out Loud' | Culture