How Long Does the 2019 Super Bowl Last? Extended Halftime, Commercials, Play Stoppage Means Broadcast Takes A While
If you don't love football but you've been roped into a Super Bowl party on Sunday, then you're probably wondering how much of a time commitment you've made.
At first blush, things might not seem so bad. An NFL game is composed of four 15-minute quarters. An hour! You can do anything for an hour. Not so fast...
There are a lot of complicating factors and things that extend the broadcast of the big game.
To wit: Last year's Super Bowl kicked off at 6:30 p.m. ET. CBS's live blog of that evening had the Philadelphia Eagles officially crowned as Super Bowl champs at 10:17 p.m., or about 3 hours and 47 minutes later.
You can expect the 2019 Super Bowl between the New England Patriots and Los Angeles Rams to last roughly the same amount of time.
In 2017, The Verge crunched the numbers on recent Super Bowl broadcasts and found your typical big game lasts about 3 hours and 44 minutes.
So that means this year's game, which kicks off at 6:30 p.m. ET, should end at about 10:13 p.m. ET.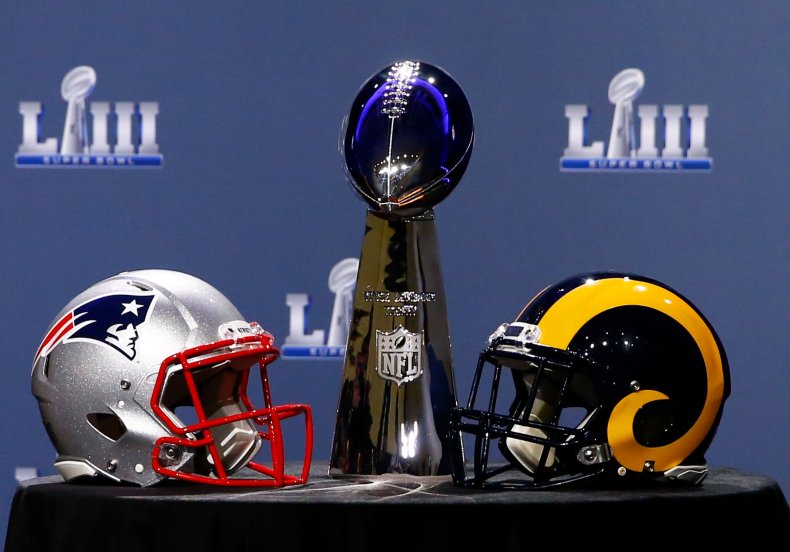 There is typically only about 11 minutes of real, God's-honest football action in a typical NFL game. That's because of commercial breaks, play stoppages, play clocks and a host of other factors that make the football watching experience an exercise in patience.
The Super Bowl also has an extended halftime, which allows for the glitzy mid-game performance. Maroon 5 is slated to perform this year in Atlanta—a decision that was accompanied with some controversy—along with guests Big Boi and Travis Scott.
If you don't love football, maybe you can find some joy in that or at least you can enjoy the snacks. All you have to do is last until about 10:13 p.m...well, that is, unless your party wants to watch the post-game ceremonies.