States are starting to ease lockdown measures, but it could be weeks before an analysis can be conducted to determine if the plan was successful or if reopening fostered the spread of the virus.
The new coronavirus outbreak shuttered businesses, prompting millions of people to file for unemployment, causing a downward economic spiral. Given the toll the outbreak is taking on people's livelihoods, governors across the country are devising plans to get people back to work, and at least 20 states have started to reopen.
Since it can take up to two weeks for a person to develop symptoms, Vincent Racaniello, a professor of microbiology and immunology at Columbia University, told Newsweek, it'll be at least that long before a plan can be declared a success or failure. If there's a rise in cases after a few weeks, he said, "you know you're doing something wrong."
Waiting to test people until symptoms present themselves could make it "really hard to stop it," Racaniello said, so in that weeks-long interim, he advised states to conduct extensive, random testing, isolate people who are positive and then track their contacts. That way, cases can be caught even if people haven't developed symptoms, reducing the amount of people they infect.
States, including Georgia, Texas and Florida, have reopened restaurants and businesses. But just because restrictions have eased doesn't necessarily mean people will take advantage of them, and some may still be cautious about venturing out into public spaces. With the belief that people won't immediately change their behavior, Dr. Daniel Havlichek, chief of the College of Human Medicine's Infectious Diseases Division at Michigan State University, told Newsweek he expects it to be at least a month before an analysis can be made.
"You're always kind of looking in the rearview mirror trying to figure out if you made the right turn or not," Havlichek said.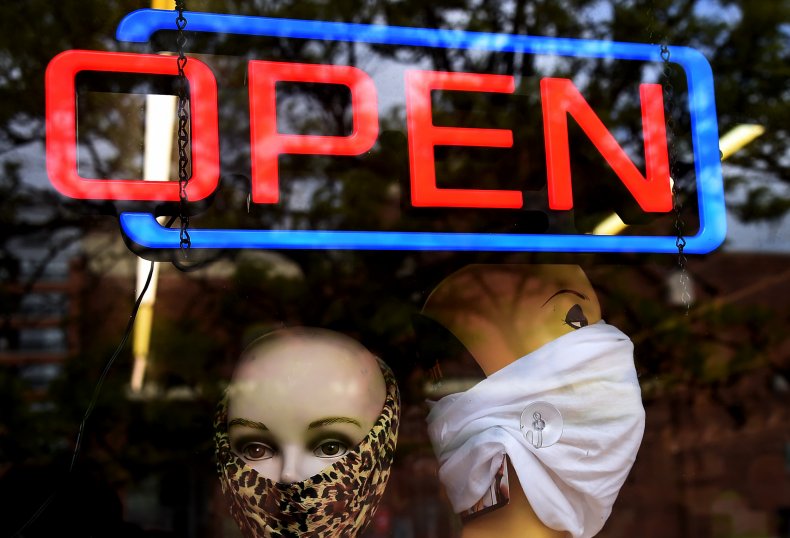 As of Thursday, America had more than 1.2 million confirmed cases of a new coronavirus and over 73,000 deaths. The outbreak is likely to continue for months so instead of looking at overall cases numbers, officials recommend analyzing trends.
Under the White House guidelines for reopening, states should see a decline in cases within 14 day before moving from one phase to another. However, when it comes to the serious public health consequences that can come with moving on to a new phase too early, Dr. Anne Monroe, an associate research professor of epidemiology at George Washington University, advised states to take a conservative approach.
She suggested looking for a downward trend in cases over a four-week period because lags in symptom onset and testing results mean the immediate two weeks after the change won't necessarily reflect its impact. If a store reopens on Monday, cases reported on Tuesday aren't indicative of whether lifting measures are contributing to the spread, but an immediate increase in cases should be heeded as a "warning sign."
"If restrictions were lifted on a given day and cases continued to rise the next day, it indicates that community transmission is very active," Monroe said. "It's a warning sign that…lifting restrictions has the potential to make things worse."
President Donald Trump put the responsibility of reopening on states and encouraged them to do it in three stages that ease people back into normal life. When doing a phased reopening, experts said extensive testing can give officials an indication of where measures can be eased and where they need to be kept in place.
If done in an organized fashion, a state could also monitor different kinds of workforces to determine if those working in conditions that are conducive to social distancing, such as construction, are less susceptible than indoor businesses. These findings can then be used to help shape future reopening policies.
"For better or worse," Havlichek said he thinks reopening plans are going forward in "some way, shape or fashion." So, the health care establishment needs to keep their eyes open and squash outbreaks as quickly as they see them.
"I don't know what will happen in the future," Havlichek said. "I'm optimistic things will be okay in the long run but I think it'll take a month or two to figure it all out."