How Long Does the Super Bowl Halftime Show Last? Broadcast Length Info for Chiefs, 49ers Game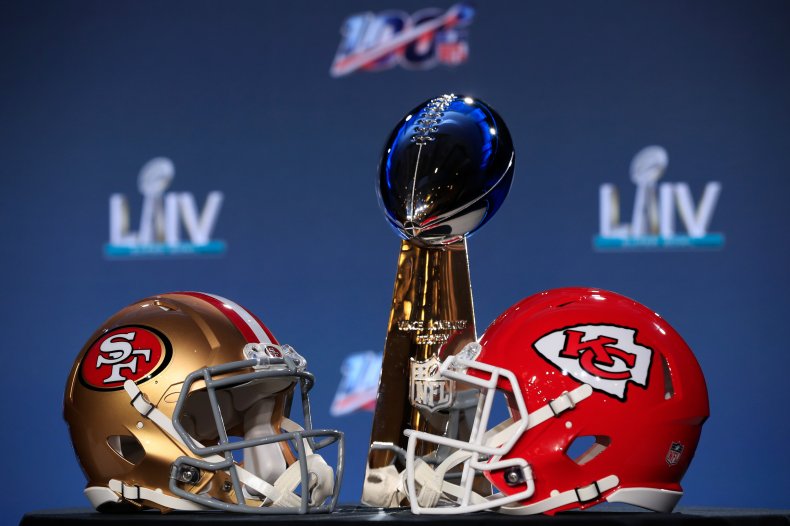 The Super Bowl half time is filled with performances, game analysis and advertisements, but how long will the entertainment in what is arguably the most-watched break last?
During the regular season, halftime usually lasts around 10 to 15 minutes but the halftime during the Super Bowl can be twice that, according to Sports Illustrated. The musical performance is usually about 13 to 15 minutes. For example, according to Sports Illustrated, in 2017 Lady Gaga was on stage for 13- and-a-half minutes while in 2018, Justin Timberlake spent nearly 14 minutes on stage. The entire halftime show also includes in-depth game analysis and iconic commercials created specifically for the show.
More than 100 million people will be tuned in to watch the commercials in one of the most-watched events of the year. An ad spot doesn't come cheap: A 30-second commercial for Super Bowl LIV sold for about $5.6 million this year, according to Bloomberg.com. And Walmart, Google, Budweiser, Microsoft and Mountain Dew are all banking on the millions of viewers who will make the spending worth it, according to NBC Sports. It is also expected that presidential contenders will air campaign ads, including ones from President Donald Trump and Democratic candidate Michael Bloomberg.
This year's Super Bowl halftime performance will be headlined by singers Shakira and Jennifer Lopez at Hard Rock Stadium in Miami, Florida. According to a press release by the NFL, the halftime show will be sponsored by Pepsi and collaborated with Roc Nation, the entertainment agency founded by Jay-Z.
While the Super Bowl halftime show is extended for the performances, mainly due to money-making reasons, it also gives each team more time to rest during the most important game of the NFL season. The extended break that players are given is not loved across the NFL considering the fact that they are used to much shorter halftime breaks, like the ones during the regular season.
"You don't need all that other stuff. But hey man, that's what brings in all the bucks," former NFL player Roman Harper said in an SB Nation interview. "It just comes with it, but nobody wants to sit out for 20 minutes in the middle of the game. Of course, the shorter halftime is a lot better." Roman appeared in Super Bowl 50 and Super Bowl XLIX.
Fans tuning into the halftime show can also place bets on the performance, in addition to watching Shakira and Jennifer Lopez perform. Bovada sportsbook offers a number of different halftime bets such as how many songs will be played, how many wardrobe changes Jennifer Lopez will make and plenty more. Some of the odds from Bovada are listed below.
How many songs will be played during the halftime show?
Over 8: -160
Under 8: +120
How many wardrobe changes for Jennifer Lopez?
Over 2.5: -160
Under 2.5: +120
Will a football be used as a prop during the halftime show?
Yes: +350
No: -600