How Long Will the 'Biden Bounce' Last for Britain's Stock Market?
Global stock markets soared on the back of the presidential election, followed by the breakthrough news from Pfizer and BioNTech in the race to find a COVID vaccine.
On Wall Street, stocks returned to record highs, while the heavily-bruised FTSE 100 gained more than £70 billion, giving analysts hope things might finally be on the up. Asian shares also jumped, with Japan's Nikkei 225 climbing 2.1% to 24,839.84 - it's highest level since 1991. There were similar gains in Australia, China, and Hong Kong while oil and currency markets also climbed.
President-elect Joe Biden has already said he will reverse many Trump-era policies, including rejoining the Paris Climate Agreement in January, with expected plans to expand fiscal stimulus in the U.S. and widen measures to reduce the spread of COVID-19.
With it looking unlikely the Democrats with have control of both houses in Congress, the Senate may be able to block any big regulatory or tax policies, something being welcomed by markets that hope a split Congress will ensure that interest rates can stay low for longer.
Biden has secured at least 290 Electoral College votes—exceeding the 270 required to win the presidential election—but incumbent President Donald Trump has still not conceded. The president and many of his supporters and allies have claimed without evidence that Biden and Vice President-elect Kamala Harris received votes through widespread voter fraud.
Analysts tell Newsweek they are hopeful the 'Biden bounce' will continue for the British market. Chris Beauchamp, chief market analyst at IG, said Trump's refusal to concede is so far being largely seen as a "minor problem". He says: "The FTSE 100's been caught up in the general air of relief following the election, and it has been supercharged by the Pfizer vaccine news. It has been driven higher by 'reopening' stocks, like travel, airlines, aerospace, and oil, which have surged on hopes of an earlier than expected reopening of the U.K. and global economies.
"Given how far many of these names have fallen there could be a longer-term rally in store, which would help to break the run of dreadful performance since June that has seen the index slump while U.S. stocks have powered ahead.
"Everyone is keeping a wary eye on the political situation, aware that political instability could feed through to the broader U.S. economy, but for now, it seems everyone is treating Trump's obstinacy as a minor problem that will be resolved in due course."
Randeep Somel, equities fund manager at M&G Investments, expects global markets to continue to react positively thanks to "stable and predictable policy" under Biden. "Although Donald Trump has yet to concede, it is looking as if any options he has to remain in power are slowly disappearing and there should be a peaceful transition of power," Somel tells Newsweek. "The greater the certainty of the result, the stronger the FTSE100 should be as it is a heavily internationally-focused index."
Biden's promise to re-join the U.S. as a signatory of the Paris Climate Deal is also expected to prolong his so-called "bounce" on markets across the globe. "While this is largely symbolic if not accompanied by legislation, it is a very positive statement of intent, which will help new sectors and companies develop," Somel says. "European companies have strong sustainability and specifically green energy credentials, these sectors should see strong support over the coming years. Chinese President Xi Jinping has also indicated over the past few weeks that China will aim for carbon neutrality by 2060. The green energy and green technology sectors should be multi-decade winners from this shift in policy."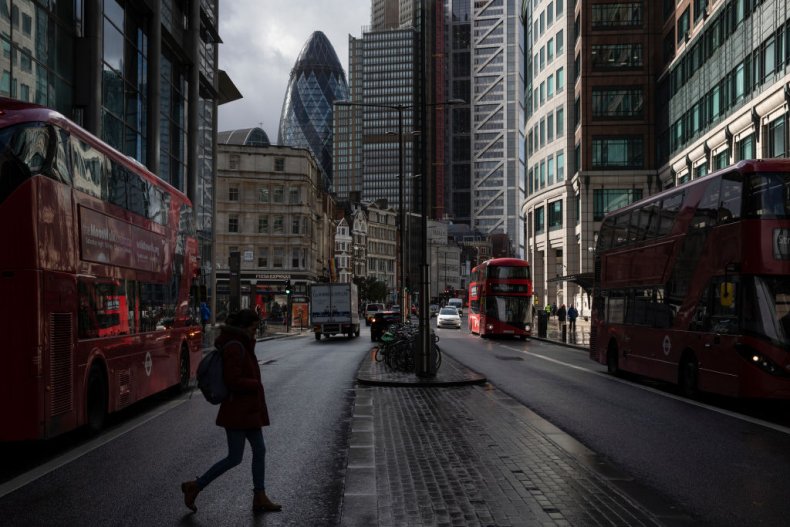 Somel says that the results from the Pfizer COVID vaccine trial have undoubtedly had the biggest impact on the FTSE100 and accompanying U.S. and Chinese stock markets. It is hoped success in future trials will see a similar surge. "We have COVID-19 trial results pending from other Pharmaceutical companies, including a large study by FTSE100 listed AstraZeneca," Somel says.
"The more confidence we get in trial data, and greater certainty on the vaccine manufacturing and distribution process – we should continue to see strong support for the FTSE100."
Brexit is seen as the next big threat to the British market with Biden delivering a warning to Prime Minister Boris Johnson not to let Britain's exit from the EU destabilize the Northern Ireland peace process in their very first phone call.
Biden surprised Downing Street by including Johnson among the first world leaders to receive a post-election call. A spokesman for the PM said: "They talked about the importance of implementing Brexit in such a way that upholds the Good Friday Agreement. The PM assured the president-elect that would be the case."
Biden has dismissed Trump's refusal to concede the election amid the sitting president's team claims without evidence of widespread fraud, calling the incumbent an "embarrassment."
"We are already beginning the transition. We are well underway," Biden said in Wilmington, Delaware on Tuesday. The same day, Secretary of State Mike Pompeo sparked concern among Democrats when he said at a press briefing that "there will be a smooth transition to a second Trump administration."