​​How Long Will Jericho Continue Wrestling? He Let's Us Know
Father Time remains undefeated against athletes in any physically demanding professional sport. While many have attempted to defy the odds by performing well past their prime, only a few have been able to compete at a championship level past what is often considered to be "retirement age."
The average professional athlete will likely retire before they turn 30, according to financial planning firm RBC Wealth Management. In physically punishing sports like the National Football League and the National Hockey League, the average player's career lasts only seven and six years, respectively.
For a professional wrestler, a career can be even shorter. Careers can range from just a single year as an active wrestler to three years if an athlete is lucky enough to perform as a special attraction.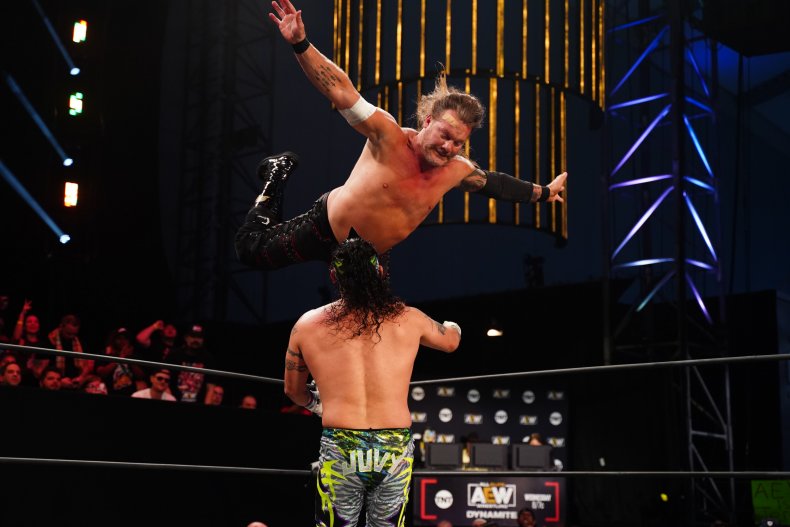 All Elite Wrestling (AEW) superstar Chris Jericho has not only managed to physically perform at the highest levels for 31 years, he is still one of professional wrestling's biggest draws at the age of 51.
For Jericho, who made his professional debut in 1990, the "end" of his career is the furthest thing from his mind.
"I think a lot of times people always kind of want to put a bow on everything but it really doesn't work that way," Jericho told Newsweek ahead of AEW's Dynamite in Elmont, New York, on Wednesday. "I think part of the reason I've had such longevity is that I go with the flow and I follow my heart. Did I ever expect to be 31 years on the job? I can't say that I did, but I can't say that I didn't."
Since he began his wrestling career at 19, Jericho has amassed more than 35 championships in the ECW, WCW, WWE, NJPW and AEW.
"I don't think when you're 19, you really think about [retirement]," Jericho said. "I never really said OK, 'I'm going to do it this long,' and I still don't. I don't know how long I'm going to do the sport because I don't think that way. When people ask 'how long are you going to do this,' I say 'I don't know. When I feel like I don't want to do it anymore.' I don't feel that way right now."
Throughout his long career, Jericho—whose given name is Christopher Irvine—has held numerous titles and feuded with professional wrestling icons like Shawn Michaels and CM Punk. Jericho said he credits his constant evolution for the longevity of his career.
"I think one of the reasons why I've had such a long career, wrestling-wise, is the diversity and constant evolving and re-inventing that I do," Jericho said. "I can vividly remember, in about the year 2000, really thinking about how do I constantly stay relevant in what I'm doing? There's a way to do that but you have to take chances and you have to be confident in your ability as a character and as a performer."
Because of his experience and star power, Jericho has helped the AEW grow into a full-fledged rival to industry behemoth WWE in just three years. After the foundation of the company on January 1, 2019, by Tony Khan, Jericho was one of the first wrestlers to join the upstart.
Despite his own prior success, Jericho said joining AEW was a risk.
"There was a risk at first," Jericho said. "When I first came here it wasn't safe. We didn't know what to expect and I was the biggest name on the roster. I feel like the company very much was on my back to start. I knew right away that my mission was to make stars or at least get people to get to know some of these guys right out of the gate."
Now, the AEW is cashing in on huge ratings and an ever-growing fan base, a fact that is rewarding for Jericho.
"I'm very proud of it because I've been in the AEW since day one," Jericho said. "Now the company is safe. People know they can come here, they can make money, they can get ratings and they can have great matches."
Jericho said the AEW is on such solid footing that he can take a break from his wrestling schedule and go on tour with his band Fozzy.
"We started it and we made it something viable right out of the gate," said Jericho, who will not be at Wednesday's event in Elmont and is currently on tour with his bandmates in Ireland. "I'll always take great pride in that and I'll always take great pride in that fact that now I can be in Ireland on tour with Fozzy, missing a couple of weeks of Dynamite, and I don't have to worry like I did before. Because now our roster has so many stars on it that they can take a couple of weeks with no Chris Jericho and some people might not even notice."
Along with being "a thousand percent invested," Jericho said working with AEW superstars like The Young Bucks, Cody Rhodes, MJF, Adam Cole, Darby Allin and CM Punk keep him going.
"There's really no reason to stop for me because it's fun for me to work with this whole new generation of stars that are growing into their own and helping them," Jericho said. "I think when you kind of live in the now it makes things a lot better, a lot more important and a lot more special in what you are doing. I think we've done a great job with that and we've really only just begun in a lot of ways."
"If I didn't enjoy it and I didn't have fun with it, I wouldn't f**king do it," Jericho said.