How Long Will Kim Jong Un's Winter Olympics Thaw Last?
This article first appeared on The Daily Signal.
The Winter Olympics open today with North and South Korean athletes marching together behind a single Korean unification flag, rather than their respective national flags.
The moment will be emotionally uplifting, raising hopes of reconciliation and reduced tensions on the Korean Peninsula.
The presence at the games of Vice President Mike Pence, North Korean dictator Kim Jong Un's high-ranking sister, Kim Yo Jong, and North Korea's ceremonial head of state, Kim Yong Nam, has generated speculation of a bilateral meeting just below the leadership level.
Washington has been coy about the possibility, saying only, "We'll see what happens."
But the Korean landscape is strewn with the shattered remnants of previous attempts to use sporting or cultural events to create a path for diplomatic progress.
The 2000 Sydney Olympics, which provided a similar joint march-in of the Koreas, the 2008 New York Philharmonic concert in Pyongyang, and the 2014 Asian Games in South Korea are just a few of the previous attempts to use sports or music to soothe the savage beast.
Pyongyang's decision to reschedule a massive military parade to Feb. 8, the day before the Olympics' opening ceremonies, does not bode well for improving the diplomatic atmosphere.
During last year's parade, the regime unveiled numerous new offensive missile systems, and it is expected that several intercontinental ballistic missiles will be displayed this week.
During his annual New Year's Day speech, Kim Jong Un claimed completion of North Korea's ICBM program and boasted that he now possesses "a powerful and reliable war deterrent" that puts the "whole of [the U.S.] mainland within the range of our nuclear strike."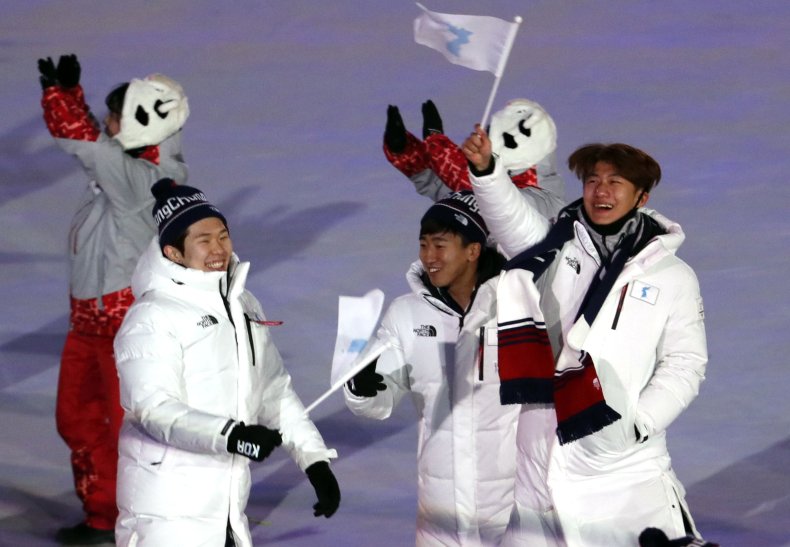 The juxtaposition of North Korea's military and Olympics parades signals Pyongyang's intent to simultaneously demonstrate that it is a formidable military force to be feared but, if accepted as a nuclear state, is also prepared to re-engage the international community on its terms.
The regime will show it is a fearsome tiger one day, but a cute and cuddly kitten the next.
Pyongyang hopes that the image of South Korea embracing the North during the games will weaken international support for U.N. sanctions. After all, if Seoul can overlook the military threat just north of the demilitarized zone, why is Washington working so hard to isolate the regime?
North Korea cleverly included sanctioned entities in its Olympics entourage. Kim's sister was sanctioned by the U.S. for human rights violations, and the North Korean cultural troupe will be transported via the sanctioned Mangyongbong-92 ferry. In both cases, Seoul acted on Pyongyang's behalf by having to ask for an exemption to international sanctions.
Indeed, it is the fear of a successful North Korean propaganda gambit that motivated the U.S. vice president's attendance. Pence has " grave concerns that Kim will hijack the messaging around the Olympics" and seeks to offset the "charade."
Lest any potential meeting between Kim Jong Un's sister and Pence be seen as a potential breakthrough, the vice president announced en route that the U.S. plans to unveil the " toughest and most aggressive " sanctions yet against North Korea.
To drive home the administration's message, Pence will meet with North Korean defectors while in South Korea and be accompanied by the father of Otto Warmbier, the American college student who was brutalized during North Korean captivity and died shortly after his release.
The image of Warmbier's grief-stricken parents during President Donald Trump's State of the Union address provided a heart-rending indictment of the true nature of the North Korean regime.
If Kim Yo Jong brings a message of Korean reconciliation from her brother, South Korean President Moon Jae-in will be tempted to offer additional concessions, including further postponing of annual military exercises with U.S. forces.
Senior South Korean officials affirmed to me in Seoul that the exercises would not be canceled, but Pyongyang has warned that resumption of exercises threatens to quash improving inter-Korean relations.
While the Olympics will provide a welcome respite from escalating tensions, it is likely to be short-lived. Moreover, it will take careful alliance management in Seoul and Washington to prevent North Korea's "charm offensive" from amplifying bilateral policy differences and driving a wedge between the allies.
Bruce Klingner, a senior research fellow for Northeast Asia at The Heritage Foundation's Asian Studies Center, spent 20 years in the intelligence community working at the CIA and Defense Intelligence Agency.