How Long Will Melania Trump Be in Hospital? First Lady in 'Good Spirits' After Kidney Procedure
First Lady Melania Trump, 48, is in "good spirits" after undergoing a procedure to treat a benign kidney condition, President Donald Trump said on Monday.
The White House said in a statement that Melania underwent an embolization procedure that morning at the Walter Reed National Military Medical Center. "The procedure was successful and there were no complications," the statement said.
The president appeared to remain at the White House while Melania was in surgery, but went to visit her later in the afternoon, writing on Twitter: "Heading over to Walter Reed Medical Center to see our great First Lady, Melania. Successful procedure, she is in good spirits. Thank you to the well-wishers!"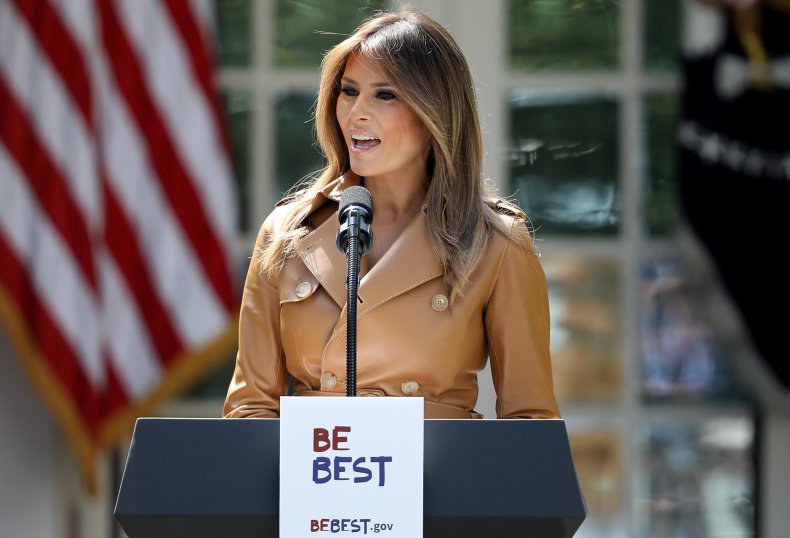 Melania received an outpouring of support from politicians and the public, with Paul Ryan writing on Twitter: "So pleased her procedure was successful. Wishing @Flotus a full and speedy recovery."
Democrat Senator Chuck Schumer, who has not always seen eye-to-eye with the president also offered his "sincere wishes for her speedy recovery."
What is an embolization procedure?
Following the White House's announcement, Merriam-Webster said it saw a 145,000 percent rise in searches by people looking up what "embolization" means.
"Embolization was among our top lookups on the 14th of May, 2018, after First Lady Melania Trump underwent a medical procedure to deal with a benign kidney condition," Merriam-Webster said in a statement.
It said embolization can mean either "the process by which or state in which a blood vessel or organ is obstructed by the lodgment of a material mass" or an "operation in which pellets are introduced into the circulatory system in order to induce embolization in specific abnormal blood vessels."
Dr. John Friedewald, the medical director of kidney and pancreas transplantation at Northwestern Memorial Hospital told Women's Health Magazine Melania would have undergone the latter, which is done to cut off blood flow to a portion of the kidney.
Read more: Melania Trump Had Kidney Surgery at Walter Reed Medical Center, White House Says
The procedure is usually performed in preparation for kidney surgery for cancer, or more likely in Melania's case, a type of benign kidney tumor, which Friedewald said is known as angiomyolipoma.
Friedwald said another cause, which is less likely, is renal arteriovenous malformation (AVM) which occurs when blood vessels in the kidney grow irregularly.
How long is the recovery process?
The White House said Melania will likely have to remain at the Walter Reed National Military Medical Center for recovery for the duration of the week.
In an interview with People.com, Dr. Jeffrey Berns, professor of medicine and pediatrics at the Perelman School of Medicine at the University of Pennsylvania, said the average recovery time for such a procedure would depend on the specifics of the kidney condition. He said a week in the hospital would be likely if a significant area of the kidney needed treatment.
The White House said the first lady "looks forward to a full recovery so she can continue her work on behalf of children everywhere."
The procedure has come just a week after Melania launched the platform for her "Be Best" campaign, which focuses on the general well-being of children, as well as promoting safety around children's use of social media and helping families affected by opioid addiction.