How Madonna Defined Pop Culture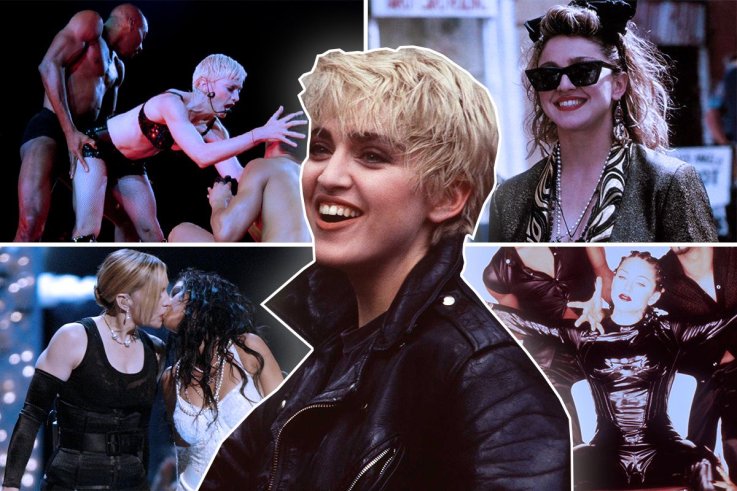 Singing about abortion. Writhing on a cross. Publishing her sexual fantasies. Even those cone bras. Madonna seems to have done so much in her life that it's hard to grasp that she's a real person, instead of the lofty icon her name suggests.
As the singer turns 60, the desire to take stock of her enormous cultural impact seems Herculean. That's because her body of work is so vast, spanning four decades and countless changes in sound, style and creative direction.
Yet despite her chameleon instincts, she's always remained resolutely herself—a willfully provocative presence in an industry which can so easily smother its stars into blandness. As Madonna herself said: "A lot of people are afraid to say what they want. That's why they don't get what they want."
Her unapologetic, in-control attitude has been a source of inspiration for women and LGBTQ fans, who watched her carve her own space out in popular culture, and play with gender conventions in a way that was both witty and provocative.
Her influence is still felt in contemporary pop culture: Think Beyonce's highly-controlled personas, Miley Cyrus's sexual shock tactics, Cardi B's uncensored New York brashness.
This toughness has allowed her to continue through moments which might have wiped out lesser popstars. She's certainly had a few missteps, such as her disastrous starring role in the 2002 rom-com Swept Away and some dodgy forays into culture-as-costume.
But her refusal to either slow down or tone down, even in the face of sneers that she's too old to be leaping around in revealing outfits, proves she's still taking on taboos—this time, it's the assumption that women should fade into the background as they age.
We've charted Madonna's career, picking out the moments she truly defined the zeitgeist. From pissing off the Pope to kissing Britney, these are the Queen of Pop's most groundbreaking moments.