The following essay is excerpted from Mollie Hemingway's new book, Rigged: How the Media, Big Tech, and the Democrats Seized Our Elections, published October 12 from Regnery.
Having exhausted their attempts to delay the election, Democrats and the media began claiming that the Wisconsin election would be a "super spreader" of the coronavirus. "[W]ith voters' very lives at stake," the New York Times wrote, "the legitimacy of the election" would be in question.
"They will kill people to stay in power, literally," said Democratic strategist James Carville on election night. In the end, there was no spike of cases from voting, despite hundreds of thousands of people showing up to the polls.
The Wisconsin Elections Commission would later report severe problems with ballot custody for mail-in ballots during that election. For example, one United States Postal Service official reported that workers had found "three tubs" of absentee ballots for an area covering Appleton and Oshkosh, totaling some 1,600 ballots. None were ever counted. In Milwaukee, nearly 2,700 ballots were never sent to voters because of a production problem. Only 52.5 percent of the affected voters ended up voting, either with a replacement absentee ballot or at the polls. And hundreds of absentee ballots a day that were supposed to be mailed to Fox Point residents failed to make it to their destinations.
The handling of the April election led to problems in the presidential election, too. As of 2019, Wisconsin voter rolls included more than 234,000 names of people who had moved either out of state or to a new address in Wisconsin. By law, a notice was supposed to be sent to those names and addresses and, if they didn't reply, they were supposed to be flagged by election officials as ineligible. The notice was sent, but the voters who failed to reply weren't removed from the rolls. The Wisconsin Institute for Law and Liberty sued, and a county judge ordered them removed. When the Wisconsin Elections Board still refused to clean up its voter rolls, it was fined. Wisconsin election officials appealed the ruling, and an appeals court allowed the names to stay.
The presence of ineligible voters on voter rolls is never ideal from a voting integrity standpoint, but in-person voting limits the ability of bad actors to exploit the situation. Voters usually have to show identification to vote. It's more difficult to catch fraudulent mail-in voting because of the lack of oversight and ballot custody. Still, voters in Wisconsin were supposed to show identification the first time they voted by mail. It was the one election protection Wisconsin had maintained after refusing to clean up the rolls.
However, Wisconsin law had an exception to ID requirements for those who say they are "indefinitely" confined because of age, illness, infirmity or disability. The highly partisan clerks of Wisconsin's two biggest and most Democratic counties told their residents to claim that they were "indefinitely confined" even if they weren't. The clerks served Dane County, the state's second most populous county and home to the ultra-liberal University of Wisconsin in Madison, and Milwaukee County, the state's most populous and dense county.
Once such claims were registered, the state would send absentee ballots for all future elections, unless the recipients changed their designation or didn't return an absentee ballot.
About 195,000 of the nearly 1 million people who voted by mail in April claimed they were indefinitely confined, according to the Wisconsin Elections Commission. An additional 50,000 "indefinitely confined" claims were made prior to the November election. That meant that up to a quarter of a million votes were cast in Wisconsin's presidential election without any identification check at all.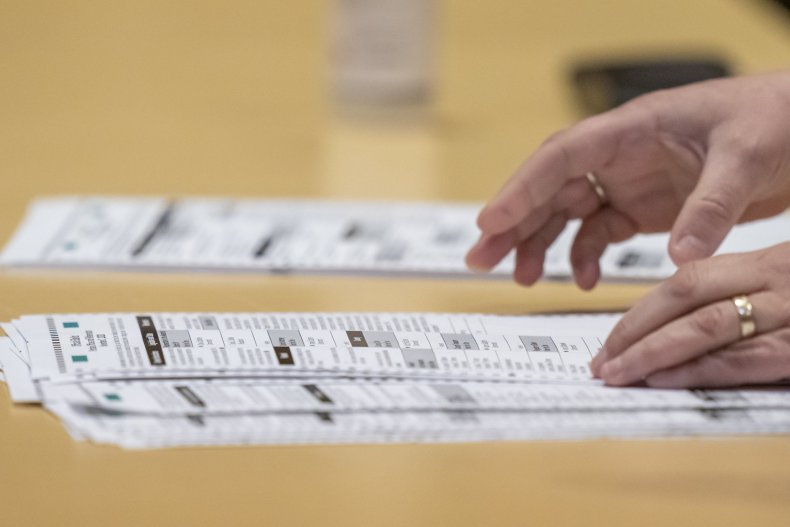 "Fraudulently voting by mail by assuming the identity of any of the 234,000 phantom voters still on the state's rolls could not possibly have been easier," said Dan O'Donnell, in an examination of voting problems for the Wisconsin think tank the MacIver Institute.
It was around the time of the April election that Republicans and Democrats really began to notice what a dramatic difference mail-in balloting made in elections. With early voting and mail-in balloting rising in recent years, operatives had learned how to anticipate final results by incorporating early voting returns. But in the spring of 2020, thanks to an increase in mail-in voting, everything was different.
In Wisconsin's overwhelmingly Republican Seventh Congressional District, Republican Tom Tiffany was running to replace Sean Duffy in a special election in May. Based on early voting returns, the Republicans were worried he might only win by five or six points, well short of what his performance should be. Duffy had won his last election in 2018 by more than 20 points. If Tiffany only won by single digits, the result would embolden Democrats nationwide and demoralize Republicans, affecting both parties' fundraising and get-out-the-vote operations. The team scrambled and did one of their first Tele-Town Halls, a large conference call with voters featuring President Donald Trump, Duffy and RNC chairwoman Ronna McDaniel, to make sure Tiffany did well.
Tiffany ended up winning by 15 percentage points. Republican strategists realized what had happened: Democrats were more likely to vote absentee, early, and by mail, while Republicans were more likely to vote on election day.
Another special election in June was also informative. On election night, Republican nominee Chris Jacobs was up by as much as 42 points over his Democratic opponent in a race to represent New York's 27th District. The seat had been held by Republicans, but they were expecting a much closer race. The final result after mail-in ballots were counted was much closer, with only five points separating Jacobs from his opponent.
Both Democrats and Republicans were enthusiastic and energized, but the pattern was clear. Republicans tend to vote in person. RNC surveys of voters showed that many of their voters had complete distrust of voting by mail. In some states, such as Georgia, some 80 percent of Republicans said they wouldn't vote by mail.
Democrats, on the other hand, strongly preferred to vote by mail, and the vote-by-mail system was becoming a major part of the Democratic Party's get-out-the-vote operation. Regardless of fraud and other concerns, the press saw the success of the mail-in ballot effort in Wisconsin for what it was: an effort to turn out more Democratic voters.
Following the Wisconsin primaries, the New York Times reported, "Wisconsin Democrats are working to export their template for success—intense digital outreach and a well-coordinated vote-by-mail operation—to other states in the hope that it will improve the party's chances in local and statewide elections and in the quest to unseat President Trump in November." These primary and special election days were viewed by Democratic operatives as "an exercise in training volunteers and voters in how to vote by mail," as the New York Times put it.
Democratic voters and operatives learned how to use the system. The 110,000 people who requested absentee ballots for the Tiffany race, for instance, would also automatically be sent ballots in the fall. Democrats had figured out how to get what they wanted from existing rules. The only thing that could have been better was if they could import their "intense digital outreach and a well-coordinated vote-by-mail operation" into the official government election offices in heavily Democratic areas.
As will be explained in subsequent chapters, grants from liberal billionaires allowed them to do just that in five cities in Wisconsin, Democrat-heavy counties in Georgia and overwhelmingly Democratic Philadelphia, among others. Democrats would essentially run their vote-by-mail operation through official government offices, and Republicans wouldn't find out until months after the election had passed.
Mollie Hemingway is a senior editor at The Federalist. She is Senior Journalism Fellow at Hillsdale College. A Fox News contributor, she is a regular member of the Fox News All-Stars panel on Special Report with Bret Baier.
The views expressed in this article are the writer's own.