How to Make 'Trump' Appear as 'He Who Must Not Be Named' in Your Chrome Browser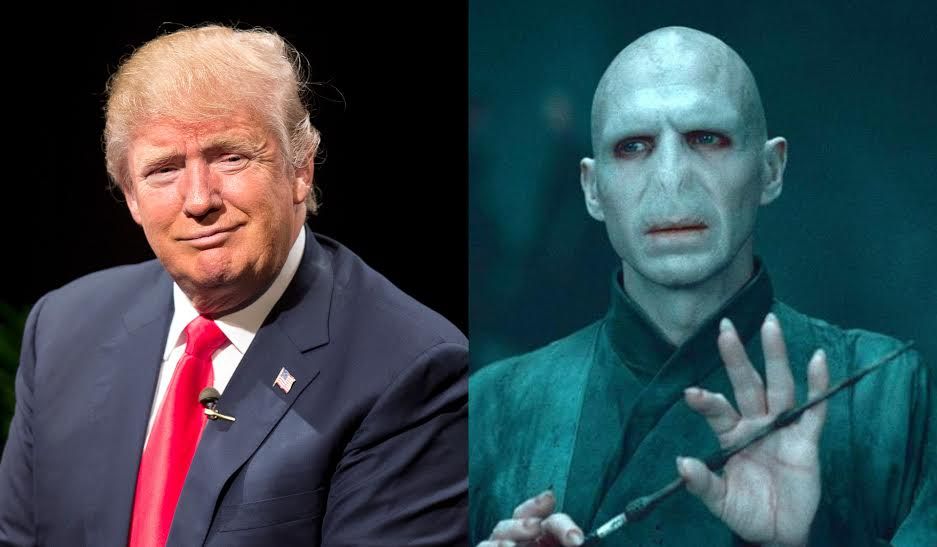 Sick of seeing Donald Trump's name everywhere?
You're not alone. The more the billionaire presidential contender nabs controversy and attention with flagrant Islamophobia—in this instance, proposing a ban on Muslims entering the United States—the more powerful he seems to grow.
Almost as if...he has horcruxes hidden around the world? And he's drinking unicorn blood to gather his strength?
Naturally, J.K. Rowling put the situation in terms Harry Potter fans can understand: Voldemort was "nowhere near as bad as Trump."
For the U.S. media, Trump's overtly racist remarks seem to have pushed him beyond the pale. Hitler comparisons are not uncommon. After initially covering Trump as an "Entertainment" story, Arianna Huffington announced Tuesday that the Huffington Post is "no longer entertained" by Trump's antics and promised to use direct language in reporting on him. "If Trump's words and actions are racist," Huffington wrote, "we'll call them racist."
But as evil as Voldemort is (very evil!), in the Harry Potter universe good wizards rarely have to hear his spoken name. (It surely wouldn't be uttered on CNN if wizards had CNN.) Instead, as a matter of courtesy, they refer to him as "He Who Must Not Be Named"—or, more concisely, "You Know Who."
Related: What It's Like to Share a Name With Lord Voldemort from 'Harry Potter'
Maybe you'd prefer this state of affairs, at least in your Internet browsing. If you're a Chrome user, here's how to replace every appearance of "Trump" (or popular variations on the man's name) with "He Who Must Not Be Named." (Credit to Fusion's Trump-quotes browser extension for the inspiration.)
1. First, visit the Chrome web store to download "Word Replacer II," an easy, free extension that lets you replace dreaded words with other words to your digital heart's content.
2. "Add to Chrome."
3. At the top right of your browser window, next to the green lines, you should see the black-and-white "Wr" logo. Click it, then click "Settings."
4. Download the following document, which contains the code you need. (If you try copying the code directly from Scribd, the spacing will likely get messed up and it won't work.)
5. Once you've opened that document in a Word window, copy and paste all of the code into the white window in Word Replace II (be warned, it's a little long). This ensures that "Trump," "Donald Trump," "Donald J. Trump" and "@RealDonaldTrump" are harder to find than if they'd been chucked into the billionaire's spaghetti mop of hair.
6. Hit "Import," then go ahead and close out of the plug-in.
7. That's it! You're free!
Related: JebBush.com Redirects to Donald Trump's Campaign Website
Here's what the Huffington Post's current homepage looks like with the plug-in installed: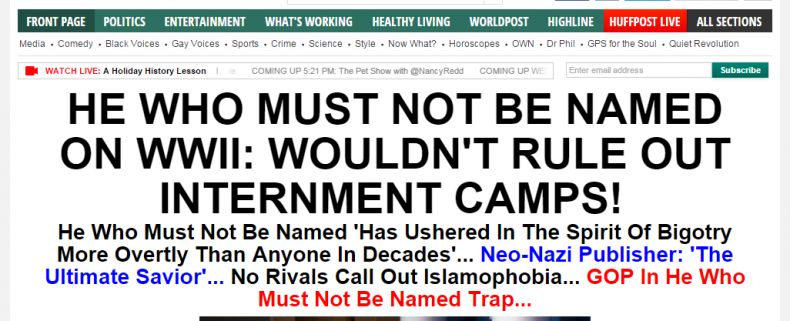 Here's Talking Points Memo's front page: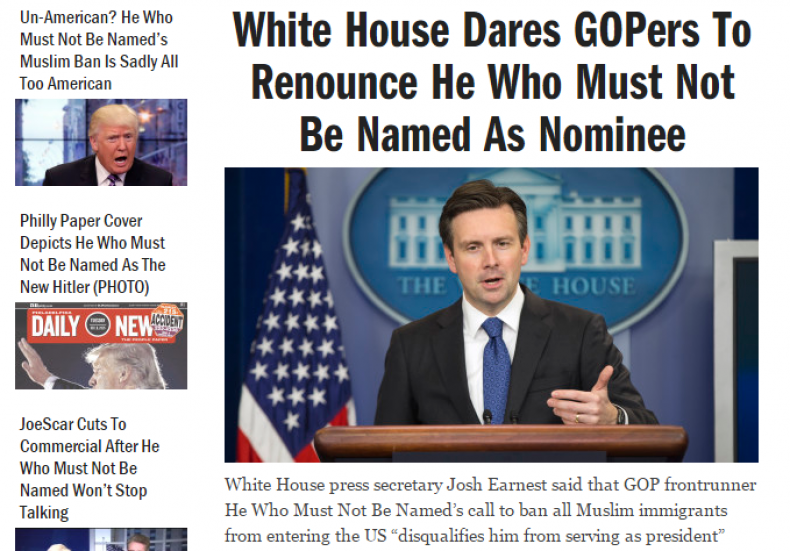 Here's a Google search for "Trump":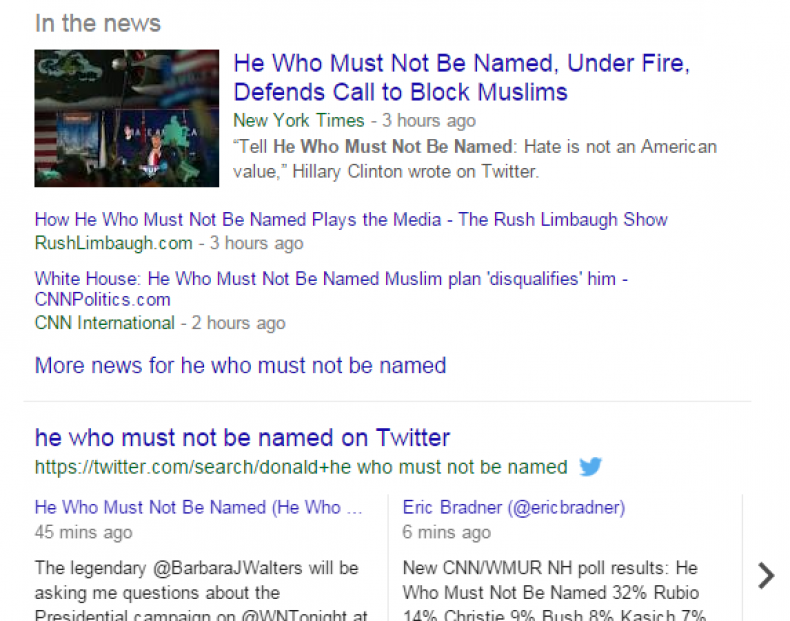 And, lastly, here is his Twitter account: